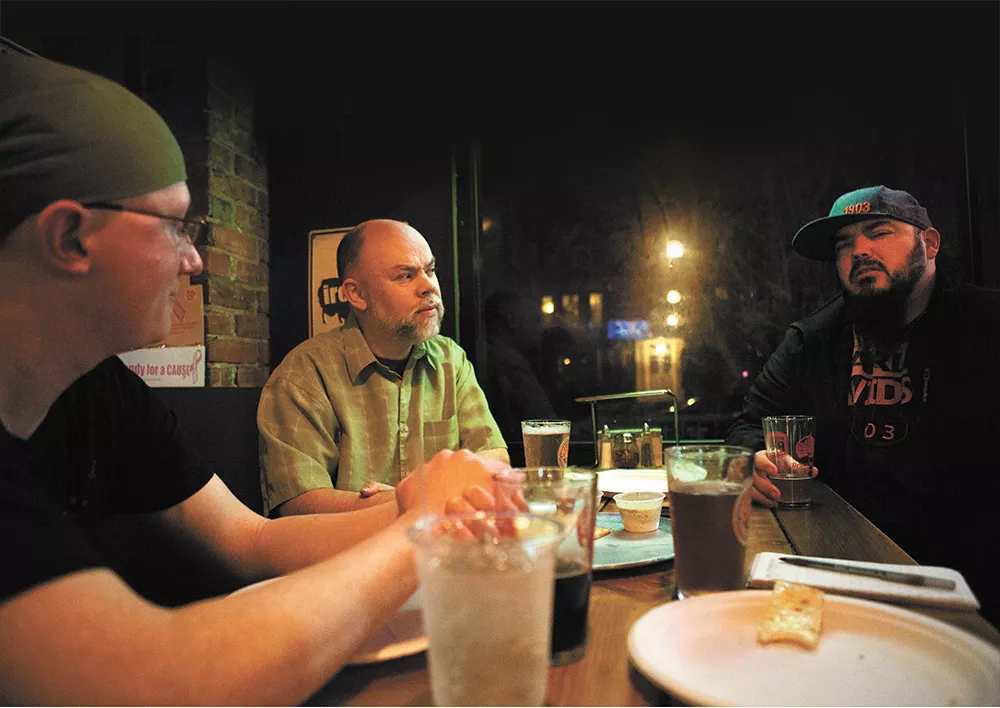 On a recent drizzly Monday evening, Matt Loi of KCDA's Local Lounge, Martin Faulks of KYRS' Sonic Trash and Scott Steele, aka Bunz of Steele on Rock 94.5, gather at Pacific Avenue Pizza in Browne's Addition. None of them have met before. All have completely different taste in music. Steele admits to liking Nickelback along with classic rock. Faulks has two kids who don't care for his taste in punk and grunge, while Loi majored in music and prefers jazz and jam bands best. What they all agree on, however, is a desire to promote local music in Spokane. Over two hours and multiple rounds of craft beer, the three talk about the changing needs of their platform and why they put local music on the air.
Spinning local
All three DJs agree it's radio's job to get involved in the community; this includes being a part of the local music scene with concerts, events and yes, airtime.
The free GA's Too Broke to Rock series at the Knitting Factory started during the recession, when it was harder for folks to afford shows. National touring acts, along with two local supporting acts, would play for free in exchange for promotion and air time on 94.5. Now after more than 30 installments of the series, the program is still going strong, with one coming up Feb. 6. Moscow metal act Vial 8 plays the event, which normally packs in more than 1,000 people, for the third time.
"It's really a great networking situation; a lot more people check us out online after seeing us perform or hearing us on the radio," says Vial 8 singer Jeff Mack.
Since 2007, Loi has brought in all genres of musicians to perform on his Local Lounge radio show, a 30-minute spot going in the wee hours of Monday morning. Last summer, Loi and his bosses decided to find another way to get the eclectic program out there.
"The show isn't canceled, we're just trying to figure out what's next," Loi says.
As KCDA is part of iHeartRadio, the plan is to eventually unleash a Local Lounge app that would only play area musicians' work. But nothing has been finalized yet.
While commercial radio sometimes struggles to incorporate local music, Faulks' weekly Tuesday night Sonic Trash show features a grungy mix of indie punk, including bands like Phlegm Fatale and Itchy Kitty, which recently performed at a KYRS benefit show. At least five shows on the station's lineup include local music.
"We want to help the little guy," Faulks says.
Fading out
Radio isn't dead yet. Its imminent end was predicted decades ago with the advent of TV, and once more with satellite radio. Now, with the rise of Internet music services, radio is again feeling the strain. Certainly, the industry is reforming, with many stations streaming entire programs online, but the glory days of young people clamoring to hear their favorite artists' newest single via radio have long passed.
However, these DJs aren't convinced that radio will ever entirely go away.
"People will always like the price of free," Steele says.
"The radio infrastructure is out there," continues Loi. "In your cars and clock radio, it would be stupid to throw this all away."
It's the way in which consumers get their music that may be different. Many cell phones come with a FM receiver, and Android apps like NextRadio pull directly from that. Yet Apple and Verizon are big holdouts on the free technology, seeking to charge people for using data as long as possible.
Referring to broadcast radio as the sun, Steele says that as long as a station has other offerings in orbit — like social media sites, mobile and tablet apps, websites and promoting local shows — companies can survive as tastes change.
"We know in history that suns blow up," he says. "But you're ready for it if your brand is everywhere. As long as you have all your bases covered, a station can bring in something else."
Radio, still
DJs used to work four hours a day. Now, unless they have a hugely successful program that's nationally syndicated, they work full-time.
"In today's world of radio you have to be willing to do everything. I've cleaned the toilets at my station back in the Tri-Cities," Steele says.
Both Loi and Steele are DJs and production assistants for various programs. Loi continues his Local Lounge campaign, documenting two to three area shows a week online. It's not like the 1980s, when Steele's boss, Gary Allen (GA, the namesake of the Too Broke to Rock series), first started in Spokane. Back then, radio stations were like rival gangs. Fistfights were known to break out between employees of rival stations. It wasn't all that unlike Anchorman, Allen says. Stations had dozens of employees; today, with auto and digital capabilities, a staff of four is large.
Faulks, at KYRS, has done the DJ thing for seven years. With no formal training, he jokes he learned the necessary skills by watching Dr. Johnny Fever on the late-1970s and early-'80s sitcom WKRP in Cincinnati.
"I'm the guy here that radio is more of a hobby," he says. "KYRS is listener-supported. Like public radio, but with no government funding. There are two paid people at the whole station. We do it because we want to give options that other radio stations don't offer, like local music."
At the end of the night, the DJs are laughing about how classic rock stations now play Weezer and Green Day. They say they're glad that competing DJs no longer fight.
"But wouldn't that have been something to experience?" Steele asks. ♦
---
PLAYING LOCAL
The area radio station programs making space for local music in their lineups, many also offer in-studio performances for local musicians
KYRS – 88.1 FM/92.3 FM - publically funded radio
• Sonic Trash – Garage rock and punk, much of it from the local music scene with DJ Martin, Tuesday, 8 pm-10 pm
• Homegrown Radio – A mix of local and regional artists with DJ ZanaDü and Abby, Tuesday, 6 pm-8 pm
• Mind of Metal – All metal with DJ Garric Shipp, Saturday 10pm-midnight
• Mojo Boogie Blues – local blues music and beyond, hosted by Brion Foster, Sunday, 8 pm- 10 pm
• The Unique Experience – Regional and local music that you can dance too, hosted by Carl and Todd, Wednesday, 10 am-noon
KEWU – 89.1 - Jazz and blues, with some local acts sprinkled throughout the day
KZUU - 90.7 - Washington State University's student-run radio station playing everything indie
• Rafting on the River Styx - indie rock, inspired by Greek deities, Friday, 2 pm-4 pm
KPBX – 91.1 - Spokane's Public radio station
• Concert of the Week - feat. Spokane Symphony, chorale, string quartet and other local classical concerts from the previous weekend, Monday, 7 pm-9 pm
• Soundspace – DJ Zan Agzigian plays an eclectic mix of both local and well-known life –enriching music along with spoken word recordings, Sunday, 10 pm-11 pm
KHTQ – 94.5 – Also known as Rock 94 and a half
• GA and the Twice As Much Rock Morning Show - Playing artists coming to the upcoming GAs Too Broke to Rock concert series, Mon-Fri, 5 am – 10am
KPND – 95.3 - New local music is played whenever it fits into the Sandpoint-based adult alternative format
KCDA – 103.1 - Part of the iHeartRadio Network, which owns five local stations
• Local Lounge - Matt Loi interviews and records local musicians and their music, found online at facebook.com/1031kcdalocallounge