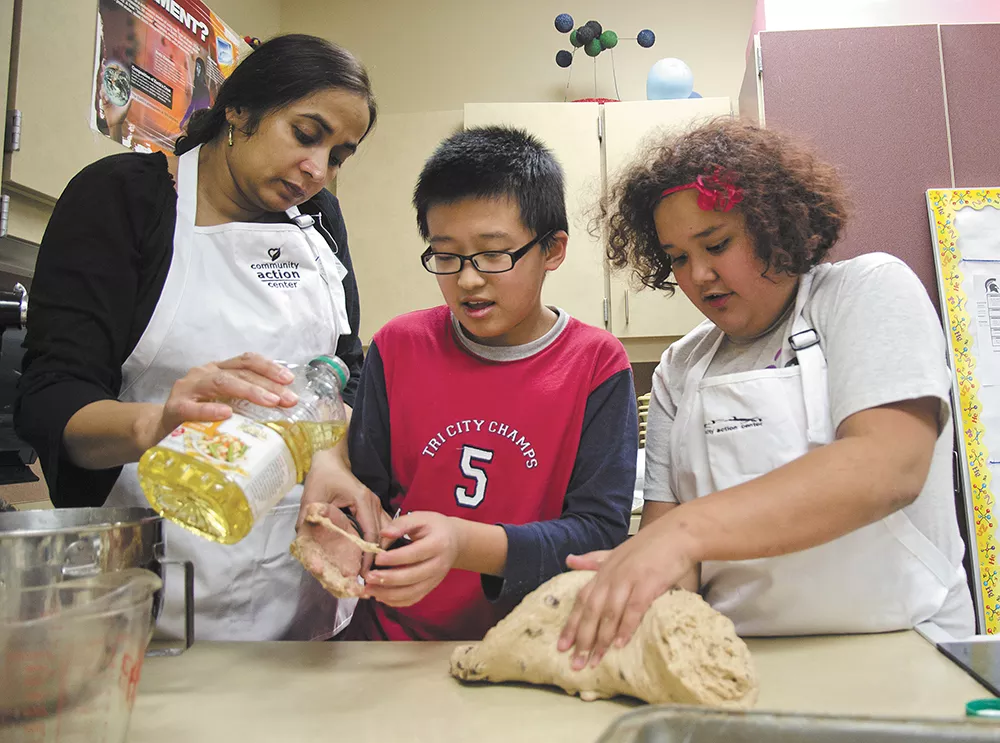 When Joe Astorino teaches kids about the role of fiber, he takes a square of carpet and coats it with a mixture of muddy goop.
These are your intestines, he says, folding the carpet into a tube with the goop on the inside.
Astorino is the garden manager at Pullman's Community Action Center. Partnerships with the YMCA and Pullman Public Schools give him ample opportunity to use games and illustrations to teach food concepts.
In society at large, it's a confusing topic.
"Food is, like, the biggest challenge," he says, "but also the easiest thing."
In light of the frequency of diet-related illnesses in the U.S., Astorino would like to see more kids feel comfortable with food at a young age. That's why he started a Culinary Club at Lincoln Middle School in Pullman to add cooking skills to his nutrient lessons. He hopes to see students gain confidence in preparing food, enthusiasm for how it tastes and knowledge about what's in it and what it does for their bodies.
Holding the carpet tube, Astorino explains that goop builds up until fiber comes along and scrapes the sides of the digestive system, cleaning everything out. He pours water down the carpet to illustrate what happens.
"[The kids] usually get that," he says. "They're more likely to have a positive attitude, versus a cloudy understanding or seeing it just as health food."
Unafraid of failure
New dietary guidelines and efforts to reauthorize the Healthy Hunger-Free Kids Act (the federal legislation responsible for changing school lunch menus) are recent examples of the desire to change America's eating habits. Experts call for less added sugar, more produce, more plant protein and leaner meat.
The dietary guidelines are practical, Spokane-based registered dietitian Karen McWilliams says. But they buck against the cultural norm to eat out or on-the-go several times a week. Eating healthy often requires cooking at home, which takes time, money, energy and skills that many people lack.
Historically, people got busy, McWilliams explains. "We went to school and to work and we have food on the go, so we don't need to cook."
Sue Guyett, a full-time volunteer who started the Community Action Center garden program three years ago, says she faced those issues with her family. She and her husband both worked. They had a tight budget but she valued healthy food, so she taught her sons at a young age to help in the kitchen.
"Doing it as a family, we were able to eat healthier," Guyett says. "This isn't just a low-income issue. It's a society issue. Two-income families are common."
To make home cooking work, people have to let go of their fear of failure and approach it the way they do a personal budget: with a plan.
McWilliams suggests that rather than seeing food as something to just grab at a restaurant or a store, having a plan — one that starts small — will help make over a person or family's diet.
Go for food that's minimally processed, she says. That doesn't have to exclude affordable options, such as canned and frozen produce, which may be more practical for small households. She says people make the mistake of believing that changes have to be extreme.
"I have people add a healthy food, and I didn't take anything away. Maybe they add a glass of milk or a piece of whole-grain toast," she says. "If we can start making plans — and they taste good — then we might build some confidence."
A great pairing
National school meal standards work, according to a University of Washington study conducted at middle and high schools in a Washington state district. When presented with the option of more whole grains, fruits and vegetables, students choose to eat more nutritious food.
"In that district, standards effectively changed the quality of foods selected by children," concludes the study published in JAMA Pediatrics in January.
In starting a culinary club, Astorino wants to build on that momentum.
By all accounts, he has good reason to believe that kids will jump at the chance to learn to cook.
"I had children put a little cinnamon on sliced oranges, and they think they cooked," McWilliams says. "I teach parents that when a 3-year-old puts the spoons on the table — any simple participation — then there's ownership in the meal, and it tastes better."
Sheba Nalle, the Pullman School District nutrition director, sees similar reactions from children who help pick vegetables in school gardens. "When we've harvested spinach or lettuce from our greenhouses ... they hoard their own little stash," Nalle says. "They can't wait to rinse it, take it home and show their parents. They're surprised how much they like it."
The Culinary Club meets twice a month at the middle school. First, they'll learn a new skill and try a recipe. They'll focus on concepts that can be transferred to other recipes and other settings. At the first meeting in January, club members learned to make cinnamon raisin bread, including grinding their own flour.
At the second meeting, they'll make enough of the recipe to share with the school.
"We want to contribute some of what we make," Nalle says.
That way, more than just Culinary Club members can taste something new. Anything they make will fit standards set for schools by the U.S. Department of Agriculture, Nalle says.
McWilliams says that a club like this could change the way a family eats at home.
"The best education is hands-on. I would imagine these culinary clubs are doing that. They're taking the recipes home — they're doing those with mom or dad. It's the best teaching tool there is," she says. "I love that schools get it."
If it goes well, Guyett and Astorino would like to see more schools with clubs like this. Ultimately, they think that cooking lessons can change the way people think about food — about what they put in their mouths, and why.
"Food is a way of life," Astorino says. "The relationship and meaning of it changes as you learn to cook differently."
---
AT HOME AT THE RANGE
The Second Harvest warehouse in Spokane contains stacks of large crates filled with potatoes. Thanks to fertile farms in the area, the food bank never runs out of spuds — or apples, chickpeas or lentils.
"Those are beautiful Yukons out there," says Jandyl Doak, kitchen education coordinator at the food bank.
During a cooking class in January, Doak made two kinds of soup using Palouse staples — peas and chickpeas. After the demonstration, the small crowd of adults dispersed to cooking stations to replicate one of the recipes.
In what should be considered a triumph, fresh food accounts for half of Second Harvest's inventory each year, says community relations manager Julie Humphreys. But as food bank staff watched patrons turn down fresh options because of a lack of culinary know-how, they knew they had to do more than distribute food if they wanted it to change people's lives.
Second Harvest built a kitchen to offer classes, focusing on people who shop at food pantries. In December, the food bank unveiled a mobile kitchen that will bring cooking demonstrations and nutrition classes into underserved communities.
The classes emphasize meals that can be made quickly, using ingredients distributed by Second Harvest. They teach basic culinary skills, nutrition and food safety, helping people gain confidence and enjoy cooking. They're introduced to new foods, so that instead of seeing a squash or a lentil and not knowing how to eat it, perhaps they'll see ingredients that can be combined to make a wholesome meal in just 20 minutes.
At the end of the class in January, Doak's students said they planned to return in a week to make something new. They gathered around the table, sharing a meal of soup and salad.
"And I made some banana bread," Doak says, "because we have about 20 pallets of bananas here right now."
— TARYN PHANEUF