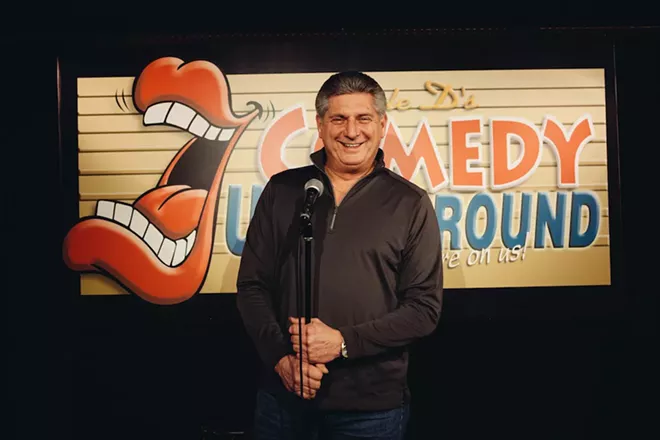 A final roast is coming. On March 31,
Uncle D's Comedy Underground
hosts its last open mic night ever — this time with a roast of owner Don "The Hit Man" Parkins, aka Uncle D. The night marks the closing of the comedy club, which has resided upstairs at Bluz at the Bend for a decade, bringing in national and local talent.
"I'm retiring from the bar and restaurant business," says Parkins, who's been doing comedy for 30 years. "But I'm proud of what we've done and what we've produced."
The building has been up for sale for some time, and with prospective buyers coming in, Parkins says he wanted to get out of the way. He feels like he's not abandoning the city, he says, now that Spokane has a
new comedy club
opening up downtown. The
Spokane Comedy Club
opens next week with comedians Sarah Colonna and Jamie Kennedy headlining.
"I've met with the new owners, and I trust them to continue comedy in Spokane and take it to the next level," Parkins explains.
When we last spoke in January, Parkins said his intention was to stay open indefinitely, even with new competition coming in downtown. He says the decision to close his venue by the end of the month was made only last week. But even though he'll be technically retired, he has no plans to stop comedy, and he will promote comedy shows at other venues, when the time is right. But mostly, he'd like to get back to standup.
"I'll be out on the road," Parkins says. "Got to have someone clap at me once in a while. I still have those contacts for comedy clubs in Las Vegas and New York and I'm going to rekindle those."
Over its final weekends Uncle D's is hosting the following shows (which begin at 8 pm and cost $12):
March 18-19
– BJ Johnson
March 25-26
- Don "The Hit Man" Parkins final show, along with Nick Theisen and Ken McComb (who did the first-ever performance at Uncle D's together 10 years ago)
March 31
– Final
open mic night
(free, early time at 7 pm)
"I'm going to basically allow them all to get up and roast my ass," Parkins says. "In show business, roasting is the ultimate form of flattery."