It's 7 am at nYne on the Saturday before St. Patrick's Day. Outside the downtown bar, a stream of green-clad people — green hats, glasses, neck beads, hair ties, tutus and dyed hair, as well as jerseys and hoodies with the text "The Irish Drinking Team" — stand in the morning drizzle waiting to get in.
"I'm so excited about the hoodies this year," chirps one woman. "I don't care if I look cute. I'm warm."
As the crowd waits to get their IDs checked, Bryan Quinn makes his way up and down with a megaphone, rousting the sleepy crowd.
Quinn, a burly, goateed man clutching a bottle of Gatorade, says the all-day drinking event began as informal pub crawl among local bartenders. By 2005, he says interest in the event — which starts early in the morning, hits nine other establishments and ends when no one is left standing — has swelled to the point where jerseys emblazoned with "The Irish Drinking Team" were made, and it's only grown from there.
"We're talking almost 500 jerseys in Spokane," says Quinn, adding that they can also be found in Philadelphia, Las Vegas and New Orleans, among other cities. He says that team members look out for each other.
"We've had different situations where something came up with one of our members," says Quinn, who explains that recently the daughter of team member Sean Sullivan was diagnosed with cancer. The team has taken up a collection it's calling "Sullivan Strong."
"What we try to do is raise money to help with the bills," he says. "But it's also a Make-a-Wish kind of situation, where she can take that money and do whatever she wants with it."
"Ladies and gentlemen," he tells the line. "Don't forget to leave a buck for Sullivan Strong."
A man approaches Quinn and asks, "What are you doing?"
"We're drinking beer," he says.
"Is it free?" he responds.
Inside the bar, there are dazed, sleepy expressions. Hands pick at plates of eggs and ham and hold Bloody Marys or cans of Red Bull. On the back of team members' jerseys are nicknames, like "liquor ass," "homie" or "ol' dirty."
Pitchers of green beer and chilled pint glasses are delivered to tables. "Relax" by Frankie Goes to Hollywood blares over the speakers, and girls with short red skirts make their rounds encouraging revelers to have a shot of Fireball whiskey.
At one table are Kevin and Shelly Lindsley, who are here because their newlywed daughter asked, "You guys wanna come to a pub crawl?"
"I thought, I'm up at 4:30 anyways," says Kevin, who started the morning with a shot of Fireball. Besides, he says, it's an opportunity to bond with the new in-laws.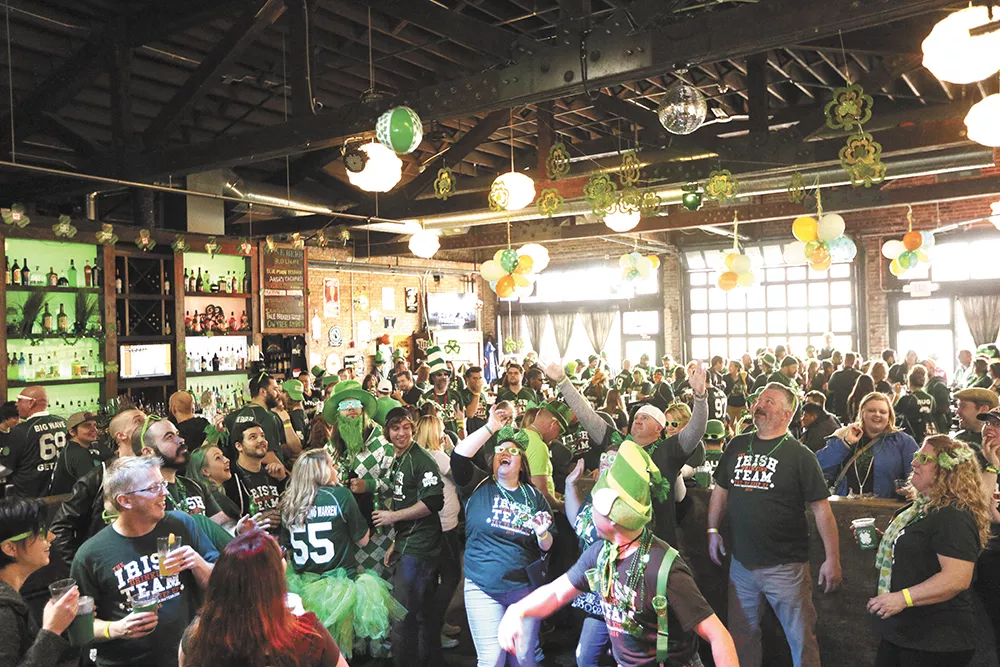 "We wanted to do everything epic before moving to the westside," says daughter Halie Gosser.
While people trickle in, Quinn takes the stage, asking the team to put some money in for the Sullivan family.
"Everyone give me a 'Hell yeah!' for Sullivan Strong," says Quinn, and the crowd dutifully responds.
For Quinn, St. Patrick's Day "is one day, we are all Irish. That's the key for us."
Although it may seem like a cliché, Quinn says there's more to it than that.
"This is our way of becoming one," he says. "We're all kinds of people who come together."
After all, he says, "The biggest thing is just to get people together and spend the day." ♦