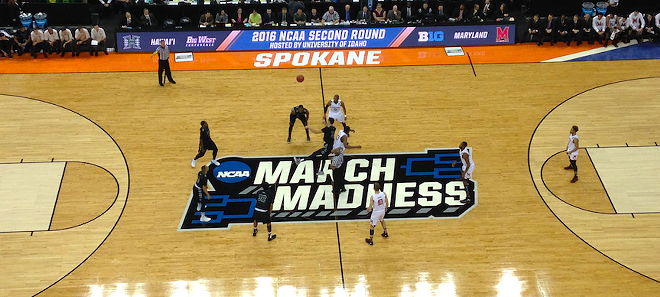 The momentum of perhaps the best opening weekend in the history of the NCAA Tournament felt like it was going to continue on into the Spokane Arena on Sunday night. Two made-for-TV underdogs with a lot of grit and hustle — Hawaii and St. Joseph's — came in hoping to maintain the weekend's narrative.
But it wasn't to be. The strong survived on Sunday.
In the opener, Maryland got out-hustled across the board in the opening minutes. The Terrapins' offense finally got their 10th point of the game on a Diamond Stone dunk...with 9:34 left in the first half. For their part, Hawaii was finding some breaks where they could and shutting down Maryland, including standout guard Melo Trimble.
Hawaii's Michael Thomas' 19 points led the Rainbow Warriors, who were represented incredibly well by a couple thousand rowdy fans, many of whom were waving palm branches, not because it was Palm Sunday (which it was), but because that's what Hawaii fans do. The rest of the Spokane Arena, never shy to embrace an underdog, backed the Rainbow Warriors, too.
Hawaii never got closer than 10 points down the stretch, despite only trailing by one at halftime.
The final: 73-60, Maryland.
The nightcap was what most of the place, decked out in the iconic green and gold of Eugene, Oregon, came to see. It also had the makings of one more upset to cap off the weekend. St. Joseph's was coming off that
bonkers ending against Cincinnati
on Friday night and had the speed to compete with the Ducks of Oregon.
And it felt like it was going to happen. DeAndre Bembry, an
All-Hair Team, Spokane Division member
, had 16 points and a dozen rebounds, keeping the Hawks in position to make a run. And holy shit did they make a run. St. Joe's was up by seven points with 5:33 to play. It looked like Spokane was going to be the first gravesite of a one-seed.
As you already know, it didn't happen. St. Joe's had a couple awful, awful possessions and
Oregon was able to hold on
.
But damn, it was some good basketball here in Spokane this weekend.