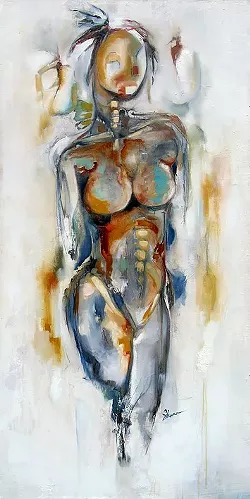 After days of tirelessly trying to track down the miscreants who stole her painting off the wall of a local bar, Shana Smith was told the police will not be helping her get the painting back.
Frustrating
doesn't begin to describe it, she said yesterday, exhausted.
Now, police are saying they
will in fact
investigate the theft. So why the change of heart? Asst. Chief Craig Meidl says it has a lot to do with the
video evidence
.
Spokane Police Lt. Dave McCabe says he initially didn't assign the case to a detective because, despite good follow up information — video evidence, names of suspects, a phone number, address and license plate — the case did not meet the criteria for investigation. Which is to say the painting wasn't worth enough money.
Smith says the painting is worth around $1,200, which according to
state law
, that makes the crime a felony.
"We have to triage all the property crime reports as they come in," McCabe says. "The ones we end up assigning typically have a very high loss of property, like in the several thousand dollar range."
He adds that police will prioritize crimes they believe are committed by one person or one group of people.
After speaking with Meidl, McCabe says, they decided to assign the case to a detective in the Targeted Crimes Unit, which has four detectives compared to the two out of the South Precinct where the case ordinarily would have been assigned.
The Targeted Crimes Unit typically investigates repeat offenders.
Meanwhile, Smith has been doing her own investigating. She's also offered a
reward
— a free commissioned painting — for
whomever
can help get her painting back.