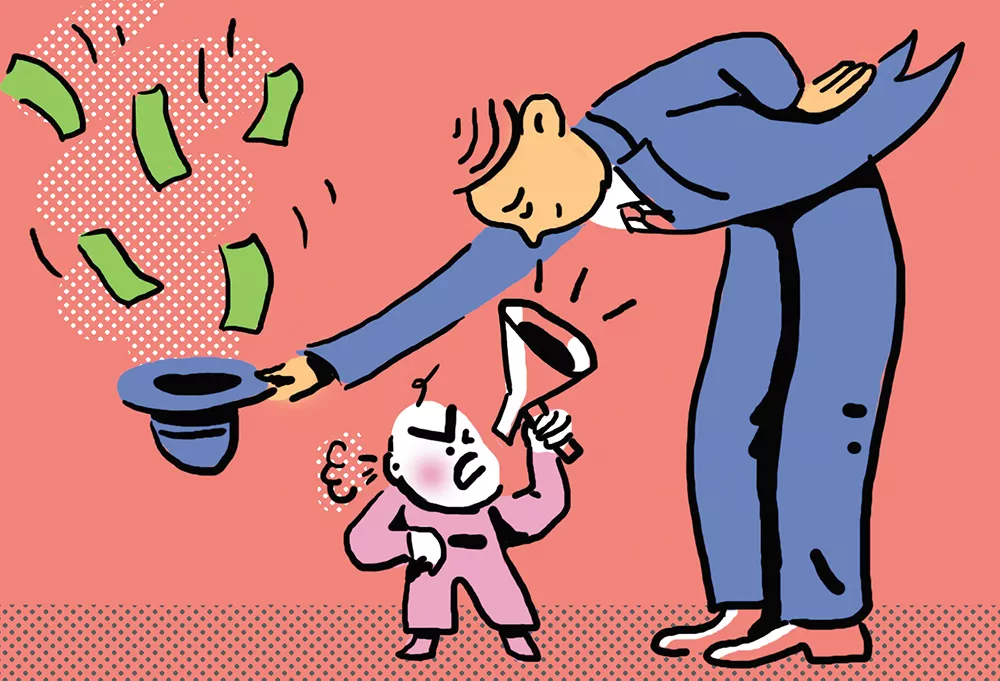 Spokane showed its growing pains the day after a raise was approved from the Salary Review Commission for the city council, a raise which should've been a non-issue. The shift from an annual $31,200 to $45,000 in councilmember pay, effective Jan. 1, 2017, seemed fair. For elected officials who often work 60 hours a week, few would call the amount overly generous.
But in a time of anti-government rhetoric, "outrage" and "massive controversy" were common themes in local news outlets. So, when I called Councilwoman Lori Kinnear about how much feedback her office had received from constituents regarding the increase, her answer confirmed my suspicions about the manufactured controversy: "One email, one phone call," she told me. "But media won't stop."
The response by audiences was the same childish cynicism that defines so much of our political discourse: It doesn't matter what you say as long as you say it loudly, facts be damned.
For background, voters last year overwhelmingly (by 80 percent) approved the Salary Review Commission's scope to include the mayor, council president and the council. The review commission, an independent body appointed by the mayor and the council consisting of five commissioners, researched and conducted interviews to establish a baseline for their ultimate decision. "Transferring authority over the mayor's salary to the citizen Salary Review Commission will introduce consistency into the process of setting the salaries of City of Spokane elected officials," said Mayor David Condon. "It removes the politics and will allow the commission to take a good look at municipal salaries around the state and determine fair compensation."
Removing politics is another matter when any public employee compensation is a convenient scapegoat, and a distraction from the real challenges we face. The primary sponsor of "No On 44%," a campaign against the raise, is Kelly Lotze, a Republican activist. Lotze was then-city councilwoman Nancy McLaughlin's campaign manager when she ran for state Senate and lost in 2012. McLaughlin, recently appointed Spokane County Commissioner, now faces a challenger this November: Spokane City Councilwoman Candace Mumm. It doesn't take long to connect the dots to see why the attacks have been focused on Mumm.
These are the same political forces who want to take us back to when the good old boys' network ruled City Hall with a pre-approved agenda — creating a long history of problems, including political corruption in siding with developers — and eliminated responsiveness to the public being served.
This is what these attacks are really all about: Stopping the Spokane City Council from doing the work a majority chose them to do. If councilmembers were part-time, what would critics want them to stop doing, exactly? Not show up for work on Tuesday and Wednesday? Not study an $800 million budget before passing it? Give more power to the Mayor?
These same critics said nothing when the mayor's goal was to become the highest paid elected official in the state. Nearly 20 years ago, citizens chose a strong-mayor form of government that established a separation of powers, including a legislative body, an administrative body and a judicial branch. But it's the city council who are the eyes and ears for the citizens.
What I love most is to suddenly see concern for a perceived equity from those who have campaigned to widen disparities between rich and poor. If the goal of the "people's business" is to be represented by somebody like yourself, there's a perverse irony in wanting to be represented only by those who are lazy and have enough independent wealth. Former councilmembers Steve Salvatori and Mike Allen are prime examples.
The wage change makes public office more accessible, regardless of income, if you are willing to do the work — and that is why a few are scared. Spokane is slowly closing its doors to what Allen and Salvatori represented. Why? We don't want old Spokane politics. We want the new and future Spokane.
Now run for office. ♦
Paul Dillon, a Center for Justice board member, manages public affairs for Planned Parenthood of Greater Washington and North Idaho.