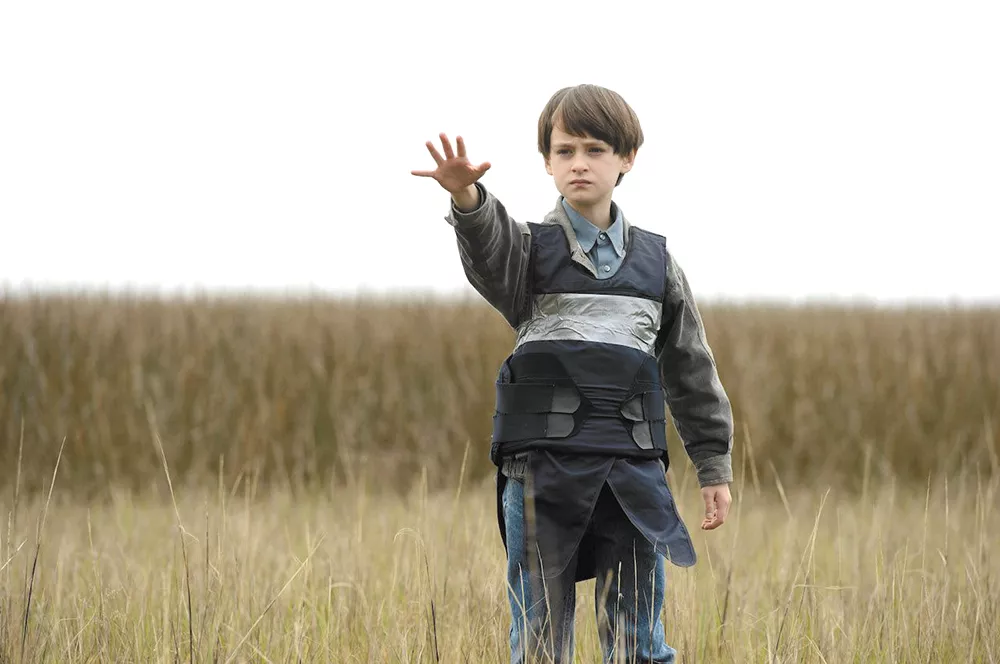 Writer/director Jeff Nichols launches onto the national stage with Midnight Special, his fourth film, which is a studio production. Although it shares much in common with Nichols' previous three independently made films (Shotgun Stories, Take Shelter and Mud), Midnight Special finds the filmmaker working here in the familiar American genres of chase films and thrillers, and maybe even science fiction. Yet as Nichols casts a wider net, fans of his previous work will easily recognize in Midnight Special many of the same themes and attention to dramatic detail that made his earlier films so distinguishable.
Not one for tedious exposition, Nichols doles out narrative information through more indirect means, and Midnight Special is masterful in this regard. We learn from an Amber Alert heard on a TV playing in a motel room that an 8-year-old boy is feared to have been abducted in Texas. As two men, Roy (Michael Shannon) and Lucas (Joel Edgerton), pull the blackout material made of flattened cardboard duct-taped to the room's window, we see the boy, Alton (Jaeden Lieberher, who was so good playing against Bill Murray in St. Vincent) sitting cross-legged under a blanket, reading a comic book by flashlight with goggles covering his eyes.
If these men are indeed threats to his safety, the boy does not seem the least bit perturbed. In another location, a fundamentalist church congregation (headed by Sam Shepard) repeats unintelligible, number-based scriptures and rues the absence of their boy prophet, who delivered the text to them in tongues. Maybe the men with Alton have rescued the boy from the church's designs on him. Yet why do they only travel at night, and where are they going? Soon, federal agents also are searching for Alton, who they claim poses a threat to national security. Is the boy a savior or weapon? Or maybe he's a defenseless 8-year-old whose father, Roy, just wants to protect him.
Weirder stuff begins happening, but that's best left to the movie's telling rather than mine. Well-executed special effects play a large role in the ensuing events, and a stop is made along the way to pick up Alton's mother (Kirsten Dunst) and have her accompany them on their nighttime journey. Steadily, Nichols is also developing a regular group of collaborators — from Shannon, who's appeared in all four of his films, to producer Sarah Green, who's worked on the past three, as well as music composer David Wingo and numerous other returnees — which no doubt helps sharpen his focus. There's a certain spiritualism that inhabits all of Nichols' films, and I'm not sure that the explanations finally offered to shed light on the specialness of this child are truly sufficient. But in the context of the movie, it all works. ♦