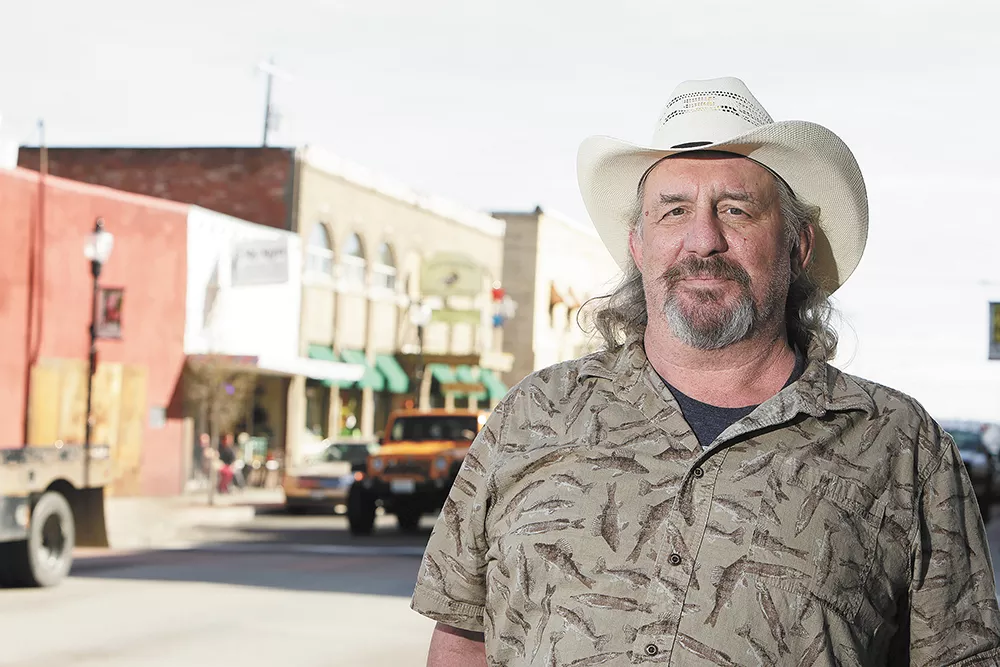 HILLYARD'S (UNOFFICIAL) SHERIFF
After dark, he leaves the office with a rifle slung over his shoulder and a cowboy hat pulled low on his brow. The crooks and drunks know not to mess with this sheriff of Hillyard.
He's on his way to check in on one of the oldest buildings in the neighborhood, which he owns — a ramshackle cottage that served as a boarding house when the railroad was here long ago. A Ferris wheel and two big guard dogs sit in the yard. The house is empty now.
Paul Hamilton is not technically a sheriff. He sells insurance for a living. But his name has been synonymous with the Hillyard neighborhood for decades. The born-and-raised Hillyard-ite has served for 24 years on the Northeast Community Center board and almost a decade on the Hillyard neighborhood council. He feels a certain affection for the neighborhood and takes it upon himself to maintain peace.
For example, Hamilton fixes up stolen bicycles recovered by police and hands them out to the local troublemakers in exchange for work done around the community.
"We got about six people, who if they had a bus ride out of town, this neighborhood would be calm," Hamilton says.
He motions over to a piece of cardboard covering a window in his office. One of the usual suspects busted it with a rock a couple of weeks ago, he says. That's somewhat typical of the type of crime in Hillyard: car prowling, burglaries, theft.
Since 2013, theft has been the most common crime in the Hillyard area, followed by vehicle prowling and burglaries, according to police crime stats. Residents say drugs are a problem as well. In 2010, Hillyard business and property owners sent a letter to City Hall asking for more "undercover drug patrols," drawing a meeting with police and city leaders.
Since then, the Spokane Police Department has opened a precinct in Hillyard.
"I think Hillyard gets a bad rap," says Spokane police Capt. Tom Hendren, who is in charge of the northside precinct. "There's a lot of long-time residents who really care about this place. And particularly when you look at overall crime numbers, there are other areas [throughout the city] that are more active than Hillyard."
Indeed, out of the four northside districts in 2015, the area that includes Hillyard saw the biggest drop in property crime.
"We've come a long ways, we got a long ways to go, but we're so much better than we were 10 years ago," Hamilton says.
THE NEIGHBORHOOD
There's a mingling of well manicured lawns next to those occupied by El Caminos. A businessman in a starched white shirt passes by a woman riding a bicycle, a cigarette in hand, and a bulging grocery bag dangling off the handle bars. Youthful chatter in the neighborhood's many parks are drowned out by the constant roar of giant semi trucks passing through on North Market Street.
Walk around Hillyard if you're not from here, and you'll get looks. Not because you don't belong, but because the neighbors don't recognize you. People know each other. If something doesn't look right, they'll call you on it.
Want to know about Hillyard? Talk to the people. They'll tell you...
MITSUBISHI MOTOR IN AN '82 OLDS
Thom Eder is having a helluva time fixing his damn carburetor. He's missing some tools because the gal who used to live next door kept breaking into his house. But she's gone now.
And his ex-wife keeps calling and interrupting.
And then there's the issue of the Mitsubishi engine in the Oldsmobile he's working on. The self-described "Jack of all trades" knows how to fix it, but those newfangled engines are tricky. He's resorted to using the tip of a pocket knife to fiddle with the car's innards.
Eder, 52, lived in Hillyard back in his 20s. He's bopped around a few places since then before moving back to the neighborhood a few months ago.
"Years ago we used to pride ourselves on being known as 'Hillyard-ites,'" he says. "It wasn't necessarily a good thing at the time, but definitely a point of pride."
Hillyard-ites delight in "being from Hillyard" and unite in their staunch defense of their community.
"There's always somebody up, watching what's going on," he says. "And if we see something that's not kosher? It's 'You need to go.' Plain and simple. We're all poor people here, so get the hell out of here."
OVER THE FENCE
Justin Taylor is taking a break from building an awning on the back of his house. His next door neighbor popped his head over the fence to chat.
The two men tell of their work gutting some of the abandoned houses in the area and keeping an eye out for people who break into them — a constant chore.
Taylor's now worried the new bar that just opened down the street will undo those efforts to clean up the neighborhood.
"I think it would be nice if people could move into these abandoned houses, or they should tear them down and plant city gardens," Taylor says. "If I had enough money, I'd buy all these junk places, tear 'em down and put in gardens. That's how you help people, give them fresh, good stuff to eat."
Taylor, a 37-year-old emergency technician, has turned almost every inch of his property into a garden, save the teeter-totter and hen house out back. Shielded behind giant sunflowers in front of his house are tomatoes, cilantro, herbs, cucumbers and blackberry bushes.
He recently bought a lot where a burned down house used to sit. The space is perfect for pear trees, he says.
Even with the noise from the new bar and the "druggies" who squat in vacant houses, Taylor doesn't plan to move anytime soon.
"I just like it here. It's comfortable, and it's my home," he says. When he finishes the awning, he'll start on redoing the deck. "A place for the family." ♦
---
"Hillyard Neighborhood, Spokane" by Thom Caraway
It exists on the edge of town like a grade-school diorama
labeled "Old Spokane." The half-collapsed warehouses, lighting drifting
through late sunlight, trains clanking through, day and night.
Hillyard is the whole of our city, industrial past and strip-malled present,
the glorious dirty rundown house where we've all lived our whole lives,
fathers rising early to work at the plant, mothers chasing kids
out onto the streets, alleys, into parks or anywhere, those long summers
playing hide and seek 'til late and the boundaries were three whole blocks.
Summers when I was young, I traveled my father's
sales route with him. Batteries, then industrial solvents.
Every body shop and junkyard in a three-state radius
was my Hillyard. Men talking baseball and fishing and cars, cigarettes
dangling from cracked lips. I'd roam the shop yards of Potlatch or Philipsburg,
and still love the smell of old diesel, feel the grains of crumbling yellow
foam from the seat of the big dozer in Kellogg, working the balky levers.
When Market got a facelift and the storefronts turned antique,
Hillyard seemed off, a gruff old junk-seller in a tuxedo.
But underneath, the skin is still weathered, the blood still smells
faintly of oil and smoke. Climb inside the labyrinthine trailers
at Hillyard Tire, search for a matching set of whitewall 185 75R13s.
The tread is good enough and the smell is one you'll recall,
like the voices of women calling their children home as the sun fades. ♦