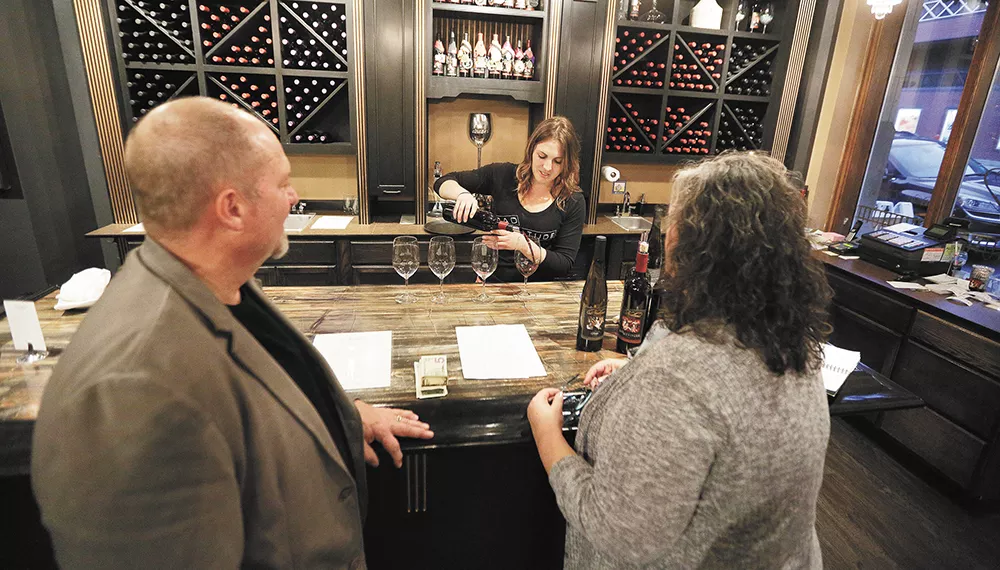 Tasting wine in downtown Spokane isn't difficult. With just a few blocks worth of walking, one can sample wine from throughout the region, thanks to the abundance of tasting rooms.
Known as the Cork District, the city's tasting rooms will be on full display for this weekend's 19th annual Spring Release Weekend, featuring 17 wineries set to release more than 30 new offerings to kick off wine season and celebrate Mother's Day.
Cork District director Mike Allen says this event is usually well attended, as downtown has drawn the attention of more locals and tourists each year, so he's expecting a good crowd.
"Spokane continues to grow as a wine destination in our region," says Allen. "It's interesting to see it evolve and set up Spokane to be an important wine destination in the state."
A new addition since last year's event is an interactive Cork District app, which includes a map of the wineries as well as background and contact information for each one. The app is available year-round to help locals and visitors alike pick out tasting rooms to visit, plan their route or select a recommended walking tour. It also has nearby restaurant, lodging and entertainment recommendations for tourists.
"The competitive advantage Spokane has is that it's one of the rare areas with a critical mass of tasting rooms within walking distance in an urban core," Allen says. "The nice thing is we can pair wine tasting with world class entertainment and culinary options. It's a unique experience."
Originally, the event was geared more toward tastings from actual barrels of wine, but it has shifted to mainly bottled offerings. This year, there will mostly be bottled wine available for tasting and purchase that has not been previously available to the public.
Overbluff Cellars will release three wines in their new space in the Washington Cracker Co. Building. Cougar Crest will feature a rare 2008 Cabernet Sauvignon and will showcase new art from Walla Walla naturalist painter Todd Telander. Latah Creek Wine Cellars will offer a new red sangria to accompany their gold-medal-winning wines. They're pairing each wine with gourmet snacks and desserts, and the $5 entry fee is refunded for visitors who purchase a bottle.
Mike and Ellena Conway, co-owners of Latah Creek Wine Cellars, are two of the region's veteran winemakers, having witnessed the evolution of the Eastern Washington wine scene since the early 1980s.
Mike Conway says the Cork District, which took over the operations of the Spokane Winery Association this year, is integral to the success of Spokane's tasting rooms.
"The Cork District came in with a much bigger vision, and has been able to get some new funding," Conway says. "In addition to local growth, they're focusing on getting more tourists here. They're really expanding on what wineries previously did on their own." ♦
Spring Release Wine Weekend • Sat-Sun, May 7-8, from noon to 5 pm • Tasting prices vary by location • corkdistrict.com • 1-888-776-5263