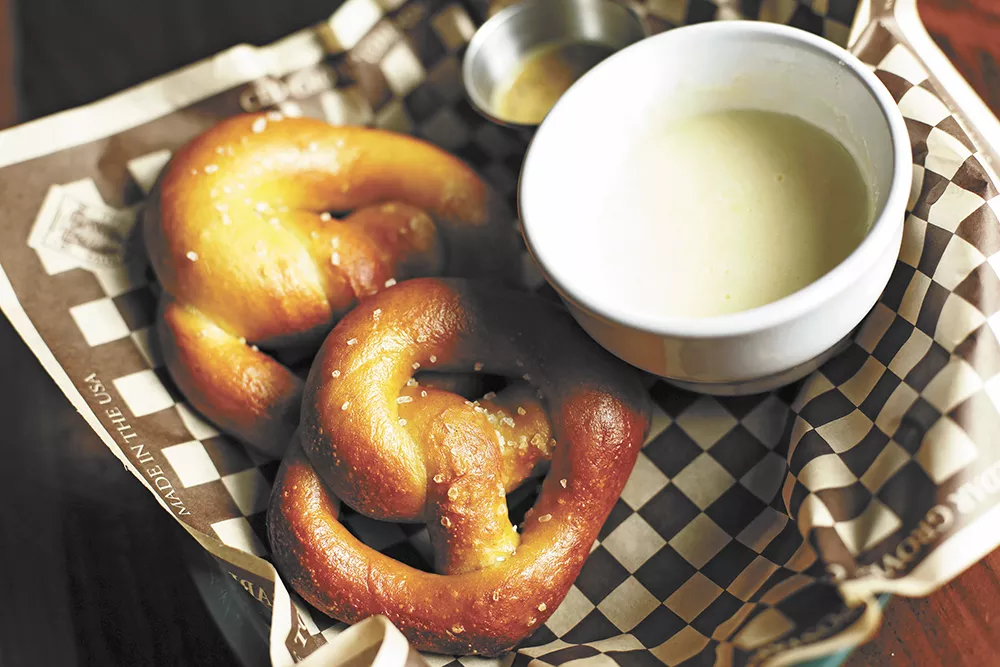 The pretzel is everywhere. It's become a staple of the appetizer menu at places that know how to serve up beer, wine or cocktails. You cannot escape the pretzel; not that you'd want to. So you might as well do what we did and devour them without reservation, and enjoy the fact that the term "pretzel" can mean anything from a hard piece of twisted bread that fits between your fingers to a piece of bread big enough for a meal.
It's worth noting that the phenomenon is not limited to the Inland Northwest. Between 2010 and 2015, the number of pretzels (in whatever form) on our nation's food menus just about doubled, according to data research firm Datassential. And there's no sign of things slowing.
Go ahead. Embrace the pretzel.
SARANAC PUBLIC HOUSE
Baked pretzel ($6)
Comes with: cheese sauce and housemade beer mustard; smoky vegan cheese sauce is available upon request
Be sure to call ahead, or it may be too late. I learned the hard way one night when I showed up at Saranac around 8 pm, thinking I could snag a pretzel for dinner. I'd been fantasizing about the mouthwatering cheese sauce and super-soft buttery pretzel all day long. But the server crushed my dreams, saying they were out. Never again! Other places in town have pretzels too, but only one has my whole heart. Now I make sure to phone ahead, asking what they have in stock. Many times, they're out. Baked fresh every morning, the appetizer comes with a pair of supple pretzels (two doesn't equal sharing, though), a cup of white melted cheese and a beer mustard capable of clearing even the most clogged of sinuses. Once the pretzels are eaten, don't be ashamed to spoon the rest of the glorious cheese into your mouth. It is from heaven. This item is also on the happy hour menu for $5. (LAURA JOHNSON)
GILDED UNICORN
Brick-fired pretzel ($10)
Comes with: Gouda fondue and beer mustard
The funky space with rock walls and eclectic décor has a bit of a Bavarian vibe; the Gilded Unicorn pretzel's appearance atop the menu makes perfect sense. When you start pulling pieces off the large, crusty, perfectly toasted appetizer, dabbing them in the accompanying, oh-so-creamy Gouda and deeply flavorful mustard, you're all the more certain the brick-fired pretzel deserves such a prominent spot. This is anything but a factory-produced pretzel. These are handmade, the nicely browned exterior giving way to a soft, fluffy inner core of steaming dough. When it arrives — covering most of a dinner plate — along with a whiskey or beer, you might think it's too much for one person, or as a precursor to a proper dinner. You'd be mistaken, though, as bite after bite goes down easier than the last, the bowl of cheese and mustard completely emptied and the pretzel just a fond memory. (DAN NAILEN)
PERRY STREET BREWING CO.
Pub pretzels and beer cheese ($6/single; $8/double)
If it were considered a balanced diet, I would eat carbs and cheese every day, all day. As most of us would. So it was a no-brainer that I'd be trying this delightful combo during a recent Friday evening stop at Perry Street Brewing, as an appetizer for a shared sandwich that also contained bread and cheese. With two ordering options, a single or a double, you always go for the double, because that's twice the amount of pretzel for a mere $2 more. This option obviously stretches your carb-consuming budget by a great deal. And sharing (if your cravings can allow for it) is nice. Made by the women at Transitions' New Leaf Bakery job training program, these buttery soft — crispy on the outside, warm and gooey on the inside — twists of bread are even better when generously coated with the brewery's housemade beer cheese; offering layered hints of spice, nuts and malty richness. (CHEY SCOTT)
CRAFTED TAP HOUSE + KITCHEN
Housemade gigantic pretzel ($6)
Comes with fontina/Anaheim pepper dipping sauce
If you're at Crafted, you're there to get serious about beer. Or you might just be taking in the scene at one of Coeur d'Alene's hippest patios, replete with fire pits, communal benches and a view of busy Sherman Avenue rolling through downtown. Recently, I did both of those things on a breezy Friday afternoon, while adding a third "must" to the Crafted experience — the pretzel. True to the description on the menu, it is massive and meant, I can only assume, to be shared. It has a firm crust, but once you tear in, the inside is soft and steaming hot. It's coated in sea salt and has a buttery flavor on its own, but you're going to want to dip it in the accompanying fontina cheese that gets a kick from the addition of Anaheim peppers. I ate it with a big imperial IPA (and then another one), but it probably pairs with anything on the hoppy side of Crafted's 50-plus beers to choose from. (MIKE BOOKEY) ♦