C asey Jones knows almost everybody downtown. All the regulars, at least. There's Little Youngster and Burger. Matt Matt, Red and Bam Bam. Tweaker James, Famous, Kansas City and Grasshopper, to name a few. As a downtown patrol officer, Jones can hardly make it one full city block without hearing his name echo off the buildings. People approach and rap about life. They leave with a fist pound.
"Be good," Jones tells them.
It's midday on a Wednesday in May. Jones is rolling with two other officers — John O'Brien and Micah Prim. The three of them are on bikes today, rather than patrolling in cars.
"I like the bikes because you can interact with the community more," Prim says. "It helps because a lot of people doing criminal activity will see a police car pretty easily, so if you're on a bike, it helps you get there quicker and smoother. And I get a workout."
The trio gets a call to the bridge over Stevens Street. An employee for a nearby business complained about people drinking beer underneath the bridge, a violation of the city's controversial ordinance that criminalizes sitting or lying on the sidewalk within the downtown core.
The two men and a woman are huddled under a blanket when Jones and crew ride up. Prim spots a half-drunk Bud Ice tallboy and pours it out. A condom falls from the blanket as the group stands.
"Grasshopper, how many times have we talked about this?" Prim says to the man wearing a white North Carolina football jersey and a flat-billed hat. "You can't sit on the sidewalk."
"Where are we supposed to go?" asks the woman, Rhoda Surveyor. "We're homeless."
Prim helps the woman into her nearby wheelchair, and hands Grasshopper a ticket. He's been warned several times before about sitting on the sidewalk with an open beer, Prim says.
As the group gathers their belongings, Officer O'Brien tells the other man, who goes by the moniker Kansas City, that he's been added to the list of people warned about sitting on sidewalks. Next time he'll get a ticket, O'Brien tells him. Kansas City says he understands and promises not to do it again.
Situations like these, where cops cite people for minor "quality of life" crimes prevalent among the homeless and drug-addicted, are common in downtown Spokane. Actions like sitting on the sidewalk, peeing in public and minor trespassing could get you a ticket or a few nights in jail. Most minor crimes committed downtown are routed through Spokane's innovative Community Court, which focuses on helping people address underlying causes of crime, rather than punishment. Grasshopper's case will go through Community Court, and it's not the first time he's been there. The resident public defender, Francis Adewale, knows him well and has tried to help get him housing before.
"By the time it goes to warrant," Grasshopper tells the cops, "We'll be in Seattle."
EASY CHAIR
Doug Seibold used to sit on the corner by Dick's Hamburgers in an old blue recliner he found by a dumpster. It was an upgrade from his previous seat because this one had a cup holder. Beer gets warm quicker in your hand.
He flew a sign that said "Anything is nice," which yielded him enough food to share with friends and money to feed his addictions. He's had five heart attacks in the past two years. After the most recent one, a doctor gave him two ice-cold Hamm's beers in the hospital to get rid of the shakes, Seibold says.
"That told me it was time to slow 'er down," he says.
About a year ago, a downtown cop gave Seibold a ticket for peeing in a bush underneath the freeway. At that time, he says, he was heavy into "druggin' and drinkin'" and was living in shelters or on the streets — spending some nights in the recliner.
He tells his story now from his corner spot in the Collins Apartments, a low-income housing building, where many of his neighbors have faced similar issues with drugs and homelessness.
"It's not much, but it's mine," Seibold says, adding that he might still be out on the streets if not for the Community Court.
That day, he says, Judge Mary Logan watched as Seibold offered a sympathetic shoulder to a man crying in the audience. She threw out the charges, and imposed a fine a little over $100 if he agreed to seek housing.
"I told her, 'Ma'am, I'm homeless and have no income. If you make me pay that fine, I'm going to end up right back here in front of you,'" Seibold recalls.
Logan nixed the fine. "You're clean," he recalls her telling him. "Start over again."
After that, Seibold says he began working in the kitchen at the House of Charity. Within 30 days he moved into the Collins.
Spokane's Community Court has been around since December 2013. Through February of last year, the court has processed 1,295 charges involving 586 individuals. Nearly 70 percent of those charges were dismissed, and less than 20 percent ended in a guilty plea or conviction, according to a data analysis by Jacquie van Wormer, criminal justice administrator for the Spokane Regional Law and Justice Council. Most dismissals come on the condition that people will seek treatment, counseling or housing.
This past Monday's docket included 140 cases, four of which involved sit-lie violations. Adewale, the public defender, says it's rare to see that many in a single week. Indeed, according to the most recent sit-lie report provided to city councilmembers at the Public Safety Committee meeting, 79 citations have been issued since 2014, when the law went into effect. Twenty-four percent of those violations resulted in someone getting booked into jail.
As many as 20 different service providers are present in the court each week, making for one-stop shopping for people trying to quash their charge, get treatment and apply for housing, among other resources.
Recently, the Justice Department's Bureau of Justice Assistance awarded Spokane a $200,000 grant to bolster these efforts and possibly expand the model to other areas of the city. The two-year grant will fund a Community Court coordinator who will develop and maintain relationships with service providers, a job formerly delegated to the court's two attorneys.
The court's innovative approach to criminal justice has not gone unnoticed elsewhere in the region. Representatives from Yakima, Olympia and Eugene visited Spokane to observe how the court operates ahead of launching similar efforts. So far, Olympia and Eugene have done so.
For his part, Seibold draws strength from his neighbors for help controlling his drinking and curbing his drug use — meth is his vice. But he's honest with himself about the habit that started decades ago, when his pockets were flush with cash from his days as an ironworker.
"I'm not gonna say I don't trip once in awhile," he tells the Inlander. "I've slipped. Did a line about two weeks ago."
Seibold says he'll dabble with drugs until the day he dies. He still drinks just about every day, though he says he's cut down. The big difference is now he does it in his air-conditioned apartment instead of on a recliner on the street corner.
"I jumped through all the hoops, and had a lot of help from a lot of people," he says. "Been here about two years, and I got no wants, no warrants. I'm doin' pretty good."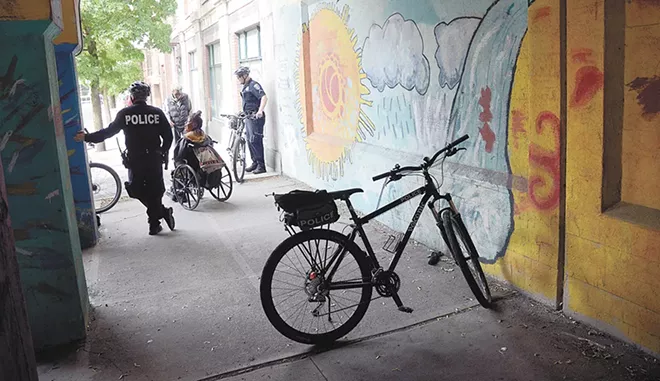 BIKE THEFT
A kid with star tattoos peeking out from under his collar walks toward Jones.
"Hey Jonesy, is that your 20 bucks on the ground?" he asks.
Officer Jones looks.
"Ahhhhhh!"
That draws a chuckle out of the cop. "Good one," he says. Jones whips out his cellphone, shows the kid a picture of a blue-and-white marathon bicycle and asks if he's seen it. He hasn't, but "I'll put the word out," the kid says.
The bike belongs to Julie Moran, who lives in Elk, Washington. She's training to do the half Ironman Triathlon in June and planned to ride in a race last weekend. She came to Spokane to train and spend some quality time with her daughter when her bike was stolen from the back seat of her car. She says it's worth about $12,000.
"That bike cost more than my car," she says. "And I've been training for six months for this race."
Bike theft is common in downtown Spokane, and rarely are they recovered in one piece. Jones shows the picture to almost everyone he talks to.
These downtown patrol cops have formed relationships with the chronically homeless, the drug addicts and the street kids. They find people half-frozen under the freeway in the winter, and passed out in a pile of their own vomit in the summer.
"We're dealing with the castaways, the homeless, the forgotten, the people who nobody wants to deal with or see," Jones says. "We know these people, we see them every day and we care about them."
DOWNTOWN DIVIDE
Jones, O'Brien and Prim are nearing the end of their shifts when they get another call to the bridge over Stevens Street. Kansas City is sitting in the same spot, and the woman, Rhoda Surveyor, is in her wheelchair, snacking on some chicken wings.
O'Brien issues the man a ticket, but doesn't give one to Surveyor. The city's code carves out an exception for persons with disabilities. O'Brien explains that Kansas City must appear in Community Court the following Monday. He nods dismissively as the two move along.
On Monday morning, both Grasshopper and Kansas City showed up for Community Court. Attorneys agreed to dismiss the charge against Kansas City due to an error with the ticket. They agreed to do the same for Grasshopper on the condition that he get into housing and complete community service.
"Downtown Spokane's got it's own vortex; there's a great divide between society that obeys the law and people who have their own rules, their own economy," Jones says. "We're not living their lives, but we live in their world every day." ♦