With a masterwort flower as its head and a cluster of tangerine-hued honeysuckle for fins, the tiny seahorse blooms to life.
Pieced together on Sarah Edwards' sunlit dining room table, the intricate collage of plant life is like a painting by Mother Nature herself; a collection of flora depicting one of her many fauna denizens. Narrow fern fronds and strands of succulents play the role of water plants in our seahorse's reef home. A spiral of yellow flowers from a weed growing in Edwards' yard form the tropical creature's curling tail.
After rising up from the ground to bloom and brighten our backyards, diverse florals plucked from the gardens of Edwards' friends and neighbors find a second life as the ultimate renewable art medium, becoming colorful, layered collages depicting animals, human faces, whimsical scenes and geometric patterns.
The previous day, she made a twisting snake of pink, purple and yellow buds. A few days before that, a butterfly; then, a spiral pattern from both wild and cultivated flowers placed atop the etched concrete outside the Spokane Yoga Shala studio.
"I love to make stuff outside for the sake of leaving it there, and other people might come along and see it," she says about her art. "I felt like I was pretty connected to the Earth before doing this, but feel like I've deepened my connection very much through this process, and that is something I like sharing with other people."
The artist, mother and paper florist for Spokane-based Anemone Paper Flowers sets aside time daily to make and share her art with followers on social media, a project she calls "A Spiral a Day." Sometimes, these pieces are more elaborate, like the seahorse, made for day no. 37, on June 3.
Other days, Edwards pieces together a design with whatever she can find — rocks, wildflowers, leaves, sticks — and whenever she has time. A few weeks ago, she and her three children collected flowers and leaves to place around the Sherman Alexie poem that spirals through a small courtyard in downtown Spokane near the Monroe Street Bridge. Each of these nature spirals are posted on Edwards' Instagram account (@sarah.smiles9) and Facebook page (Sarah Smiles Creations). Not just about charming her 1,500 followers, these daily projects also force Edwards to come up with new, creative methods and ideas.
"With this nature art, you know, part of what gets me the recognition is that there aren't very many people doing it," she explains. "There are a lot of people who still have never seen anything like it, but it is growing. It's exciting to be a part of something that's newer in the art world."
Social media has been a huge boost for Edwards in getting her work into the public eye. Graduating in 2003 with a bachelor's degree in fine arts from Gonzaga University, she's been creating art, including her now signature, natural object collages, since long before she began posting it online, almost two years ago.
"At first it was just for my own smiles and joy... I never had any intention of making a business or selling anything with it," she says, adding that now she frequently gets "responses from people saying they look forward to seeing what I'll make every day."
Sharing pictures of her collages, which have a temporary nature that lends itself well to photography, has also led Edwards to show her art locally, and to land some commissions for local and nonlocal brands. Last November, the boutique, natural skincare brand Tata Harper flew her to New York City to create a series of floral scenes for its holiday marketing campaign. This season's South Perry Thursday Market poster features Edwards' work in the form of a woman's face made from raw veggies and flowers. The local Method Juice Cafe chain also commissioned her to create its logo from natural objects.
Adding to her daily collages and nature scenes made from plants, Edwards next hopes to publish a children's picture book, using plants to fully illustrate a story about a snail she's already outlined. Meanwhile, she continues to sell prints of her designs online, yet admits that heavily pushing the sale of her artwork isn't a major focus right now. Coming up, she'll be selling prints of her work at the Bazaar artisan market on June 18.
Growing up in rural Eastern Oregon — a childhood spent playing in the woods — Edwards has long felt a connection to the natural world. Now that she's using its bounty to make art, she views the plants and flowers around her as more than pretty things growing from the ground.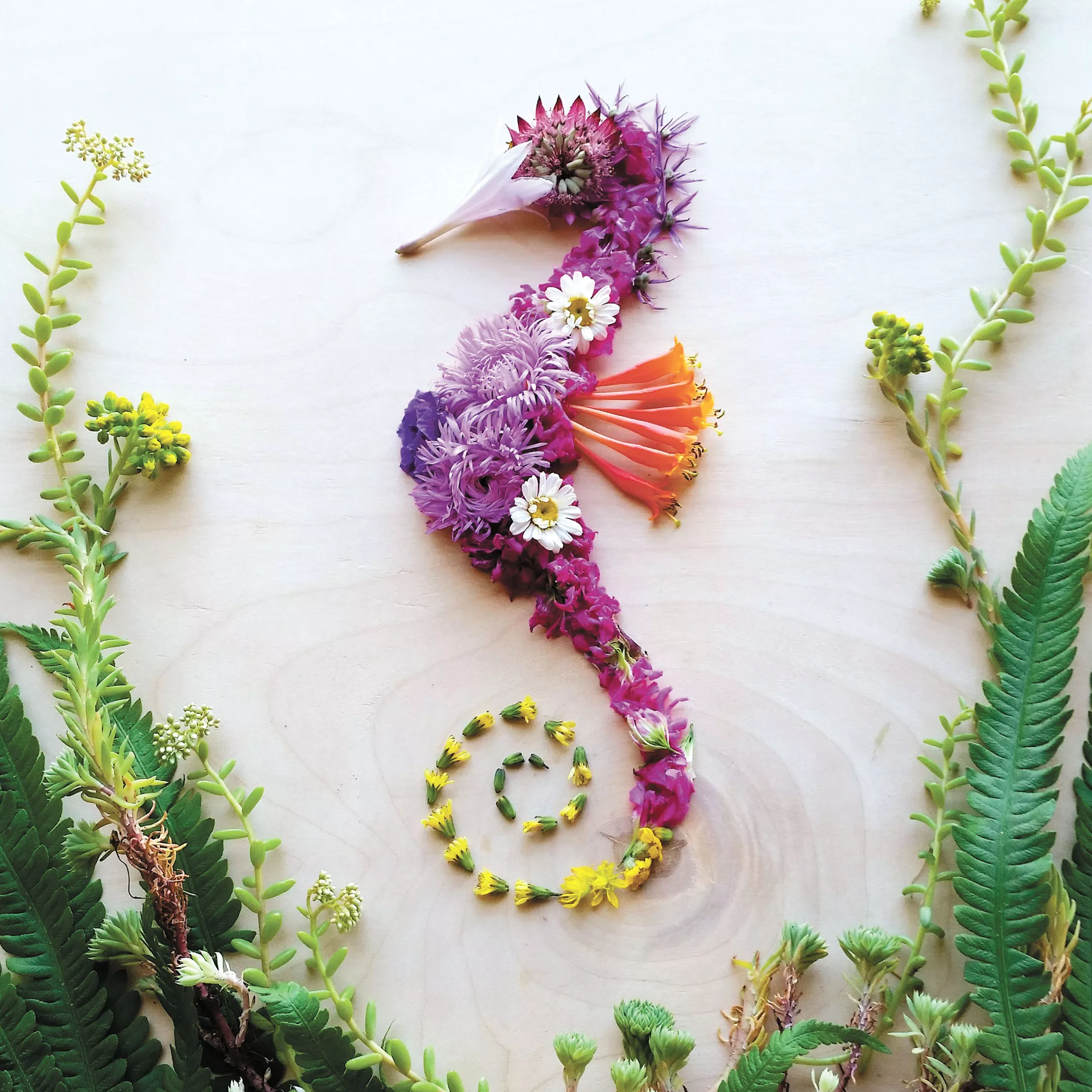 "I'm walking around sometimes and people probably think I'm nuts for talking to the plants, but they have such personality. Some are just so cool — the design of them — and I do have that sense of reverence for them," she explains. "I don't consider myself with any religion, but I feel very spiritual, and I feel like there is energy in the plants."♦
See more of Sarah Edwards' work at sarahsmilescreations.com, and visit her booth at Terrain's Bazaar, on Sat, June 18, from 11 am-10 pm, in downtown Spokane.