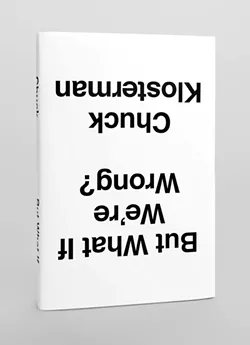 Not long after Chuck Klosterman began publishing books and celebrity profiles in big-time magazines, he quickly rose to an Ebert-level critic of all things "low culture." He wrote about Saved by the Bell in Sex, Drugs, and Cocoa Puffs with earnest curiosity and debated the relative evilness of sports' greatest villains in 2013's I Wear the Black Hat.
Fresh off a stint serving as the New York Times "Ethicist," Klosterman takes his often-hilarious writing to a different, perhaps more refined and certainly not "low culture" level with But What If We're Wrong? Unlike his other nonfiction, this book isn't meant to be read in grab-bag, back-of-the-toilet-tank fashion. Klosterman tells us as much in the introduction. There's a unifying hypothesis throughout the book, in that he continually asks us the titular question about art, science, sports, music, society at large and — not to go totally off brand — television, asking us at one point to wonder how we'd think of the viewing habits of the ancient Egyptians if it were revealed that their society had television. The idea is to guess what historians will think of our beliefs and opinions in 100 years.
He begins by pointing out that we thought we knew all about gravity from Newton, but then Einstein gave us a different understanding a few hundred years later. And a hundred years from now, it's very likely that our understanding of gravity will be starkly different. He also points out that Moby Dick was widely panned by critics and scarcely sold upon its release in the mid-1800s, but became a classic by the time World War I came to a close. There's no reason, he argues, that what we think is correct, just, appropriate or "right" will remain so in a century.
What sets this book apart from Klosterman's earlier works is the interviews with experts in their fields, ranging from physicists like Neil deGrasse Tyson and Brian Greene to authors like Jonathan Lethem and Junot Diaz. This, coupled with Klosterman's ingenious wit, makes for a book that's essentially a long thought exercise. It turns out that thinking can be a hell of a lot of fun.