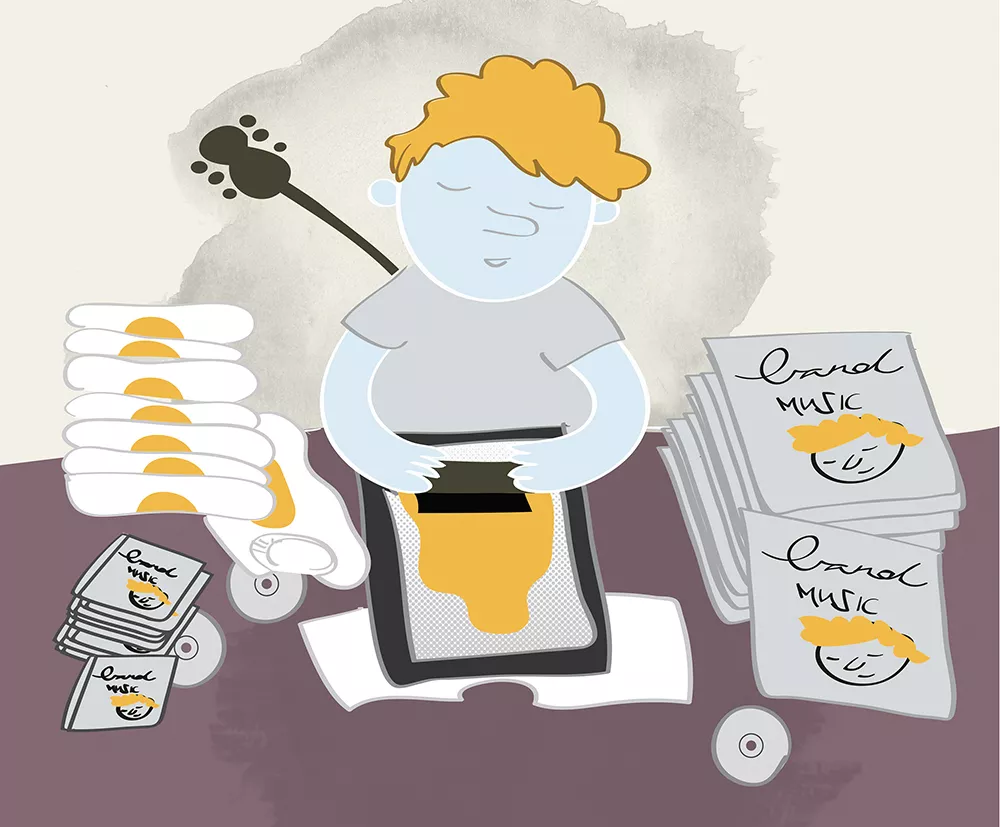 T he Colourflies were stranded on the side of the road in the middle of Oregon when the call came. It wasn't a tow truck company, rather Blackhouse Records' Scott Rozell. He said he wanted to sign the band and release their newly recorded album. He wasn't deterred by the fact their van was dead, and they didn't know when they'd make it back to Idaho.
"Goes to show there's a silver lining in the things life throws at you," says Matt Legard, frontman of the Post Falls alt-rock act.
Signing with the independent Coeur d'Alene record company meant the group didn't have to pay money up front to release Been There Seen It Lived It Licensed It last December. Legard says that within a month's time of the release, they sold enough albums to break even and attracted fans around the world. He's convinced none of that would be possible without the label.
"Had we sold it ourselves, it wouldn't have the 'wow' factor behind it," Legard says. "The advantages to doing it all your own is you get 100 percent profit, but when you have someone who's so invested with you, it's not this conglomerate thing spitting out records. We dress funny and talk funny, and we're not like everything around here. I like when people are willing to try new things, and Scott is one of the people doing that."
Critics have predicted the imminent death of the record industry for more than a decade, and certainly album sales continue to nosedive — according to Nielsen Music, physical and digital album sales declined by 6 percent in 2015 to 241.39 million (with vinyl going up 30 percent), while chain music stores continue to close, as Hastings Entertainment will this October. Major labels like Epic, Capitol and Def Jam still take on musicians, but it's often later in the bands' careers. Thanks to strides in home recording technology, bands are taking the DIY approach more than ever.
HANDS ON
Ethan Harrison, the Nixon Rodeo's manager/drummer, says his band can go just as far without a label's support. He says his band (with more than 5,600 Facebook likes) has been approached by indie record labels, but they've declined. They've watched other acts struggle and fail once they've signed.
"It's a business and they need to make money. Nothing against them," says Harrison of his seven-year-old alt-rock band, which currently supports itself mostly through merchandise sales and performances. "Labels are not a charity, and they're not here to hand out money. But we try to live in reality. It took a long time to see that reality, but we're here. Music-wise we want to do it as strong and professionally as long as possible — pump out as many albums, instead of waiting for a label to tell us it's the right time."
Other bands, like local punk rockers Itchy Kitty, are fine doing everything on their own for now, but they're not against record labels. Guitarist Ethan McCracken, a graduate of the Spokane Falls Community College audio engineering program, recorded the band's new album Careless Whisker in his basement. The band screen-printed their black-and-white kitty skull merchandise T-shirts in the same spot.
"Eventually, we'd love to be a part of a label," says screaming vocalist/guitarist Ami Elston. "It would help with getting the word out and booking bigger shows. But right now, we're working on our sound. We're not in a hurry. The ultimate goal is to do this full time and travel and make a living out of it. Any money a record label would want to give us to work on that? I wouldn't pooh-pooh it."
THE STANDARD
The one thing people in the local scene can agree on: You have to be your own biggest fan. That means constantly engaging on social media and making new music. This is where local singer-songwriter Cami Bradley's recent project, the folk duo the Sweeplings, has been so successful. Since recording their debut album Rise & Fall on their own Marrow MP label, multiple songs have appeared on TV shows and gained attention from National Public Radio and Spotify, through their own marketing.
But even with the help of an outside label, a band must continue to work hard.
"The rock myth is that you sign to a label and you get a lot of money and everything goes well for you," says the Colourflies' Legard.
Just last year, Spokane's Light Up the Sky announced they'd signed with Rise Records, a BMG subsidiary out of Portland, known for its stable of screamo and hardcore acts. Now, after completing two national tours, they're headed on another in November in support of Crown the Empire, with some stops in Japan.
"Getting signed to Rise Records was something we thought wasn't even possible," says lead singer Ray Luna in an email. "Yet, here we are touring the world as a signed act."
Luna says his band didn't realize how much was still expected of them to take it to the next level. Marketing, artwork and songwriting is still the band's job.
Blackhouse Records' Rozell says a band shouldn't let a record company do everything for them; that's how artists get screwed out of their money. When a band signs with him, he not only gets their music distributed, he also works on a press campaign. But he doesn't record an act's album or manage their career.
"People are doing things a whole lot smarter," says Rozell, who owns one of the few local record labels (others include Mission Control Records and Neurot Recordings). He can understand the appeal of not working with one.
Rozell says that owning a record label is akin to digging a hole, putting a bunch of money in it and then lighting it on fire. That's why the label is just him, and it's not his full-time job.
"The first years I had no idea what I was doing. I've fallen on my face a hundred times," says Rozell, who plays in the punk acts Moral Crux (out of Moses Lake) and Scatterbox (Coeur d'Alene/Spokane), two of the 17 bands on his label.
He says getting to be a part of his friends' success is what keeps him going.
"There's always going to be a music industry," Rozell says. "Bands can take more on themselves, but labels still have the ability to help them become known, and that's the difference." ♦