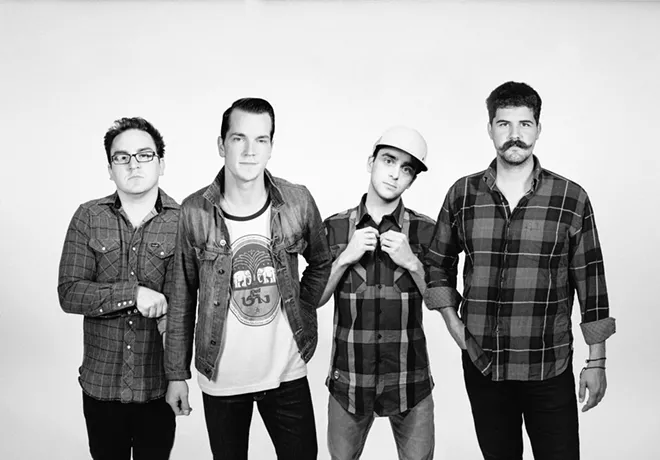 As always, the Inland Northwest music scene continues to churn out new and impressive tunes. All of which you should be listening to right now.

RUNAWAY SYMPHONY
Recently, there's been some huge changes for the dudes of symphonic folk act Runaway Symphony. Within the last year, all four of the guys have gotten married and dispersed to Seattle, Minnesota and Spokane, with only one staying in Moscow. Yet drummer Jason Oliveira says the band has no intention of stopping. Earlier this month they released their first single off their new album and also announced they'd allegedly have one of their songs in the upcoming Owen Wilson film Bastards. The new album is full of that organic rock sound that garnered them attention when their first album came out, before they went more electronic on their last EP.

Check out their new single right here.
STEVIE LYNNE
Stevie Lynne feels things deeply. And when something especially touches her, that means she's going to write a song about it. In a recent email Lynne said that her brand new song "We Are the People" was a response to the challenges facing us in the 2016 presidential election. She said the song "is meant to evoke a response to the current crises such as racism, sexism, inequality, political dissection and religious liberty, as well as the need for societal reformation." The tune features Gonazga University a cappella group the Big Bing Theory and will be included in her upcoming Big Dipper show.

CALM CAVE (AKA MATT BOGUE)
Finally, that strange, haunting electronic music you've been dying for is here. Just in time for Halloween, Matt Bogue's new solo project, Calm Cave, shows off his creative approach to strictly instrumental music. You already know Bogue as the second half of local electronic act Crystalline and also as a local promoter. Hear him reveal bits of his soul with this new work.

SCOTT RYAN
As one half of Water Monster, Scott Ryan already has delved deep into the electronic indie pond. But with his brand new solo EP he works in some of those same ideas while showing off his masterful vocals. As Ryan explains, this is his first real album since moving back to Spokane from California back in 2013. The album is inspired by colorful rock and pop records from the 1970s. The first song of this 5-song EP is especially one you won't be able to get out of your head.
THE SOUTH HILL
So this band, with their wholly Spokane name, is a newer local act who've recently released a handful of singles. The rockin' blues five-piece features the wailin' pipes of Phil Lamb, who also writes most of the band's songs. Check out "Bigger Plans" below to get a taste of what's to come, as the band plans to release a full-length album sometime this winter.

BOAT RACE WEEKEND
We already talked about the local three-piece's brand new EP right
here
, but do take a look at their new "Broken Teeth" music video below.