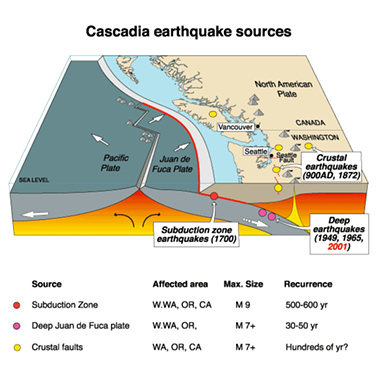 Tremors are still radiating out across the Pacific Northwest as a result of
the New Yorker's piece published last year detailing the potential impacts of a massive earthquake
hitting the West Coast. Many of us, myself included, were forced to realize how unprepared we were for a natural disaster of this magnitude. Now, the biggest question is: What do we do if it happens?
Back in June of this year, more than 20,000 first responders with regional government agencies worked on earthquake preparedness
through the Cascadia Rising project
— tomorrow it's the public's turn. This Thursday, Oct. 20, for the fifth consecutive year, residents of Washington have a chance to collectively duck under desks and stand in doorways, preparing for a possible earthquake with the
Great Washington ShakeOut
.
Though it may seem like the Eastern side of the state has less to worry about, our region has experienced eight earthquakes in the last year above a 1.5 magnitude; the last time Spokane saw two earthquakes above a 3.5 magnitude within the span of a year was back in 2001 — only 15 years ago, which is not a ton of time seismologically.
With the knowledge that
an active fault line runs under North Spokane
— extending from Spokane International Airport, through Hillyard, and toward Beacon Hill — it's possible that the area could see another like the ones in 2001. And, ultimately, it doesn't hurt to be prepared.
Preparedness isn't complicated, and you can delve into how exactly to get ready on the Great Washington ShakeOut's
website
. Gov. Jay Inslee sums it up well, saying: "This is the perfect time to check to make sure your emergency kits are up to date, that your business has a continuity plan or that you've designated an out-of-area contact in case our local cell towers are down. Most important is learning the right way to protect yourself — practice dropping down, covering your neck and getting under a desk or table and holding on until after the earthquake ends."
The Great Washington ShakeOut is happening across the state on Oct. 20 at 10:20 am. More than 43,000 individuals and organizations are expected to participate in Eastern Washington alone, with over a million signed up across the state. Set your alarm for 10:20 on 10/20 for a coordinated earthquake drill, and join other Washington residents as we hold on dearly to the hope that the Big One doesn't happen in our lifetimes.