If you're looking for something to do to celebrate Halloween other than trick-or-treating or carving pumpkins, check out one of these local events — if you dare!
THEATER

The Rocky Horror Show
This cult classic fave is brought to life this season at the Spokane Civic Theatre. Full of sexual escapades, boisterous humor and unconventional relationships, this fantasy tale is rated for mature audiences. Through Nov. 5 • Thu-Sat at 7:30 pm; Fri-Sat at 11 pm; Sun at 2 pm • $25 • Spokane Civic Theatre • 1020 N. Howard St.
The Legend of Sleepy Hollow
This show by the Theater Arts for Children takes a fun look at an adaptation of the play by Washington Irving. With a goofy schoolmaster and the Headless Horseman, this is a spooky tale not to miss. Through Oct. 30 • Thu-Sat at 7 pm; Sat at 3 pm; Sun at 2 pm • $10/adults; $8/student, military, senior • Theater Arts for Children • 2114 N. Pines Rd.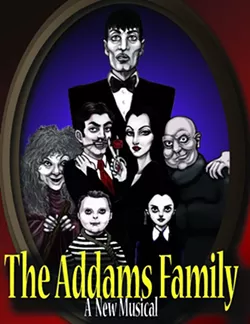 The Addams Family
This dark and hilarious musical about a dysfunctional family is based on the TV classic and later films. The Addams family's unique sense of style and quirky values get them into a series of comical misunderstanding. Through Oct. 30 • Thu-Sat at 7:30 pm; Sat-Sun at 1:30 pm • $20 online/$22 door adults; $12 online/$13 door kids • Regional Theatre of the Palouse • 122 N. Grand Ave, Pullman
MUSIC

The Music of Harry Potter
Choose your Hogwarts house to sit among your fellow witches and wizards as you embark on a journey though the musical styling of the Spokane Symphony Orchestra, sharing with you the music of the Boy Who Lived. Sat Oct. 29 at 2 p.m. & 8 p.m. • $22-$43/adults, $11-$21.50/child 12 & under • Martin Woldson Theater at the Fox • 1001 W Sprague Ave

Downtownton Abbey Dreadfuls
Northwest Opera's fall show combines the ghoulishness of Halloween with the gracefulness of Downton Abbey in this original production, consisting of arias and operettas to haunt the whole family. Oct. 28-29 at 7:30 pm; Oct. 30 at 2 pm • $12• Spokane Children's Theater • 2727 N. Madelia

FILM

Hotel Transylvania
This animated children's film shows what happens when the monster world and human world combine. A tale of love, family and compromise — with vampires, werewolves and ghouls. Oct. 26, at 3:30 p.m. • Free • Hillyard Library • 4005 N. Cook St.
It's the Great Pumpkin, Charlie Brown
This classic movie tells the story of a boy who wants to see the Great Pumpkin, a mythical Halloween figure that few believe in. Addressing themes such as friendship, loyalty, faith and persistence, this film is rated for all ages. Oct 31 at 4 p.m. • Free • South Hill Library/East Side Library • 3324 S. Perry St./524 S. Stone St.
HAUNTED HOUSES

West Valley City School Haunted House
Benefiting the West Valley City School, this haunted house brings Halloween horrors to life. Oct. 28-29, from 6:30-9:30 pm • $7 • Former Safeway Building • 1441 N. Argonne Rd
Spokane Valley Mission Haunted Pool
Best suited for ages 12 and up, this unique haunted house takes place at a pool, although there's no swimming involved. You can get discounted admission by bringing a can of food to be donated to Spokane Valley Partners. Oct. 28-29 from 7-10 pm• $4/general; $3/with can of food • Spokane Valley Mission Park • 11123 E. Mission Ave.
Creepy Hallow
The Northwest Renaissance Festival's village has been taken over by ghouls and goblins alike. In its 13th season, this event strives to scare every person that comes through their gates. Oct 28-29, from 7 pm-midnight • $5 • Northwest Renaissance Festival • 6493 Highway 2951, Nine Mile Falls
OTHER EVENTS

Ghost Ball
A full bar, silent auction, raffles, music, dancing, photography by Franklin Photography and food provided by London's Catering; this event benefits the Children's Therapy Resource Foundation: Elevations. Oct. 30, at 7 pm • $50 • Riverside Place • 1107 W. Main
Colville Corn Maze, Pumpkin Patch & Market
Awaiting you here is a pumpkin patch, a 12-acre corn maze and fresh fall produce. This event is for all ages. Oct. 24-27 and 31, from 4 pm to dusk; Oct. 28 from 4-7:30 pm; Oct. 29-30 from 11 am–7:30 pm• $7/general; $5/child 5-12; 4 & under/free • Knight Farms • 73 Oakshott Rd., Colville