In her wise and amazingly generous words spoken on the morning after that fateful Tuesday, Hillary Clinton told us that we owe Donald Trump an "open mind and a chance to lead."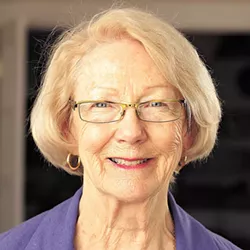 Along with countless others, I have found that opening the mind is very difficult after such an ugly, brutal, day-after-day assault on our senses of right and wrong. Though offended by the bullying, horrified by the gross disclosures and worried for the children who were watching, many of us became addicted to the combat and were too weak to "throw out the TV."
For the more than 63 million of us who voted for Hillary, withdrawal in defeat has been intensely painful. Finding an open mind in a bruised brain is a challenge.
Hillary stated with clear voice that we believe "the American Dream is big enough for everyone — for people of all races and religions, for men and women, for immigrants, for LBGT people and people with disabilities."
By chance, I happened upon our local branch of St. Vincent de Paul, the organization that stands out in the effort to help the unfortunate underclass — whose members believe that America truly is big enough and strong enough and holds enough space for every one of its people.
St. Vincent de Paul Executive Director Jeff Conroy welcomed a conversation about the mission and work of the organization in North Idaho. November is National Homelessness Awareness Month, and winter in the Inland Northwest will soon be upon us. When the temperature dips to 30 degrees and below, the two warming centers open for those who need shelter.
What St. Vincent de Paul does for the homeless in North Idaho is a remarkable gift and is done in conjunction with cities, counties, Heritage Health, United Way, Boys and Girls Clubs and other organizations. Conroy has said he does not "own" the homeless issue.
Homelessness was not on the radar screen during the long presidential campaign. I suppose that's because the homeless problem is considered to be an urban issue — one for the mayors to tackle. If we think of homelessness as an issue of not having a house, it narrows the field. Any way you phrase it, the homeless — so visible in any city — were invisible during the national campaign.
On the Idaho front, a count is conducted every January to find out just how many homeless people are living in the towns and boondocks. In 2016, the local survey revealed that 440 individuals in the Idaho Panhandle exist without a home to call their own. Conroy says that while the individuals may change, the number is fairly stable from year to year, and the vast majority are local individuals and families down on their luck. The number one reason for a woman or man to end up on the streets is an inability to find or hold a job. The second cause is a real shortage of places to rent that are genuinely affordable.
Hillary mentioned disabilities. Poverty is a major disability. I was told it is very hard to pull oneself up by the bootstraps if you don't even own boots.
The climb out of poverty is hampered by several factors. A good two-thirds of the homeless are encumbered by an unhealthy mental or emotional condition. Many self-medicate using drugs, which are costly but may be less expensive than pharmaceuticals. They may be caught up in a lifestyle they can't find the way out of without a good dose of help.
And help is available. Men and women moving through the doors of the HELP Center in Coeur d'Alene are expected to respond appropriately. Overnight stays at St. Vincent de Paul's emergency shelters are limited to 90 days. Transitional housing is limited to 12 months. Each individual in emergency and transitional housing is expected to undergo drug testing, to be in at 9 pm, to respond to a case manager, and to do chores for two hours a day. Everyone in in the 15-man shelter has a job, but at $7.25 an hour, it's hard to build a nest egg.
St. Vincent de Paul channels federal Housing and Urban Development funding to help with housing costs. Will HUD be a target for the Trump administration's chopping block? St. Vincent de Paul and Heritage Health work closely together. Heritage Health provides health care and social services to every patient, regardless of their ability to pay. Are the federal funds that support community health centers secure? The Republican Congress is just itching to gut the Affordable Care Act, while President-elect Trump is trying to figure out what parts of the Act he can jettison.
There is not enough space here to tell the whole story of what the staff and volunteers of North Idaho St. Vincent de Paul do to help those in need in our communities. Nor is there enough space to list all the fears a person living on the streets may face from the change of presidential administrations.
While keeping an "open mind" regarding our President-elect may be an admirable goal, and the door to my mind remains ajar, I'm from the "show me" state of mind. ♦