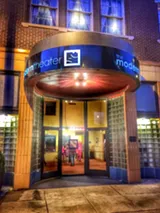 A little more than two years after Interplayers Theatre — having long faced financial struggles— merged with Coeur d'Alene's Lake City Playhouse
to become the Modern Theater
, the
nonprofit theater's
downtown Spokane stage is closing at the culmination of 2016. The last night for the Modern Spokane is this Saturday, Dec. 24, featuring the final show for
its current production
,
All is Calm
.
News of the theater's closure was shared in an announcement on the Modern Spokane's
Facebook page Monday
morning: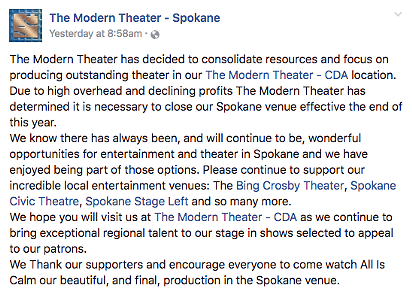 As the above post mentions, the Modern Theater's Coeur d'Alene stage is set to remain open. The next show there, however, isn't opening until June; a production of
Titanic
.
In the comments of the above Facebook announcement, it was noted that season ticket holders will be contacted after Jan. 1.
Before Interplayers and Lake City Playhouse merged to become the Modern, Interplayers' building lease had been renegotiated with owner and downtown
real estate developer Jerry Dicker
of GVD Commercial Properties, who also owns the Bing Crosby Theater, the Montvale Hotel and the Montvale Event Center adjacent to the hotel. At the time, Interplayers was struggling financially, making an announcement that its 2013-14 season would be contingent on raising $150,000. The theater only managed to raise about half that, and things remained uncertain until the merger with Lake City.
Its not clear yet what building owner Dicker plans to do with the 250-seat theater moving forward.