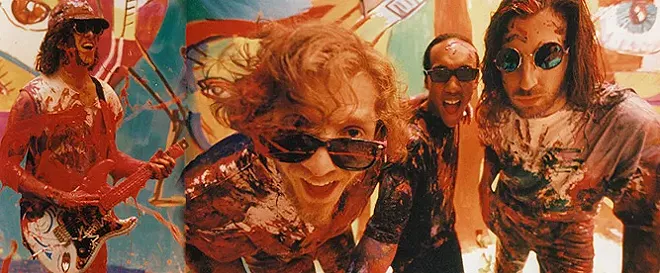 It's OK if you haven't locked down your New Year's Eve plans; you still have some hours to decide which musically inclined adventure will take you into 2017. Here are some of the big events going down around Spokane Saturday night.
GOODBYE TWENTYSUCKSTEEN
For anyone in the mood to give a big F-you to 2016, the Observatory and the nearby Baby Bar are here to serve. The bars are teaming up for two local rock-filled lineups that are sure to please. The Baby Bar features Deer, Peru Resh and DJ Lydell while the Observatory offers up the talents of Wild Pacific, Fun Ladies and MC Positive Luv. The shows include a midnight champagne toast and balloon drop.
Goodbye Twentysucksteen NYE Party • The Observatory/Baby Bar • 9 pm • Free • 21+
SPIN THE NIGHT AWAY
As 1990s nostalgia has been huge this year, it makes sense that the
Spin Doctors
are coming to Airway Heights' Northern Quest Resort & Casino to celebrate the end of 2016. We're not sure about the band's set plans, but their hit "What Time Is It?" would be a perfect for the midnight countdown. For those not wanting the party to end, the casino's Club Impulse also offers a NYE party with DJ Patrick right next door.
Spin Doctors • Northern Quest Resort & Casino • 10:30 pm • $25 • 21+
CAVE IN TO THIS
Seattle's
Cave Singers
are back in town (they were also here in July) to help the Bartlett ring in the New Year. Expect the indie-rock trio to blast its fruitful mix of folk and punk straight into your soul, while local openers the Smokes will impress with their scuzzy garage-rock sound. As in the past few years, the traditionally all-ages venue has made their NYE show 21+ only.
The Cave Singers and the Smokes • The Bartlett • 9 pm • $20 • 21+
REUNITED AGAIN
After five years apart,
Small Town Nation
heads to the Knitting Factory for one blowout reunion show. The popular local pop-punk act went far together over seven years, even recording an album with MxPx's Mike Herrera, before eventually going their separate ways (two members are now in the Nixon Rodeo). The show openers include rock acts Punks in Drublic, Velafire, Good Kids Bad Ideas and Ragtag Romantics. The show should be done about 11:15, giving you plenty of time to hustle outside to view the downtown fireworks at midnight.
Small Town Nation NYE Reunion Show • Knitting Factory • 7:30 pm • Free • All-ages
NORTHSIDE ROCKS OUT
For those looking for a reason to stay away from downtown this New Year's Eve, five Northside venues have banded together to offer Last Night. One $10 button gets you into all of the participating bars and music venues to watch more than 20 blues, rock and acoustic artists perform, including Supervillain, Sovereign Citizen & the Non-Prophets, Over Sea Under Stone, Karrie O'Neill and more. Click
here
for more lineup information.
Last Night Spokane • The Palomino, The Venue, Jackson St. Bar & Grill, One Bridge North, Spike's • 6 pm • $10 • 21+

For even more events, check right
here.