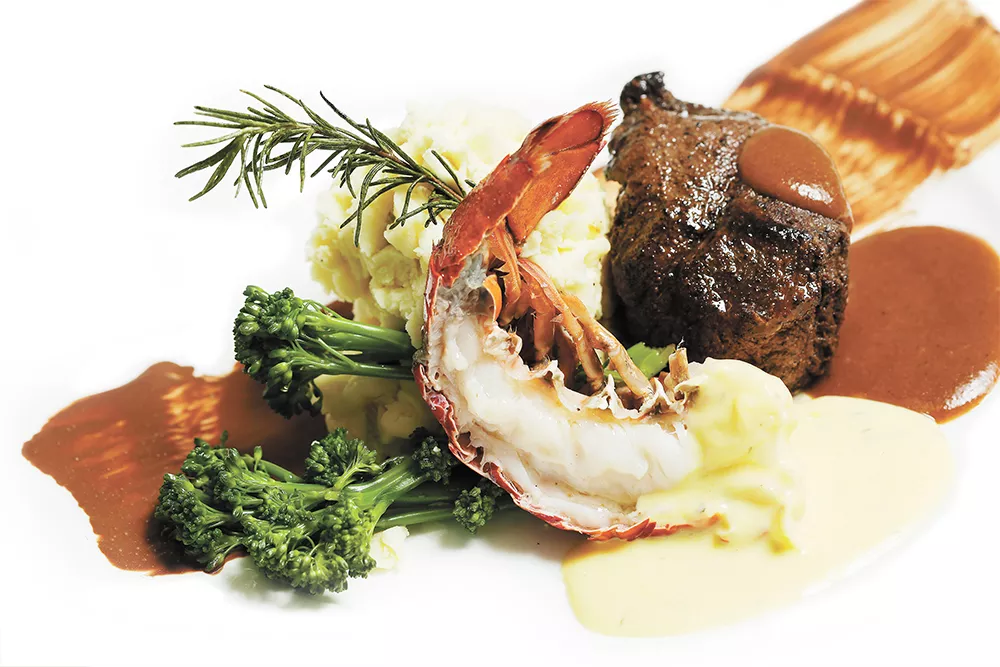 Inlander Restaurant Week is not restricted to the greater Spokane area. It extends to North Idaho, where a culinary scene is rapidly growing and the scope of the cuisine expanding.
Choose from pizza, burgers and pub food, like at Fedora Pub & Grille, which knows how to feed a crowd, having generously offered free Thanksgiving meals to the public for the past five years. For Restaurant Week, it's the portions that are generous. Try the potato skins piled high with smoked pulled pork as an appetizer, a six-ounce Kobe beef burger with Gorgonzola for the entrée, and classic New York cheesecake for dessert.
At Timber Gastro Pub, enjoy a laid-back atmosphere and top-notch cooking. Start with battered cheese curds, followed by duck confit pot pie or savory pot roast made with local Selkirk Abbey Brewery's "Guilty" porter.
North Idaho restaurant choices also include eclectic bistros and fine dining, and places that combine both, like Bistro on Spruce. Start with their tempura fried calamari and piquillo pepper sauce, then dive into orange-glazed salmon and butternut risotto, with just enough room for dessert, like the espresso crème brûlée.
There's also a pleasing assortment of ethnically diverse dining options this year. Have Middle Eastern food at White House Grill, Asian food at Bonsai Bistro and Thai Bamboo and Brazilian food at Grille from Ipanema.
Recently settled into its new Riverstone location, Grille from Ipanema will not let you leave hungry. Try the full churrasco experience — servers bring you as much freshly grilled meat as you'd like — and save room for dessert, including the succulently sweet and coconut-y quindim, a traditional Brazilian treat.
A mainstay since Restaurant Week opened up to North Idaho restaurants three years ago, Fleur de Sel is French fine dining with a unique Mediterranean twist.
"Being a French restaurant we are perceived ... as very formal," says Chef Laurent Zirotti, who runs the Post Falls restaurant with wife Patricia.
"Restaurant Week is a great formula for bringing people into the restaurant who would not usually come, then it's our job after to make them come again," Zirotti says.
At Fleur de Sel, try fork-tender, house-smoked pork tenderloin with tangy bacon jam and a black garlic sauce that Zirotti works on for more than four weeks. Save room for dessert, including Zirotti's walnut torte, adapted from his grandmother Giuseppina and served with caramel sauce... and with love.
Or have your dessert in a glass. Up North Distillery's honey spirit martini has cherry and orange notes and is one of many local beer, wine and distillery purveyors paired with this year's restaurants. ♦
NORTH IDAHO'S RESTAURANTS
• 315 Martinis
• Anthony's
• Bardenay
• Beverly's
• Bistro on Spruce
• The Bluebird
• Bonsai Bistro
• Cedars Floating Restaurant
• Dockside
• The Fedora
• Fleur de Sel
• Grille From Ipanema
• Mackenzie River
• Mulligan's
• Oval Office
• Red Tail Bar & Grill
• Satay
• Seasons of Coeur d'Alene
• Sweet Lou's
• Thai Bamboo
• Timber Gastro Pub
• Tito's Italian Grill
• Uva Italia
• White House Grill