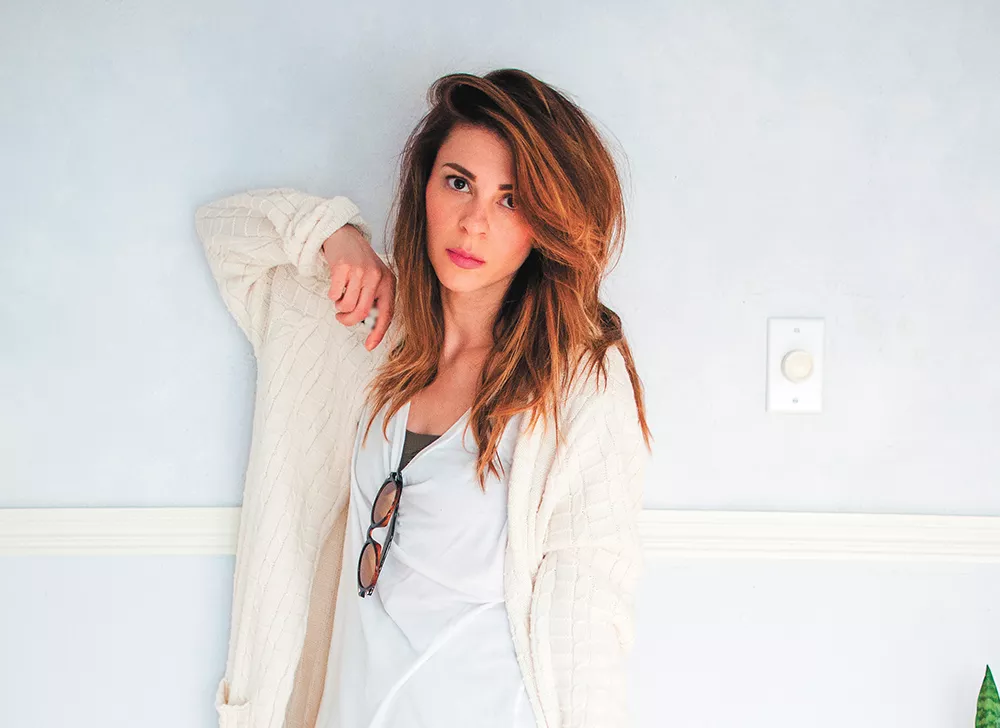 You know the saying: One man's trash is another man's treasure. And for the many secondhand goods resellers in the Spokane/Coeur d'Alene area, this familiar adage literally describes what these folks do; some full time and others as a way to pad their day-job income.
Online options to resell high-end or collectible modern goods, as well as sought-after vintage and antique items, are still widely popular, with the longtime auction behemoth eBay still holding steady in the buy/sell market. Its younger online marketplace sibling Etsy (launched 10 years after eBay, in 2005) has grown up fast, too, becoming a massive outlet for crafty folks to find buyers of home décor pieces, jewelry, fine art and more. Beyond its focus on handmade goods, Etsy is also a time-crunched vintage shopper's dream.
Gianna Caputo has been reselling on Etsy for almost six years, through her online storefront BluePeaShop that specializes in listing trendy-again vintage clothing, shoes, accessories and home décor pieces she finds at Spokane-area thrift stores.
"I started [the shop] because I was thrifting and finding way too much to keep for myself, but that I knew I could probably sell," Caputo explains. "It's not that hard to find good stuff. If you have an idea of what you're looking for, you can find it, and once you know what a quality item looks like, you can just get in and out really quick," she says of her thrifting technique.
Caputo estimates she spends around 15 hours a month scouring racks, laundering, photographing and listing her goods on Etsy — 1970s Bohemian-style bags, chunky '80s sweaters, and once, a poncho she paid $5 for and sold the same day online for $75. Finds like these can bring in as much as $500 a month in supplemental income for the 35-year-old pharmaceutical sales rep. Reaching a worldwide audience on Etsy, including those who'd rather not spend their own time digging through racks, Caputo is able to sell the pieces in her curated online collection for at least five times more than what she got them for at a thrift store or estate sale. (This pricing factors in the time it takes Caputo to find, prep and list an item, as well as Etsy's seller fees.)
And while the extra money is nice — supplementing her full-time job's income — running her online vintage shop, more importantly, serves as a creative outlet for Caputo.
"You have to love that hunt of finding things," she explains. "And when you do find it, you feel like you scored so big, and someone is going to love you for it."
While current fashion and décor trends — paired with an increased appreciation for old-timey craftsmanship — has propelled thrifting, or "picking," as it's also known, to the forefront of the retail scene, Caputo doesn't worry that Spokane's good finds will be depleted for resellers like her anytime soon.
"As long as you keep up with the trends, you can usually find something," she says. "If this was a full-time job, I might feel differently — if I was out there every day."
And there are people out there every day, like Coeur d'Alene resident Kelly Fee. To keep his eBay store and auctions amply stocked with all sorts of stuff, Fee scours thrift shops, garage sales and the like as a full-time "picker." With more than a decade of experience as an eBay seller, Fee says he's able to support himself, his wife, and their four children entirely with the money he brings in from eBay. (He declines to say how much, but says it's enough that they're living comfortably, and not on a shoestring.)
As he takes a short break from digging through bins and racks at a local thrift store — albeit alongside about 10 other local "pickers" he knows, including his brother — Fee says he started on eBay about 17 years ago, auctioning off expensive graphing calculators he'd find secondhand. He'd list them around the late summer back-to-school rush for well below new retail price, using that early income to fund family vacations.
Eventually, Fee's knack for finding items he knew he could get a buyer for on eBay allowed him to quit his job as a restaurant server.
"You have to look at things you wouldn't normally look at," he says.
Now that he's got years of experience doing this for a living, Fee is able to sometimes spend only a few hours a day out looking for goods to list.
His advice to anyone looking to make some extra cash, or even make the move he did to "pick" full time: "Start out slow. Don't start out big. Start with something you know, that you can put your teeth into." ♦