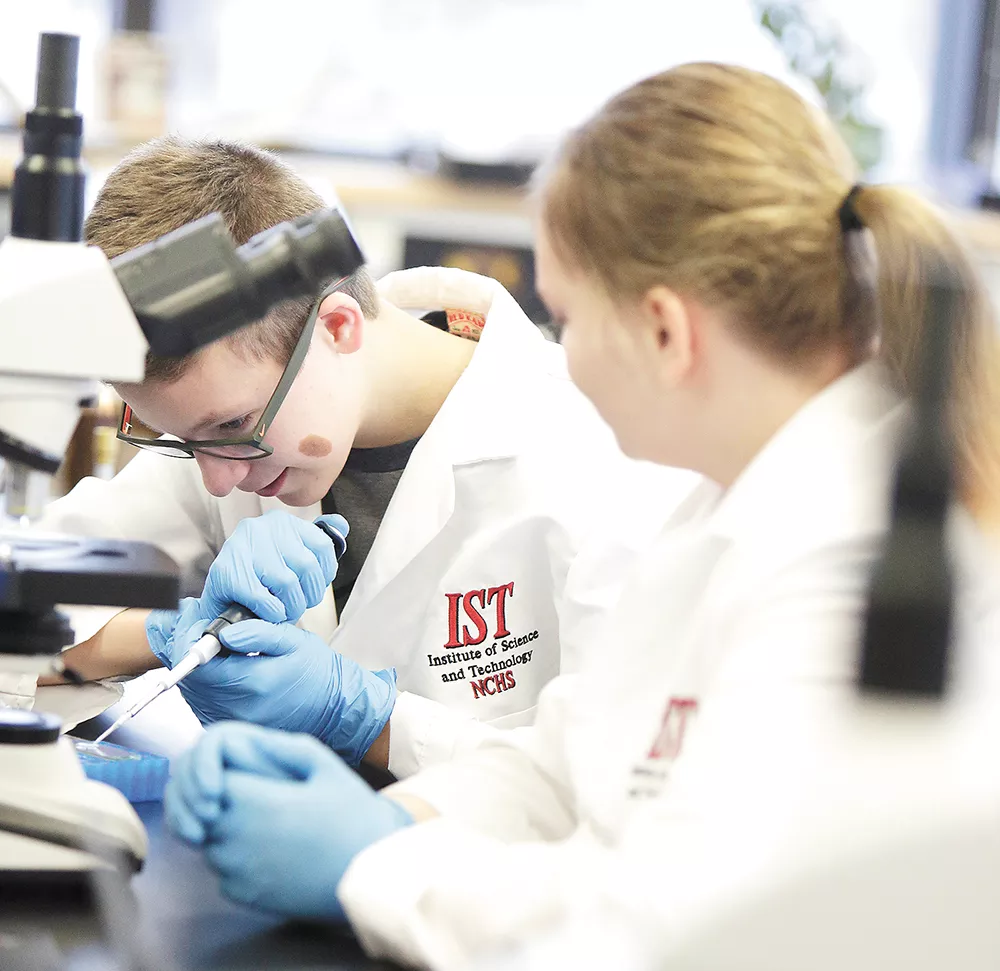 As a seventh-grader, Ivy Pete spends her days in a professional lab, learning a college-level curriculum in a high school building.
The best part? She still gets to be around other middle-school students her age.
Ivy is part of North Central High School's 7th and 8th Grade Institute for Science and Technology Immersion, a Spokane Public Schools program that is testing the boundaries both socially and academically for middle-school students. The program, now in its second year, allows them to take classes in NC's IST labs — the only two professional-grade labs in a high school in the nation, according to the school.
In Spokane Public Schools, it's one of many options that answer the call from parents for more school choice. And it eliminates one transition for kids. Instead of going through three different schools — elementary, middle and high school — students take middle-school classes in a high school they can eventually graduate from.
For Ivy, it's a far cry from where she was two years ago, when she was a fifth-grader frustrated because she didn't feel challenged. After spending sixth grade at PRIDE Prep, a Spokane charter school, she started at NC this year.
"Here, it's really different [from elementary school]. It's kind of unique because all the kids here want to learn, and they're really involved in it and challenged," she says.
There are 120 students in the program, and word is getting out. Nearly 100 families are on the waiting list for their child to be chosen for the program, which uses a lottery system, says North Central Assistant Principal Wendy Bromley.
For the district, the program stemmed from a seemingly bold idea at the time: That kids would be excited to learn higher-level science, like microbiology, in middle school.
"The second I saw all the science equipment, I was like, 'I'm in,'" says Jacob Gannon, a seventh-grader in the IST program. "It was so amazing, and completely different from anywhere I'd ever been before."
A few years ago, Spokane Public Schools evaluated its science, technology, engineering and math (STEM) curriculum for students, hoping to add more options. Other high schools like Ferris and Lewis and Clark decided to implement a curriculum called "Project Lead The Way," which introduces STEM skills for engineering and biomedical science through hands-on experience.
North Central went in a different direction. The school already had the Institute for Science and Technology, founded by director Randy James, and school officials thought that expanding IST would be the best solution, says Steven Gering, Chief Innovation and Research Officer for Spokane Public Schools. The IST program focuses more on molecular bioscience, including DNA sequencing, than other STEM schools.
Gering says the district wanted to find a way to add a microbiology course to the IST program, but there wasn't any time during the year to add that course for high-schoolers.
"That's when we started saying, 'What if we started in seventh and eighth grade? What would those courses be like?'" Gering says.
Principal Steve Fisk pushed the idea, and in the 2015-16 school year — one year after construction finished on the new labs — North Central opened the school to a cohort of 60 seventh-graders.
Bromley, the assistant principal, says her own daughter is an eighth-grader in the IST program. For Bromley, like many parents in Spokane, enrolling her daughter at North Central in seventh grade was a way to make for an easier transition into high school.
The transition from sixth grade into a high school can be scary for some students, and initially parents had concerns that seventh-graders might not be able to integrate safely into a high school. But what has happened, Bromley says, is that it hasn't been much different from ninth-graders starting high school. In fact, she says many of the eighth-graders who are in their second year in the IST program feel more comfortable than ninth-graders just starting out.
Students like Ivy say there was an adjustment period going from sixth grade into a high school, but she was able to get used to it.
"Sometimes it's a little bit frustrating for the high-schoolers or for us, when we don't, like, completely get each other," Ivy says. "Sometimes it's kind of like, 'Here's the annoying little kids running around.'"
Seventh-grade students don't have any shared classes with high-schoolers, so they usually see each other only in the halls or during lunch. Eighth-graders share one elective class — a language class, for example — so that middle-schoolers can ease into the transition.
"I think for a lot of us it's been hard, but for a lot of us it's been easy, and a smooth transition," Ivy says. "We're able to socialize and we're able to see into the future, and know how it's gonna be in high school."
North Central is not the only school that has grades 7 through 12, and there are now STEM schools all over.
"But in terms of, like, the microbiology course? That's unique. That was our idea," Gering says.
The microbiology course for seventh-graders in the IST program uses a college-level curriculum that was designed from scratch, Gering says. Seventh-graders, for obvious reasons, aren't expected to complete the coursework at the same level as college students, so it had to be simplified. But Gering says the course fills a gap that the district hasn't really taught until now.
Alex Karim teaches the microbiology class, and he says it's something you can't get in a middle school, or most high schools.
"The idea behind the program is giving students and families something different," he says.
The goal is not to necessarily steer all kids into STEM careers. Karim says NC wants science to be "accessible to all students." Michaela Meek, an eighth-grader at NC, wanted to join the IST program for the science, even though she's not looking for a career that is science-related. She says she wants to work for the United Nations, helping refugees.
It's not only science classes that middle-schoolers take during their first two years at NC. They take a range of courses including social studies and math, just like any other high school student would. They're accelerated courses, taught for middle-schoolers. But the biggest draw for parents is the IST program.
"We want all students to have the opportunity to learn science and engage in it in an authentic way," Karim says.
Gering says it's possible that similar programs could be expanded to other schools in Spokane, but part of the reason North Central was able to add middle-school-aged kids had to do with space. A few years ago, North Central was the smallest of Spokane Public Schools' high schools.
If the district did add a 7-12 program at another high school, Gering says it would likely be something a little different than NC's IST program.
Adam Swinyard, Spokane Public Schools' chief academic officer, says the district is keeping an eye on the program while SPS examines how grades may be configured differently in the future to help solve space issues districtwide.
The program is teaching the district some lessons, he says.
"It tells us it's important to have a variety of educational options for students in our system," Swinyard says. "It's a great fit." ♦