In the three months Teila Murfin waited for a slot to open at Spokane's Opioid Treatment Program to finally address her heroin addiction, she hit bottom. She was using heroin and methamphetamine, getting high just to avoid the awful feeling of withdrawal. When she added her name to the waiting list, she did it half-heartedly, not really believing she'd ever be free. But then she ran out of money to pay for drugs and resorted to trading sex instead.
"I knew when I started doing that ... I knew automatically I've got to get clean," she says. "It just happened to be not even three weeks later that I got the call saying I was in."
Murfin, who's 23, remembers the day in October 2015 when she started the program at the Spokane Regional Health District, which provides medication-assisted treatment to hundreds of people addicted to opioids — pain relievers that come in legal and illegal forms. For Murfin, the trouble started seven years earlier with a friend's invitation to take oxycodone at a summer party. She later swapped painkillers for cheaper alternatives.
In the 18 months since she started treatment, she's relapsed twice. She says each time reinforced that she can't do this on her own if she wants to keep this new life. She has a job she likes and an apartment that's all her own. She just learned she's pregnant — barely 12 weeks along. And she's able to think more about the importance of quitting cigarettes and coffee than about a deadly drug habit.
"It saved my life, that's for sure," she says. "I can't have a life and do what I need to do being dirty. It doesn't work like that."
The three-month wait Murfin experienced has been the story for addicts seeking help here for a long time. Meanwhile, the number of overdose deaths involving at least one opioid in Spokane County increased from 36 in 2014 to 64 in 2015, according to state numbers. The 78 percent increase outpaces the 9 percent rise seen across the state from 2014 to 2015. There were 727 overdose deaths in Washington in 2015.
Despite an opioid overdose epidemic that touches the whole country, the public treatment program in Spokane has struggled to rally the support it needs from those who control funding, as well as other professionals who see and deal with the ramifications of addiction.
"If this was the Zika Virus or if this was Ebola — we have emergency resources to try to bring those kinds of epidemics under control. We've had to fight tooth and nail to get funding out of the siloed system to meet the demand," says Dr. Matt Layton, the program's medical director.
But the fight is paying off. In January, Spokane County commissioners voted to give the program 142 more spaces for Medicaid patients, bringing the number of slots for that group up to 740 and eliminating the waiting list.
Space to help more people is valuable, but it's not the only help the program needs. Layton and others at the Regional Health District also spend time with doctors and law enforcement officers to help more people understand the scope of the opioid problem and the success of medication-assisted treatment so that the community, as a whole, improves the way it responds to drug users.
"We just want to provide evidence-based treatment. And the evidence really is with medication-assisted treatment," Layton says.
FROM PILLS TO HEROIN
In Spokane, as in communities across the country, prescription drug use is going down while heroin use increases. State and federal legal restrictions dating back to 2008 and 2009 have successfully limited access to prescribed painkillers like oxycodone. But people who already were addicted and lost access through a doctor's office turned to buying painkillers on the street. The expense of pills persuades many to switch to heroin.
Because so many people who become dependent on opioids were introduced through a legitimate prescription, they don't fit the common stereotype of a junkie. They're regular people by anyone's standards. Like Terry Schelin, who's 61 and was first prescribed painkillers after a motorcycle accident when he was young. He served in Vietnam and had a tough childhood — both of which made the pills' numbing effect appealing.
"I was always looking for something to shut my head off," he says.
He managed a car dealership in Oregon at the time. After a while, it became harder to get prescription opioids. One of his employees used heroin and got Schelin hooked as well. He battled the addiction for 18 years. His drug use led to a series of demotions at the dealership until he was fired. He tried various methods of breaking the habit, but none of them worked for long. He moved to Spokane, hoping it would help him change. Instead, he was arrested in 2003 for robbing a bank.
He says he used prison as an opportunity to clean himself up. But then a painful medical problem led to a hydrocodone prescription. The temptation was back.
"I got out and I was in really good shape," he says, but "the issues that caused my addiction were still there."
As a last resort, Schelin started taking methadone through the Spokane treatment program. He doesn't give it glowing endorsements. He doesn't like that he has to return to the clinic week after week to pick up his daily doses. He calls it his "leash." But the truth is, it's the only thing that's worked.
Study after study shows that medication-assisted treatment is more effective than other detoxification efforts. Methadone is a legal opioid that stimulates the same receptors in the brain as heroin and prescription painkillers. Using methadone to treat opioid addiction started in the United States in 1965 in response to the first heroin overdose epidemic. Use is regulated by the U.S. Drug Enforcement Agency and carefully controlled through treatment programs.
Skepticism of and opposition to methadone persists. Basically, addicts trade one drug for another, which opponents criticize. But when using methadone, they can function as normal. Methadone doesn't produce a high and prevents opioid withdrawal symptoms, including anxiety, nausea, vomiting and abdominal pain. People in treatment can put their lives back together, making it a verifiable solution to a unique problem.
"Opioids change the brain chemistry," says Julie Albright, director of the Spokane opioid treatment program. "That, unfortunately, is a different animal than other addictions."
Opioids attach to receptors in the brain and lead to the same feelings of pleasure that people derive from regular life activities, like eating and sex, according to the National Institutes of Health.
"Opioids are prescribed therapeutically to relieve pain, but when opioids activate these reward processes in the absence of significant pain, they can motivate repeated use of the drug simply for pleasure," states a 2002 article written to explain the chemical effects on addicts. "Further prolonged use produces more long-lasting changes in the brain that may underlie the compulsive drug-seeking behavior and related adverse consequences that are the hallmarks of addiction."
At the same time that opioids produce feelings of pleasure, they also suppress the release of another chemical, noradrenaline, leading to the classic symptoms of the high — drowsiness, slow breathing and low blood pressure. The problem is the brain adapts to chronic opioid use and becomes tolerant, requiring higher doses to achieve a high and regular use just to function normally. Without it, the user is physically ill.
"Cutting off cold is the worst thing to do," Layton says.
That's because people who quit cold turkey will likely relapse, but their tolerance isn't what it was when they used regularly, making them more likely to overdose. Spokane Fire Department personnel carry naloxone, a medication that reverses opioid overdose. Firefighters used the life-saving drug 371 times last year.
PRACTICING CARE
Layton, Albright and their staff are adamant that detox methods that emphasize abstinence lead to relapse. Their next objective is to convince others, whether in the medical field, law enforcement or public office, amassing a broader coalition of influential people who are all on the same page.
Stigma is the next barrier to improving care for people addicted to opioids, Albright says. "I think the perception is changing, but there's definitely the attitude that these are people that just made bad choices. And we really want that perception to change."
Spokane Police Officer Shane Phillips says attitudes in the department toward opioid users have softened over the past 10 years or so. They've all seen "relatively normal people" whose lives were upended after they got hooked on painkillers. Through training sessions and tours at the treatment program's dispensary, including conversations with people in the program, law enforcement officers gain a better understanding of the positive side of treating addiction with methadone.
"It's better for the community," Phillips says.
Albright works with Spokane County Detention Services to treat opioid users in jail. Addicted pregnant women were the first inmates to be put on the program. That happened a long time ago, says Sgt. Tom Hill, an administrator at the jail who works with the contract health provider, NaphCare. This year, the treatment program has gained access to its own clients who end up in jail, many of them for outstanding warrants. Preventing an interruption in their methadone dosing ensures they don't go through withdrawal and lose all the progress they've made.
The next step involves enrolling new clients in treatment when they're in jail. Hill speculates that five to 10 people come through the door every day who could be candidates for the program. He's convinced treatment reduces the likelihood that incarcerated people will commit more crimes after they're released.
"People commit property crimes to support that habit," he says. "This addiction leads to desperate behavior."
In addition to working closely with law enforcement, Layton meets with doctors who prescribe painkillers, convincing them to take responsibility for their role in their patient's addiction and commit to helping by doing more than just yanking the prescription. When that happens, "they'll use whatever they can get their hands on," he says.
He says the medical community is working toward creating a more integrated system that connects primary, mental and behavioral care to treat the whole person, not just the addiction.
"Those really don't exist — yet," he says. "We're building this machine as we're flying it, for sure."
Encountering compassionate people who will offer to help can make a big difference. In July, Kasey Ehlert, 28, was five months pregnant and addicted to heroin — and scared that would mean losing custody of her baby when she gave birth. But on the recommendation of her doctor, she entered the methadone program. There, she felt accepted and free from the judgment she was sure she'd experience from people who can't empathize with her struggle.
Coming up on a year in treatment, she spends more time with her 4-month-old son and 4- and 6-year-old daughters than she did in the two years she was using, when it seemed like all day, every day, was spent chasing the next high.
"The worst part was the withdrawals — laying in bed all day like you had the flu," she says. "I didn't even know there was a methadone clinic at all. ... If they didn't have programs like this, I don't know where I'd be. I'm not just saying that." ♦
---
Politics of Addiction
In December, the Centers for Disease Control released new data showing that prescription and illicit opioid overdoses caused 33,091 deaths in 2015. According to the National Center for Health Statistics:
Heroin overdose deaths increased 23 percent.
Synthetic opioids, excluding methadone, caused 9,580 deaths — a 73 percent increase. The rise is due mostly to deaths caused by illegally manufactured fentanyl, a painkiller that is 80 to 100 times more potent than morphine.
Overdose deaths caused by prescription opioids, excluding the group predominated by illegal fentanyl, went up only 4 percent, leading officials to believe that attempts to limit access to prescription drugs is working.
During his campaign, President Donald Trump vowed to "end the opioid epidemic" by stopping drugs coming into the country, including heroin entering via Mexico and other overseas operations that send fentanyl and other drugs through the mail. He also called for increased access to treatment and expanding use of overdose reversal drugs, such as naloxone.
In February, former Republican congressman Newt Gingrich, progressive activist Van Jones, and former Democratic congressman Patrick Kennedy co-authored an editorial in The Hill calling on Trump to follow through on his campaign promise.
"The most efficient and cost-effective way to achieve this is by breaking down the barriers to the treatments that actually work. What works best is medication assisted treatment (MAT) — the combination of behavioral counseling and recovery medication.
"Today, only three out of every 100 people living with opioid addiction are receiving this type of treatment. The scale of the epidemic, as well as the medical community's endorsement of MAT, makes these numbers even more dramatic and indefensible. The economic case for MAT is also clear. Studies show that every dollar spent on treatment saves $4 in healthcare costs and $7 in criminal justice costs.
"The bottom line — breaking down barriers to opioid addiction treatment that works will save lives and money. And the president, who knows what it is like to lose someone close to him to addiction, has an opportunity to act."
They suggested that Trump work to reform policies that keep treatment out of reach for some addicts, change criminal justice policy to favor treatment over jail, and push for funding to address opioids as a public health emergency.
— TARYN PHANEUF
---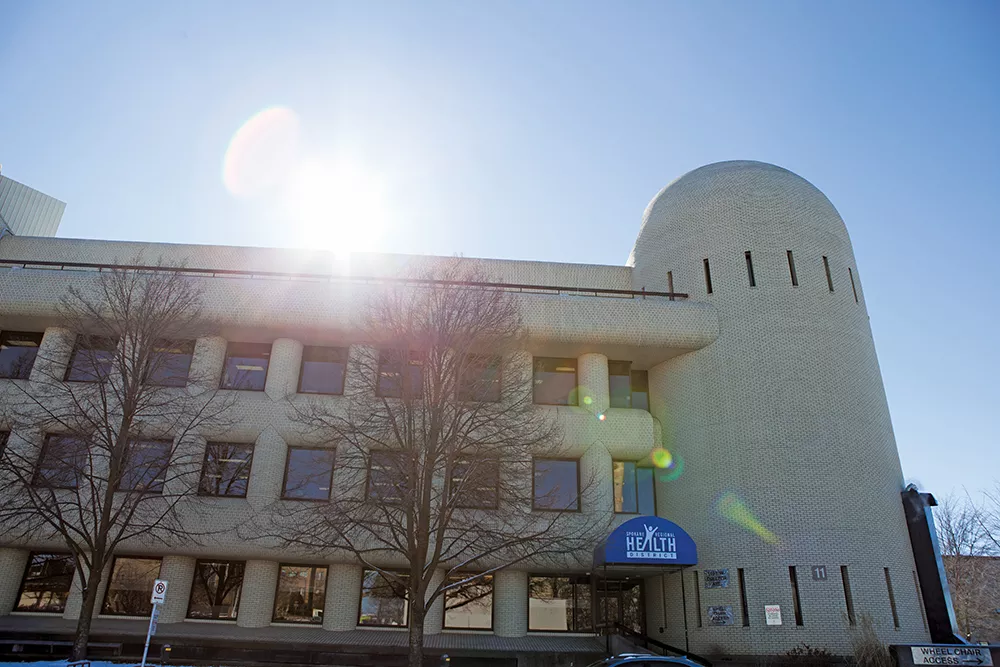 More Than Medication
In addition to daily doses of medication, people in the Regional Health District's Opioid Treatment Program meet with counselors individually and have the opportunity to attend group sessions.
Licensed counselors see individuals once a week for their first three months to focus on their personal issues and concerns and set goals for their recovery. They set goals like securing a job, reuniting with family, or finding a safe place to live, says Mimi Berlinger, who's worked as a counselor at the program for six years. Counselors check in on how they're feeling on the medication.
"We're always working on that stability," Berlinger says.
Group settings provide a chance to hear from others experiencing the same struggles, working toward the same goals, and seeking the skills to cope with stress or find other ways to prevent relapse.
The hardest part of starting recovery is often breaking the habits that centered on drug use.
"Many of them come in here with very chaotic lifestyles where there is no structure," Berlinger says. "It's just constant running — either seeking it, getting it, or feeling it."
With a narrow window — 5:30 to 11:30 am — to get into the dispensary for a daily dose of methadone, program participants are suddenly required to rein in the chaos.
For people whose opioid dependency was concealed — whose lives looked normal on the outside — starting treatment means they don't have to hide any more.
"I have to say that I love this job simply because people voluntarily come into the program," says Berlinger, who previously spent four years in an abstinence-based program. "They come in because they want to make changes in their lives, and it is a lot easier to work with individuals that want to make changes — that want to get into treatment; that want to stop using illicit drugs. They want to get a 'normal life' going again. It's very enjoyable for me to work with people who want to do this."
— TARYN PHANEUF