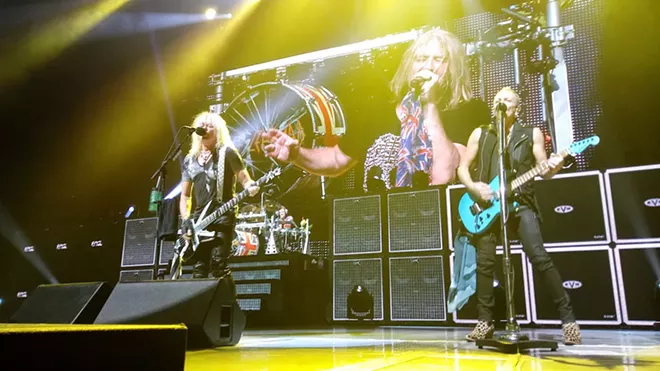 When Def Leppard came to the Spokane Arena in 2015, they packed the place and I reviewed the show, writing that "the rocking songs still hit hard, the ballads still soared, and the crowd filling the place to the rafters sang along nonstop as they were treated to a great night out. It's hard to imagine anyone went home complaining."
All of that remains true after Wednesday night's return to Spokane less than two years later, as the British five-piece again put on a stellar, slick show. But I could see some folks complaining, particularly if they attended both gigs. The set lists were nearly identical, even down to the order they played the tunes.
That said, most probably didn't care a whit, as they got to party for a night with a band of their youth, delivering a batch of hard-rock hits they've loved for a lifetime. And Def Leppard knows how to deliver those hits with a stylish stage show and impressive musicianship.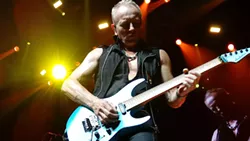 Playing in front of a massive electronic screen that alternately flashed garish graphics or old videos and photos, the band rumbled through 17 songs reaching back as far as 1981's
High 'n' Dry
album ("Let It Go," "Switch 625" and "Bringin' on the Heartbreak" were all highlights), and dropping three songs from their 2015 self-titled album. Among those new tunes, show opener "Let's Go" hit hardest, while the pop-funk of "Man Enough" midshow was, well, "befuddling" is probably the best word for those of us who would probably be happiest with the band playing 1983's
Pyromania
in total, plus a few other tunes.
You can't begrudge a band showcasing its newer material, but obviously the crowd reacted most excitedly to Def Leppard standards like "Foolin'," "Love Bites" and the set-closing duo of "Let's Get Rocked" and "Pour Some Sugar On Me."
It's to the band's credit that they still seem to enjoy performing as much as the audience dug hearing them. Guitarists Phil Collen and Vivian Campbell traded impressive solos all night. Joe Elliott can still hit most of his notes, and the rhythm section of drummer Rick Allen and bassist Rick Savage are both fine showmen. Most hard-rock bands can't approach the hooks Def Leppard knock out with ease, and their four-part harmonies remain a potent weapon.
By the time they encored with "Rock of Ages" and "Photograph," the audience had been in the building for upward of five hours, and it's a testament to Def Leppard's staying power that not many wanted to leave without hearing those two signature hits.
Speaking of openers, Tesla was a repeat of the 2015 show as well, although they managed to mix up their seven-song set. For fans old enough to have lived through their heyday, listening to songs like "The Way It Is" and "Lovesong" was an ample reminder that Tesla had some songs that ruled the charts for a few years, and that the blues-rock-leaning Sacramento band remains an act worth seeing.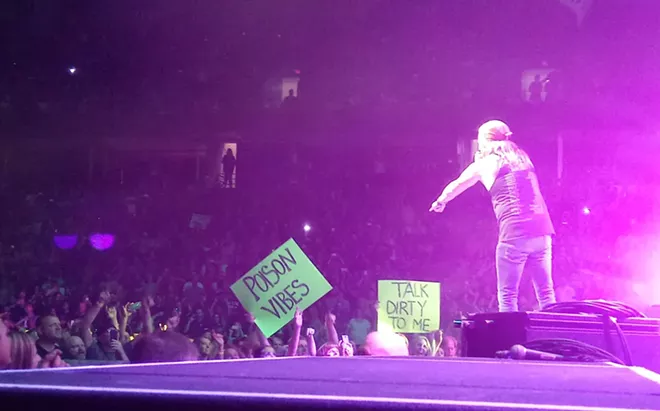 Poison played the middle slot, and it's exhausting watching them work a crowd. Bret Michaels is as affable a frontman as you'll find, and he spent a lot of time thanking the audience between songs like "Talk Dirty To Me," "Fallen Angel" and "Something to Believe In." I have to admit seeing the members of Poison in "normal" clothes instead of their old glam-rock feathers and makeup isn't quite as fun as the old days. And Michaels' voice was easily the weakest of the three singers on Wednesday. Lucky for him, the audience was all too happy to take over vocals for "Every Rose Has Its Thorn."
DEF LEPPARD SET LIST
Let's Go
Animal
Let It Go
Dangerous
Foolin'
Love Bites
Armageddon It
Rock On
Man Enough
Rocket
Bringin' on the Heartbreak
Switch 625
Hysteria
Let's Get Rocked
Pour Some Sugar On Me
Encore
Rock of Ages
Photograph
POISON SET LIST
Look What The Cat Dragged In
Ride The Wind
Talk Dirty To Me
Something To Believe In
Your Mama Don't Dance
Fallen Angel
Unskinny Bop
Every Rose Has Its Thorn
Nothin' But A Good Time
TESLA SET LIST
Into The Now
Edison's Medicine
The Way It Is
Signs
Lovesong
Little Suzi
Modern Day Cowboy