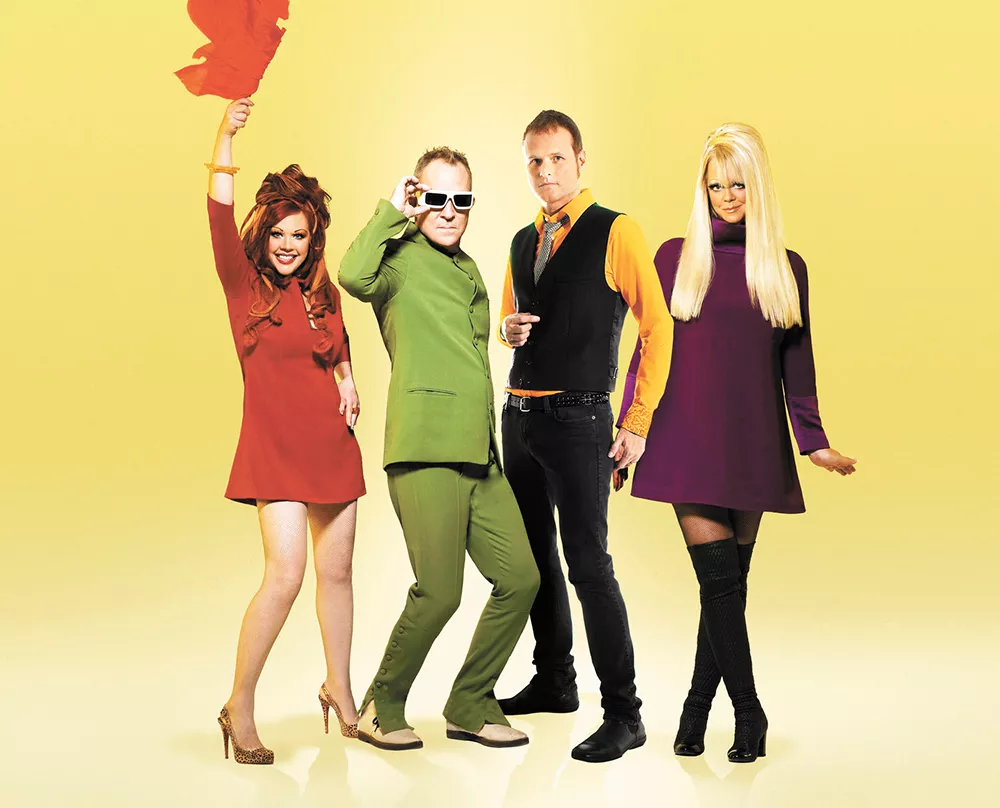 The Festival at Sandpoint is one of our area's best annual music festivals for a couple of reasons. First, Memorial Field is really the ideal setting for a late summer outdoor concert series, with the nearby Pend Oreille River serving as an idyllic backdrop. On top of that, the lineup is always a diverse surprise every year: Everyone from Etta James to the Pretenders have been featured performers.
The festival kicks off Thursday with the jazzy international flavor of Pink Martini, and continues through next Sunday with a roster of artists that should satisfy pop, country, rock and reggae fans. Here's what you have to look forward to. (Doors for all concerts open at 6 pm.)
The B-52s (Fri, Aug. 4 at 7:30 pm)
People seem to have forgotten how truly strange and transgressive the B-52s seemed when they busted out of Athens, Georgia, in the late 1970s in a fog of Aqua Net and nostalgia. In the decades since, the band's batty concoction of '50s girl-group doo-wop and space-age quirkiness has been normalized through its rotation on retro-pop radio stations everywhere, but their earliest material (the stuff you won't hear on your morning commute) is still eccentric and singular. I saw the B-52s at Northern Quest in 2008 — not surprisingly, they're great live — and while everyone in the audience started dancing when the band launched into hits like "Roam" and "Love Shack," all but the die-hards were mostly perplexed by quirky deep cuts like "Party Out of Bounds" and "Planet Claire," with its headless, Plymouth-driving aliens. They've always embraced kitsch, and never ironically. With Biddadat; $54.95.
Jake Owen (Sat, Aug. 5 at 7:30 pm)
While perusing Jake Owen's Wikipedia page, I learned the following tidbit about "Yee Haw," the country star's evocatively titled breakout single: "[Owen] describes the song (an up-tempo party anthem in which the narrator expresses his enjoyment with a cry of 'yee haw') as being written 'to make people have a good time.'" So there you have it. Upon further reading, I see that the rest of his discography is filled with a lot of country song-sounding titles: "Barefoot Blue Jean Night," "Eight Second Ride," "Beachin'" and — whaddaya know! — "American Country Love Song." Based on his ticket prices, I'm sure he's got his fans. With Mitchell Tenpenny; $74.95.
The Head and the Heart (Thu, Aug. 10 at 7:30 pm)
These Seattle-based pop-folksters are aptly named: Their lyrics certainly have a thoughtful, intellectual bent, but their melodies are the kind that hit you in an elemental, almost primal place. In the heart, if you will. The band developed a following in this neck of the woods after forming in 2009, though they broke out in a big way around the same time that other nu-folk acts — Mumford & Sons, Edward Sharpe and the Magnetic Zeros, the Lumineers — were getting their days in the sun on Top 40 radio. And while the Head and the Heart might not have had the same mainstream success of those bands, they still draw crowds, and their last two studio albums cracked the Billboard Top 10. With Matt Hopper and the Roman Candles; $44.95.
The Wailers and Iration (Fri, Aug. 11 at 7 pm)
Sure, that dude you knew in college with the glow-in-the-dark Bob Marley poster on his dorm room wall was probably a poseur. But even casual reggae fans know that the Wailers, which were originally formed as Marley's backing band and continued on after the iconic musician's 1981 death, are important architects of the genre. (What reggae dude probably didn't know: The group's lineup still features founding bassist Aston Barrett and guitarist Junior Marvin.) If the Wailers are the masters of the form, then Iration are the disciples. Founded in Hawaii and specializing in what's known as sunshine reggae, they've only been around since 2004, but their following is such that they'll likely draw as many devotees as the legendary headliners. $54.95.
George Thorogood (Sat, Aug. 12 at 7:30 pm)
With his screaming guitar licks and his stuttering b-b-b-baritone, George Thorogood has made a career out of writing originals that sounded like classics when they were new, all while he was taking old blues standards and making them his own. His biggest hits include "Bad to the Bone" and "I Drink Alone," but he also breathed fresh, raucous life into Hank Williams' "Move It on Over," Amos Milburn's "One Bourbon, One Scotch, One Beer" and Bo Diddley's "Who Do You Love?" I got a chance to talk to Thorogood when he and his backing band the Delaware Destroyers came through town in 2014, and he left me with a simple credo that I've never forgotten: "Rock 'n' roll never sleeps," he told me. "It just passes out." Keep that in mind when you see him. With the White Buffalo; $74.95. ♦
Festival at Sandpoint • Thu, Aug. 3 through Sun, Aug. 13 • War Memorial Field • 855 Ontario St., Sandpoint • festivalatsandpoint.com