Tinnabulation labels itself as Spokane's largest music festival. It's also the city's newest, set to take over most of Riverfront Park (at least the parts that aren't currently under construction) and the neighboring Convention Center for the first time this weekend.
Tinnabulation has more than just music in store. Alongside the four stages, which will feature more than 50 bands, there will be vendors, comedians, poets, food trucks, a "watering hole" serving craft beer from eight breweries, and various art installations, including large murals and a 20-foot-tall robot made out of No-Li beer cans.
"We're incorporating everything from the art scene that the Inland Northwest can offer," says Matt Meyer, Tinnabulation's CEO. "If you need to take a break from listening to music, you're going to be able to find something to do."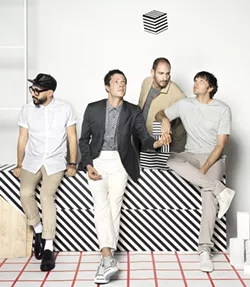 Meyer, who also works as event manager for the Spokane Convention Center, says the notion of starting up his own festival has almost always been in the back of his mind.
"Back in college, my buddies and I always talked about doing something like this," he says. "We were talking semi-realistically, but we were always throwing the idea around."
And then he attended a conference in Portland and sat in on a discussion about the logistics of best utilizing public spaces for events, and his imagination was sparked.
"It just got my brain running again. I was looking out over the park and thinking about the logistics," Meyer says. "The more I thought about it, the more it became a realistic possibility."
He started planning the festival in earnest nearly four years ago, and Tinnabulation is finally getting off the ground amid a crowded marketplace. There are a lot of music festivals out there, likely more than ever before: Sasquatch, Elkfest, the Festival at Sandpoint and the Inlander's Volume festival are already in this summer's rearview mirror, and Schweitzer's Fall Fest and Pig Out in the Park just wrapped up this past weekend.
But Tinnabulation is different in a couple of ways, Meyer says. First, it's larger in scope and variety than your typical Spokane festival. It's also aiming to be more of an intergenerational experience, with an array of artists whose fanbases span age groups.
"When we went into this looking at the music side of things, we wanted it to be a family event in a family-friendly setting, but it's also attracting the college demographic," Meyer says. "We wanted artists the college kids would want to hear, and also incorporating what older generations want to hear.
"A lot of the comments we hear are, 'It's about time Spokane has something like this.'" ♦
Tinnabulation Music Festival • Fri-Sun, Sept. 8-10; Fri, 2-11 pm; Sat, 11 am-11 pm; Sun, 11 am-10:30 pm • $43.50 for 1 day, $74.50 for 2 days, $102.50 for 3 days; $210.50 for 3-day VIP pass • Riverfront Park • 507 N. Howard • Spokane Convention Center • 334 W. Spokane Falls Blvd. • tinnabulation.com
---
THE HEADLINERS
The John Butler Trio
Friday at 9 pm
These Australian roots-rockers are huge in their home country: Nearly all of their albums have been certified platinum a few times over. And while their following in America is more of the cult variety, they'll no doubt bring out all the diehard jam-band aficionados.
American Authors
Saturday at 9 pm
Even if you don't recognize this New York band offhand, the odds are still pretty high that you've heard their biggest hit. The 2013 single "Best Day of My Life," with its distinctive banjo lick and "whoa-oh-oh" sing-along hook, has been used in films, commercials and video games, and it's racked up 226 million listens on Spotify.
OK Go
Sunday at 8:30 pm
Best known for their low-budget, intricately choreographed music videos (remember the one with all the treadmills?), this quartet has been knocking out super-catchy pop songs since the early 2000s. Their set will no doubt involve some kind of synchronized dancing; be prepared to move right along with them.