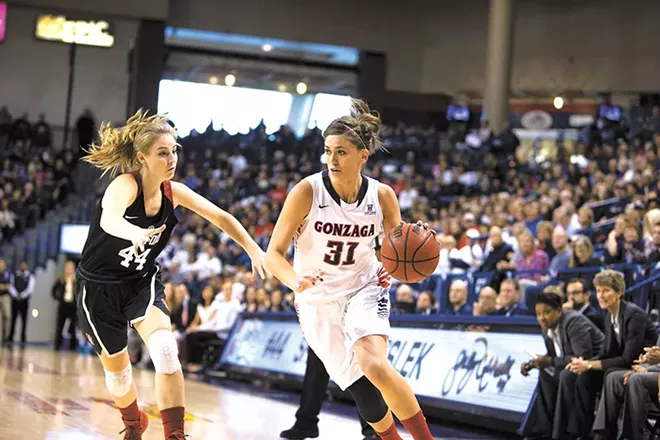 A couple of years ago, the Gonzaga women's basketball team went on a spirited run in the NCAA Tournament, taking two games on the road against Top 20 teams (George Washington and Oregon State) to earn a spot in the 2015 Spokane Regional. They battled powerhouse Tennessee into overtime before succumbing to the Vols 73-69.
With any luck, the Gonzaga women will find their way back to March Madness this upcoming season, because the NCAA Tournament is coming back to the Spokane Arena on March 24 and 26, 2018. The regional hosts three games over the two days, with the team making it out alive heading to the women's Final Four in Columbus, Ohio.
Whether or not Spokane's local squad represents, the regional guarantees excellent action from some of the best teams in the country, battling in the Sweet Sixteen and Elite Eight rounds. And you can get a jump on tickets right now with a special deal today through Tuesday, Oct. 24.
Tickets are just $50 for all three games for adults, and $35 for youth/senior tickets, available through
this TicketsWest site
or by calling 800-325-SEAT. You'll need to use the promotional code
SPORTS
to get access for the tickets.
As a bonus, everyone who buys tickets to the women's regional in 2018 will be placed on a priority waiting list to have the first crack at buying tickets in 2020 for the men's first- and second-round games coming to the Spokane Arena.