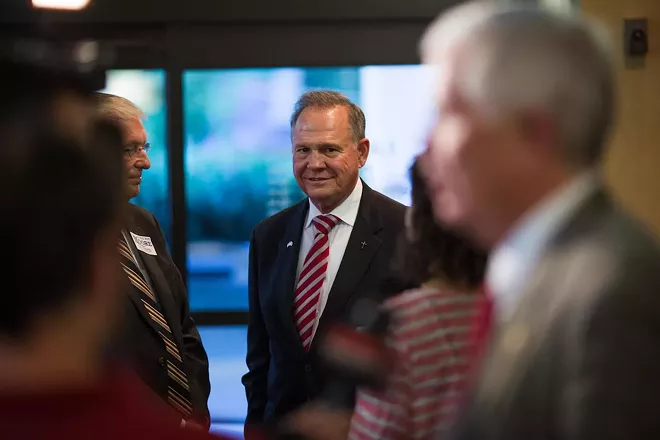 By JONAH ENGEL BROMWICH
© 2017 New York Times News Service
Republican officials in Alabama staunchly defended their party's Senate nominee, Roy Moore, after a report that he had made sexual advances toward four teenage girls when he was in his 30s.

The Washington Post reported that, in early 1979, Moore, then a district attorney and later chief justice of the state Supreme Court, had approached a 14-year-old, eventually kissing her, undressing her, touching her over her bra and underpants, and guiding her hand to touch him over his underwear.
The paper found three other women who said they had been pursued by Moore around the same time, when they were between 16 and 18 years old. The Post interviewed more than 30 people in reporting its account.
Moore told The Post that the allegations were "completely false and are a desperate political attack by the National Democrat Party and The Washington Post on this campaign." He is set to face Doug Jones, a Democrat, in a special election next month.
The story was met with immediate backlash from Republicans in Alabama, several of whom dismissed the women's stories out of hand.
John Skipper, 66, a former chairman of the Mobile County Republican Party, told The New York Times that the allegations were "total contrived media garbage."
He said that he and other Alabama Republicans would continue to support their candidate and echoed Moore's assertion that the Democratic Party had been behind the story.
Alabama's state auditor, Jim Ziegler, told The Washington Examiner that the women's claims were "much ado about nothing" and said that Moore had done nothing "immoral or illegal." (Alabama law, both in 1979 and now, finds that someone who is 19 or older and has sexual contact with someone between the ages of 12 and 16 is guilty of second-degree sex abuse.)
Ed Henry, a state representative, told The Cullman Times, in Cullman County, Alabama, that the women who came forward should be subject to legal action.
"If they believe this man is predatory, they are guilty of allowing him to exist for 40 years," he said. "You can't be a victim 40 years later, in my opinion."
Jerry Pow, party chairman for Bibb County, told Daniel Dale, a reporter for The Toronto Star, that he'd support Moore even if the candidate had committed a sex crime.