With the sun shining, fresh snow on the mountain, and skis cutting through the fresh powder, the morning couldn't be better. But then: an ache, shortness of breath, and lightheadedness. Is this a heart attack?
From this elevation, where is the closest hospital?
For skiers at the Bluewood ski hill, it's Dayton General, about an hour east of the Tri-Cities, where a cardiac center can help heart patients and stabilize them if they need to be transferred.
But like many rural hospitals, Dayton's, which is run by the Columbia County Health System, has struggled to remain financially viable.
"When people have accidents, they have this expectation with the 911 system there's a hospital nearby," says Shane McGuire, CEO of Columbia County Health System. "I'm fearful that we're close to that not being a reality."
The threat of closure is a big deal when the next closest hospital can be more than an hour away. With medical emergencies like a stroke or heart attack, every minute it takes to get to care counts when it comes to saving heart and brain tissue.
With the Affordable Care Act, much of the national health care conversation in recent years has centered on access to insurance. But even as more people are getting coverage to help pay for care, the providers they need nearby aren't a sure thing. Over the past decade, more than 80 rural hospitals around the country have had to close their doors because they couldn't make things pencil out. Many others are at risk.
The good news: Washington state is working to prevent the loss of rural access to doctors and health care providers. While the hospital association and state are working with some of the most vulnerable facilities to try a new payment method that could provide more stability, many of the hospitals are also changing the way they operate to remain as viable as possible.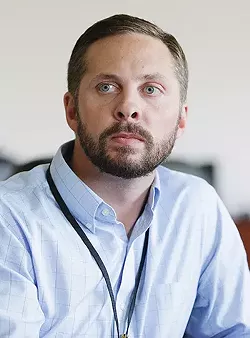 NUMBERS GAME
While the Medicaid expansion allowed more people to be eligible for coverage, those in rural areas tend to be older and sicker, and more likely on Medicare, so the financial change wasn't that significant for hospitals like the one in Dayton. Patients in rural areas are also less likely to have commercial insurance through an employer, and at the root of the financial struggle is the fact that often there just aren't that many patients on a daily basis.
"The fact is, hospitals need volume. We are volume-driven businesses," says Mo Sheldon, CEO of Odessa Memorial Healthcare Center. "That's the reality in today's environment, and small communities often don't have the volume to generate enough business to make a hospital viable without tax support."
The smallest rural hospitals may only have a single patient staying overnight every other night, but importantly, they may provide clinic services to 100 people a day, as they care for most of the people who live in the area, says Mary Kay Clunies-Ross, a spokeswoman for the Washington State Hospital Association.
"When they falter, it puts at risk not just the hospital, which is important when you're in dire straits, but also all the preventive care and maintenance care the community relies on," she says. "So when we worry about rural hospitals, it's not just the emergency care, it's the whole spectrum."
Hospitals like the ones in Odessa and Dayton are known as Critical Access Hospitals. They provide 25 or fewer inpatient beds, and are at least 35 miles from the nearest hospital. Some are managed and partly funded by taxpayers through a public health district, but while their residents' support helps, elements of these smaller health care systems aren't sustainable as they run now.
That's led to some difficult decisions.
For example, in Davenport, Lincoln Hospital administrators had to make the decision to shutter their long-term care services at the hospital in 2012.
"That is a service that is incredibly needed, but very hard to offer. There's a lot of cost," says Tim O'Connell, Lincoln Hospital's chief financial officer. "It was a big impact to our community."
Now, people from the community of about 1,800 have to move farther away from their families if they need round-the-clock care as they age.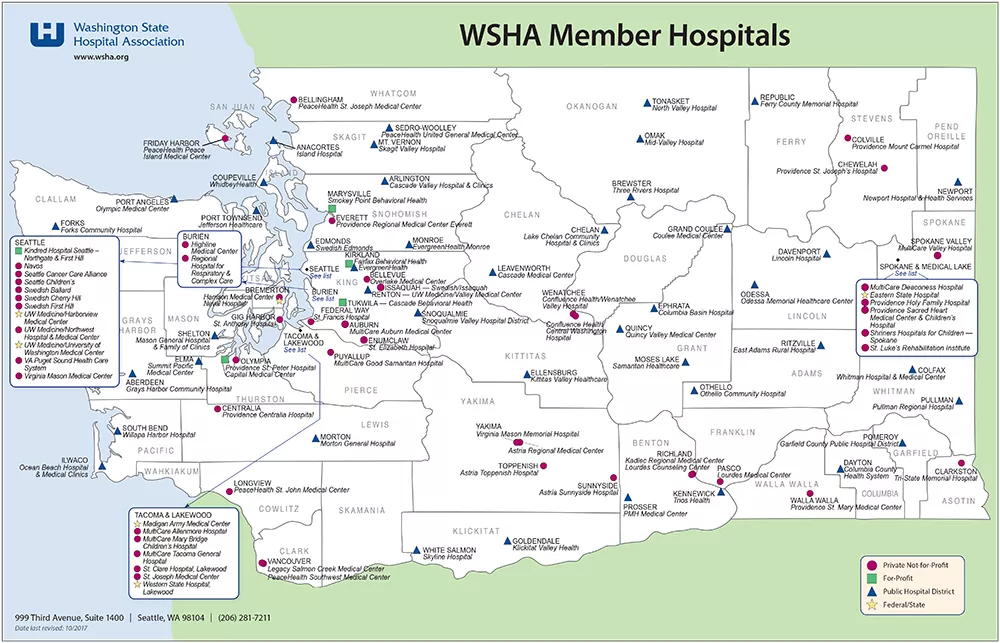 Where possible, Lincoln Hospital is continuing to help those neighbors, O'Connell says, providing relief services as needed to families who have a loved one receiving hospice care at home, and connecting them with other services as they can.
FINDING A NICHE
Some rural hospitals are figuring out ways to innovate around those financial landmines where they can.
Lincoln can't keep specialists on staff, but the facility is home to a robot that can move around the facility, enabling specialists in other parts of the state to videoconference in with doctors and patients and provide them with specialized diagnoses without the need to leave Davenport.
Meanwhile, farther south in Dayton, after the daily average number of patients dipped too low, that facility started accepting people who might have been denied admission in the past — those who need continued care and specialized nursing or physical therapy.
"I think that part of the challenge of rural health care is: Can you find a niche, outside of the standard competitive nature of larger health systems, who are constantly one-upping with diagnostic equipment, or cardiac surgeons?" says McGuire, the Columbia County Health System CEO.
For Dayton, the niche has been taking on more bariatric (obese) patients, or intravenous drug users with infections that might require long-term care as they transition out of larger hospitals, McGuire says.
Some hospitals review requests for those patients and deny their stay, because they may be harder to work with than the nice 78-year-old lady who just had a hip replaced, McGuire says.
"Before we started down this road, we used to be like everybody else. We'd get these calls and say, 'Oh my gosh, this could be a really difficult patient, maybe we shouldn't take them,'" he says. "But in 2015 our average daily patients was 2.4 patients. You can't sustain a service on 2.4 patients. We have 13 to 14 rooms in our acute wing, and you're paying to heat it and light it and staff it. That's when we started saying yes."
Now, they've had patients from as far away as Aberdeen, on the Olympic Peninsula. Not only are they helping the patients, but the nurses are keeping up on skills and are happier because they have patients to care for, he says.
"We've been taking these more challenging patients and wrapping services around them to see if we can meaningfully bring them back to health," McGuire says. "I think we've been surprised at the outcomes."
THE STABILITY FIX
At the state level, Washington lawmakers agreed to see if they could change the future for rural hospitals by creating the Washington Rural Health Access Preservation project (known as WRHAP; pronounced "wrap"), which will test if a different way of making Medicaid payments can help stop the hemorrhaging of small hospitals' budgets.
Not all hospitals will participate — Davenport is not part of the pilot program — but a core group of 14 struggling facilities are in the initial project.
"We don't want to be talking about how Dayton and Odessa lost their hospital, and how do we respond to that," says Jacqueline Barton True, director of rural health programs for the Washington State Hospital Association, which is partnering with the state Department of Health and Healthier Washington, a program of the Washington State Health Care Authority, to run the rural pilot program.
It turns out that part of what's putting hospitals like Dayton's at risk has less to do with the expensive emergency department than once thought.
State officials and politicians often point to empty inpatient beds that see only a small number of patients as the factor causing rural hospitals around the country to have money troubles, says Harold Miller, an expert on health care reform who is helping lead the rural pilot program. Miller is president and CEO of the Center for Healthcare Quality and Payment Reform, a national policy center that puts out informational reports meant to help everyone from the government to hospital associations.
And while it's true that there are set costs to run an emergency department, and fewer patients means less income to cover those costs, the real issue for many rural health districts is actually the loss at their primary care clinics.
"For most, it was their clinics that were losing the money," Miller says. "Medicaid was one of the biggest underpayers for that."
With Medicaid, rural clinics are eventually paid for every patient they see, but it's through a complicated, multi-step process that can take more than a year to fully reimburse them for the cost of care.
To fix that, the pilot program will allow the state to pay for services under a different logic than currently used.
Rather than pay the hospitals a big bill every time a Medicaid patient comes to the ER, the program will test paying the hospitals a set monthly amount for every Medicaid patient in that hospital's district. If and when someone comes in to use the facility, a much smaller rate than what insurers pay currently would be charged.
A similar model may be applied to primary care clinics, where patients would enroll and pay a regular fee, then not pay when they come in, unless they get some specialized services.
Focusing on changing payments across the board becomes important, Miller says, because if making primary care better — and hopefully keeping people healthier — hurts the number of emergency room or hospital visits, it can create a shortfall there.
"What we kind of discovered through all this was this incredible interconnection between all the services, and it's a domino effect," Miller says. "You can't just fix one thing. Everything has a cascading effect on other things."
While making regular payments whether you use the hospital or not may seem illogical at first, Miller says, it's easy to make a comparison to other services.
"The benefit is having [the hospital] there, but we pay on a per-visit basis," he says of the way things work now. "It'd be equivalent to paying your fire department based on the number of fires they have."
Hospitals are a service that people want around when needed, so paying for them regularly, even if you aren't using them at that moment, makes sense for the community, and will help the hospitals more reliably plan their budgets, he says.
Eventually, the fixes could be scaled to larger hospitals.
"These hospitals need this help maybe more severely than others do, but the kinds of things we're talking about putting in place here are not some special fixes, only for desperate rural hospitals," Miller says. "They actually would apply a lot to other hospitals." ♦
---
PERSONALIZED CARE
Personalized care is somewhat of a health care buzzword lately, says Carey Guhlke-Falk, a spokeswoman for Lincoln Hospital. But in rural communities like Davenport, the nurses, doctors, and healthcare professionals on staff often know their patients very well.
"This really is personalized care," Guhlke-Falk says. "These are our neighbors."
Steve Beckstrom, a nurse anesthetist at Lincoln Hospital, says he knows about 90 percent of the people he sees come through the hospital.
"You know they're going to go feed cows, or birth a calf in a week," Beckstrom says. "It's a face. It's a person."
— SAMANTHA WOHLFEIL
---
In Washington, rural health is especially of concern east of the Cascades: while 16 percent of state residents lived in rural areas as of 2010, Eastern Washington counties were often 60, 70, 80, and even 100 percent rural, according to the state Department of Health.