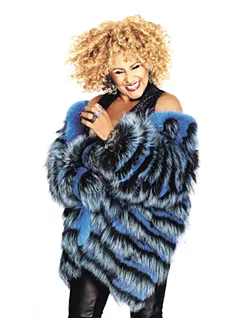 The word "legend" might get thrown around a bit too carelessly these days, but make no mistake: Darlene Love is, without question, a living legend.
The beloved vocalist and Rock and Roll Hall of Fame inductee is heading to Spokane with her annual Christmas show, called "Love for the Holidays," and she talked to the Inlander in the week leading up to the concert about her many accomplishments. At 76, Love is a spirited storyteller, and she still speaks about her past work with the vitality of a performer who's just starting out.
Here are some things to know about Love's long and prestigious career before she hits the INB next week.
Before she was an icon herself, Love brushed elbows with other greats.
With her vocal group the Blossoms, Love started her career as a teenager in the 1950s, eventually singing alongside the likes of Dionne Warwick, Tom Jones and the Beach Boys. The Blossoms even contributed vocals to the Halloween novelty song "Monster Mash." But the artists Love says left the biggest impressions are still as relevant now as they were decades ago — Sam Cooke and Elvis Presley.
"When I say the coolest, he was the coolest," Love says of Cooke. "It was his ambience. It was who he was. I came up with him as a gospel singer, so when he turned over to secular music, it was wonderful that I got a chance to work with him."
As for Elvis, the Blossoms performed with him during his hugely popular self-titled TV special in 1968, and Love made an uncredited musical appearance in his final narrative film, 1969's nun-on-the-run curiosity Change of Habit.
"He was that star who was untouchable," Love says. "You looked at him from afar and went, 'Wow, Elvis!' When I got a chance to work with him and do movies with him and do his 1968 comeback special, it was like magic."
She rose to prominence in the early '60s after signing witzh controversial producer Phil Spector.
Love became a regular contributor to Spector's lush Wall of Sound productions, first as a back-up singer and then as a lead vocalist. But as was the case with most of the artists Spector regularly worked with, their professional relationship was sometimes tumultuous: In 1962, Love sang lead on the Spector pop tunes "He's a Rebel" and "He's Sure the Boy I Love," only to see him deliberately misattribute the tracks to the Crystals, a girl group he was priming for success.
Love has since embraced those songs, and she says they'll always be part of her shows. The shuffling, ebullient "He's a Rebel" has, in particular, been pointed to as one of Spector's greatest early achievements, with Rolling Stone naming it one of the 500 greatest songs of all time.
"There's a big story behind that song," Love says, "and I always get joy out of telling my fans all these wonderful stories about what happened to me. ... It's a great, great song, because you can tie it to anything in your life."
Love did, however, get proper credit when she appeared on the 1963 Spector-produced LP A Christmas Gift for You, a holiday showcase for several of his artists. Although it flopped commercially (it probably didn't help that it was released the same day President Kennedy was assassinated), it's now generally considered the greatest holiday record of all time.
Every December, Love includes her tracks from that album, including her interpretations of "White Christmas" and "Winter Wonderland," in her traditional live set lists.
"People listen to those songs and hear them on the radio during the holiday season, and they expect me to sing those songs," Love says. "And I do, because I get a charge out of singing them. People say they get tired of singing their songs over and over again. Well, I get a break from singing mine! So it's great when they come back again."
Her signature yuletide tune got a second life from an unexpected source.
Like the Christmas Gift album, Love's '63 single "Christmas (Baby Please Come Home)" barely made a dent on the charts when it was first released. But in 1986, David Letterman, a fan of the song, invited Love to perform it with his house band on Late Night with David Letterman.
Love's appearance became an annual tradition that continued through Letterman's change in networks and up until his retirement in 2014, and it's now such a ubiquitous holiday staple that it's hard to believe it nearly fell through the cracks.
"Walking the streets or even doing shows, people would say, 'We can't wait to hear you on David Letterman. Christmas doesn't start in our house until we hear that song,'" Love recalls. "He started a trend. I ended up getting thousands of fans just because of that one song and because of that one show."
And while this year marks the third Christmas without Letterman on the air, Love still attracts audiences wanting to hear her most famous song.
"Half the time, people won't let me get off the stage after I sing 'Christmas (Baby Please Come Home),' so we come back out and sing it again," she laughs. "Then we make them all stand and sing with us, because everyone knows the chorus. It's such a joy, because the whole family gets into it."
While Love's life hasn't received the biopic treatment, she does have a Hollywood history.
Love has not only appeared on-screen with Elvis Presley, but alongside Don Knotts in 1969's The Love God?, and she played Danny Glover's long-suffering wife in the four-film Lethal Weapon series.
But in 2013, Love got to be front-and-center on screen in 20 Feet from Stardom, the Oscar-winning documentary about the backup singers (many of them women of color) who make headlining artists sound way better. In the film, Love discusses the ups and downs of her career — her troubles with Spector, her difficulty securing a major label contract, the period where she was working as a housekeeper, and a comeback that found her being recognized as a star in her own right.
The documentary's success breathed new wind into Love's professional sails, earning her younger fans that were previously unfamiliar with her groundbreaking work. But like everything in her career, Love says she knows she can't simply rest on her laurels. She has to keep working.
"Most people think you become a super-super-superstar when you win an Oscar," Love says. "You can't just sit at home saying, 'Well, now I won an Oscar. Now come on, y'all — hire me. Give me this next great movie and the next hit record.' It's like a moment in time, and then you have to work it.
"What it has done, though, is it's opened more doors for me that I would not have been able to go through were it not for that. But you also have to be ready when that door's open. That movie helped people realize, 'Whoo, look at Darlene Love!'"
Then she adds with a laugh: "'And she still looks kinda good, and she still has a great voice!'" ♦
Darlene Love: Love for the Holidays • Weds, Dec. 13 at 7:30 pm • $39.50-$59.50 • INB Performing Arts Center • 334 W. Spokane Falls • inbpac.com • 279-7000