BINGEWORTHY RECOVERY
Let's posit that you, like many people, went out on New Year's Eve and had a cocktail, or two, or 10. We're not here to judge, we're here to help you bounce back. New Year's Day recovery is a must and is best done on your couch, or in bed, catching the Chappelle's Show marathon running on Comedy Central all day long. Not only do you get to relive classic bits like "Charlie Murphy's True Hollywood Stories," "Mad Real World" and the "Playa Hater's Ball," you get some killer music performances from the likes of Mos Def, Erykah Badu and DMX. Netflix is releasing two new Chappelle standup specials on New Year's Eve, but this binge of the show that made him a star is a sure thing. (DAN NAILEN)
---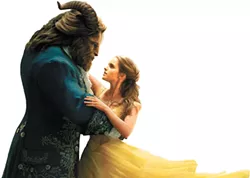 BEAUTY RULES
While Star Wars: The Last Jedi made a late push with its December 15 release, the live-action Beauty and the Beast was the top-grossing movie of the year in the U.S., raking in more than half a billion bucks. Here's the year-end Top 10, according to BoxOfficeMojo.com:
1. Beauty and the Beast
2. Wonder Woman
3. Star Wars: The Last Jedi
4. Guardians of the Galaxy Vol. 2
5. Spider-Man: Homecoming
6. It
7. Thor: Ragnarok
8. Despicable Me 3
9. Logan
10. The Fate of the Furious
---
INESCAPABLE
Billboard magazine compiles its list of the year's "Hot 100 Songs" by combining radio airplay statistics, sales numbers and streaming data. Here are the Billboard Top 10 songs of the year, the tunes we couldn't avoid no matter how much we might have wanted to:
1. Ed Sheeran, "The Shape of You"
2. Luis Fonsi & Daddy YankeeFeaturing Justin Bieber, "Despacito"
3. Bruno Mars, "That's What I Like"
4. Kendrick Lamar, "Humble."
5. The Chainsmokers & Coldplay, "Something Just Like This"
6. Migos feat. Lil Uzi Vert, "Bad and Boujee"
7. The Chainsmokers feat. Halsey, "Closer"
8. Sam Hunt, "Body Like a Back Road"
9. Imagine Dragons, "Believer"
10. Post Malone feat. Quavo, "Congratulations"
To see the Inlander's music writers' favorite music of 2017, click on the Music section, or check out page 39 of this week's issue.
---
ART SALVAGE FINDS A HOME
Spokane's first and only creative reuse nonprofit, Art Salvage, has finally found its long-envisioned permanent home, and now needs the community's support. Though the address hasn't been announced publicly, Art Salvage founder and president Katie Patterson Larson (pictured) says the space is about four minutes north of downtown on a well-traveled street. The space will include a retail shop selling new and used art materials and a dedicated classroom for classes and programming, she says. Art Salvage is now offering charter memberships at $25, $50, $100 and $200 levels through Jan. 15. Membership offers several benefits at each level, including access to special sales. This support will help sustain the growing nonprofit, in addition to class fees, sales and other donations. Visit artsalvagespokane.com for details and to sign up. (CHEY SCOTT)