RASHEL ROGERS
Handmade bun. Really high-end meat. Medium-well. Oh, it's going to be a stuffed patty, onions and barbecue sauce mixed in. Probably like two different kinds of cheese: Gorgonzola. Havarti.
CAITLYN BRENNAN
I don't eat meat, so: veggie burger.
What makes a good veggie burger?
Obviously fresh vegetables: tomatoes, lettuce, onions. I don't like avocado, but it sounds good on it.
Wait, you don't like avocado, but other people do, so you want your dream burger to be enjoyed by them?
I guess, yeah.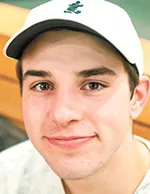 LANDON STRAWN
Guacamole. And like, pickles. It would have red meat — just a regular burger. I think it's 70/30. With the juice running down on everything. And [portobello] mushrooms. Mushrooms are great.
Why do you like guacamole?
It's creamy. Flavorful. Everybody likes avocados.
NICK SCHWARTZE
OK. So it is made out of Beyond Meat: It's the "burger that bleeds." It's only available in five restaurants in the country. It's a plant-based burger, but it tastes and looks and smells just like real meat.
Why is it important that your burger "bleed?"
Because it's a visceral, primal feeling you get. I try to eat plant-based as much as possible. But sometimes you really crave that real beef.
TANNER DANIEL
My dream burger? Really. Alright. Start it out with with an elk patty. Pepper jack cheese. Bacon. Onions. Red onions though! Pickles, ketchup. What kind of bun...?
There are onion buns, whole wheat buns...
Just a regular one with the little seeds on the top of them.
Sesame seeds?
A sesame seed bun.
INTERVIEWS BY DANIEL WALTERS RIVER PARK SQUARE FOOD COURT, 1/15/18