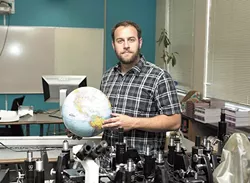 After planning to expand and open a high school next school year, Spokane International Academy has delayed those plans and instead will focus on its expansion to a full K-8 school.
"At this time we feel it may be in everyone's best interest that we delay the plans for SIA to expand to a 9-12 for the 2018-19 school year," wrote the school's Chief Executive Officer Travis Franklin in a letter to the Spokane Public Schools board.
Spokane International Academy, a charter school, had been seeking approval from Spokane Public Schools to offer 9th grade starting the 2018-19 school year. In 2015, it opened for just kindergarten, first and sixth grades, and it has grown since then as the students got older to maintain continuity. (PRIDE Prep, Spokane's other charter school,
expanded into high school this year
.)
The idea for Spokane International Academy, Franklin says, was to allow eighth-graders this year to potentially move on to ninth grade at the charter school. It would separate itself from other high schools in Spokane by having a "robust travel program," like the rest of Spokane International Academy. It would ideally offer an
International Baccalaureate
certification, and it would be smaller than most other high schools.
But the charter school ran into some obstacles in that goal, Franklin says. Mainly, he says, they wanted to make sure they had a solid four-year plan for students in high school.
"There's a difference in running a K-8 program and a high school program," Franklin says.
There are also space issues, he says. Right now, the younger grades and older grades at Spokane International Academy are split
between two campuses
, and it will continue to be split next year as well. The plan, Franklin says, was to use the current middle school campus for ninth-grade, but it could have created future problems for expanding into older grades.
Franklin says SIA will continue looking for ways to expand to 9-12 for the 2018-19 school year. In the meantime, he says, a full K-8 program will be offered next year as they try to secure a longterm facility for both K-8 and for high school.