JESSICA RIMESTAD
It would be my husband. That would be a fun thing to do together, even though I don't think he's a good dancer.
Have you guys taken dance classes together?No, but I love to dance. I do Zumba.
EMILY COLE
Tom Cruise, because it'd be interesting to dance with someone about my height.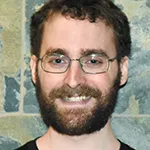 ZACH MORRIS
I would be interested in dancing with Drew Brees, because he's about my height and probably equally as awkward at dancing as I am.
Do you dance?I've done some salsa, merengue, and I've danced at a few quinceañeras, but not really well.
BEN MANCKE
Christina Hendricks, I'd trade a kidney to go on a date with her. She breaks my heart everytime I see her on TV.
Are you experienced in dance?I did musical theater, but I wasn't any good at it for the record.
KENDRYCK RAND
My dance partner would be Serena Williams, so that she would pick me up the whole time, and I'd be in the air doing all the lifts.
Do you have a background in dance?A little bit. I danced in high school. We had a dance show that was put on every year, and so junior and senior year I was part of those.
INTERVIEWS BY ALLA DROKINA, 3/4/2018, RIVER PARK SQUARE