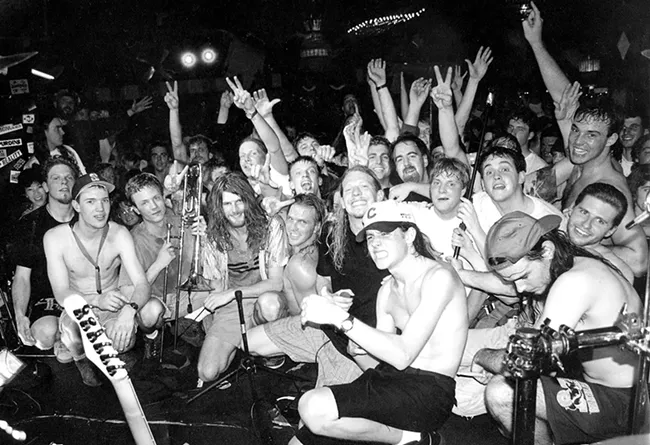 In an era known for worshipping Kurt Cobain, crying over Radiohead's "Creep" and skanking to Rancid and Less Than Jake, Coeur d'Alene's Black Happy found a devoted audience by deliberately shirking genre labels.
Their blend of grunge and ska, squelching electric guitars and dextrous bass lines punctuated by muscular brass licks, found a following with local music fans in the mid '90s (and, it must be said, were met with scorn by those who considered themselves true punks), making waves in the Inland Northwest and beyond.
The eight-piece was named favorite local band in our first-ever Best Of poll in 1994 (they won again in '95). Black Happy was, according to our archives, the clear favorite, beating out the likes of defunct hard rockers OK Fine! and still-active comedy/variety band Men in the Making.
(Not for nothing, Black Happy also won best local band name that year, edging out stiff competition from the likes of Breast-Fed Cauliflower, Velvet Pelvis and Uncle Impy and the Exploding Fifi's.)
"Rumor has it these boys have secured a major label recording contract and are moving to the other Washington (D.C.) to make it big," we wrote about Black Happy back in '94. "Good luck, guys, but don't forget where you got your start."
That doesn't appear to have happened, because the band broke up shortly thereafter, though a short-lived side project called Shoveljerk (named for a Black Happy track) took up the Best Band mantle in '96.
And then, 15 years later, the original lineup of Black Happy reunited for a handful of regional shows in 2010, most of which sold out. The gigs kept happening, and the band raised more than $14,000 via Indiegogo to release their first two albums — 1994's Peghead and 1995's Friendly Dog Salad — on vinyl.
If you want to relive your grunge-era heyday with Black Happy, you may be out of luck: They've got shows scheduled in August at the Knitting Factory and Seattle's Crocodile, and both are already sold out.