Thai-style shrimp topped with lemon-thyme cream sauce and hibiscus lavender caviar served with orzo pasta, roasted vegetables and balsamic glaze. Five-spice teriyaki chicken nestled inside lettuce wraps topped with fried rice and carrot slaw. Yellowfin ahi tuna and crab Oscar. If that doesn't sound like your typical food truck fare, that's because Left Coast Fusion Truck's Tony Shields isn't your typical chef.
Left Coast offers "fine dining for the streets," says Shields, whose brick-and-mortar restaurant background includes cooking at Hagadone Event Center, Thai Bamboo and 315 Martinis and Tapas. His ties to the Coeur d'Alene community go back even further, as his parents owned Shields Produce in midtown for 35 years.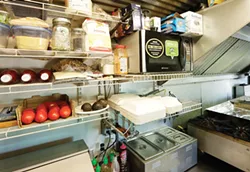 The menu tends toward Asian flavors — Shields spent a portion of his youth in Hawaii — and is a play on West Coast fusion, with dishes like lemongrass and ginger-braised beef and a Vietnamese pho wrap he calls a "phoritto."
His three kids like the seared ahi, he says, noting that having a kids' menu was essential for him. "Munchkin Meals" include from-scratch chicken fingers and lamb sliders (another Shields-family favorite).
Shields runs his truck as if it were a kitchen capable of putting out high-end meals. He buys local ingredients when possible, working with both farms and wholesale vendors, including a recent partnership with Coeur Greens, which grows the butter lettuce for Shields' popular lettuce wraps.
His go-to techniques include sous vide, a method of vacuum-sealed cooking more common in Michelin-starred places than ones with four tires. The vast majority of the menu is created from scratch — the herb-infused bread for banh mi sandwiches, the tortillas for their signature Thai tacos, the fresh cut truffle fries — so Shields and his kitchen staff (of one) prep extensively.
Their hours are 11 am to 6:30 pm, says Shields, yet he starts his day at 8 am or earlier, especially when they have a catering job.
The success of the catering business prompted development of a second truck, with more refrigeration capacity and a vital extra 24 feet of kitchen space. Left Coast regularly caters events for University of Idaho's Coeur d'Alene offices, and Shields estimates he's catered 650 weddings in the course of his career. Each event is treated with care. For a small business, Shields says, "You are nothing without word of mouth." Left Coast Fusion food truck owner and chef Tony Shields creates most of his menu from scratch. young kwak photo
---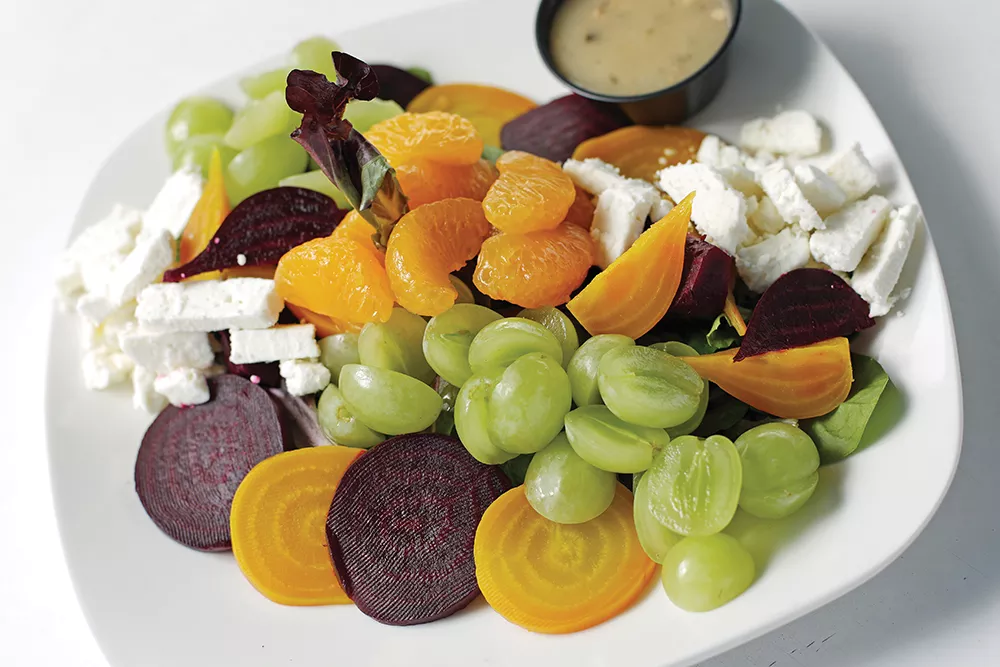 ROASTED BEET AND GRAPE SALAD
Flavors and colors of late spring blend perfectly in this simple yet nutritious salad. And the scratch-made Gorgonzola and pear dressing might just be your new favorite for the salad season. Serves four.
Salad ingredients
4-5 whole raw beets,
red and orange varieties
½ cup feta cheese
Spring mix greens, washed and dried
Green grapes, sliced in half
Fresh mandarin oranges, peeled and sectioned
Pear and Gorgonzola dressing
cup extra virgin olive oil
3 tablespoons pear nectar (sold in a bottle at most grocery stores)
1½ tablespoons white balsamic vinegar
½ tablespoon fresh lemon juice
¼ teaspoon Dijon mustard
½ of a ripe Red Bartlett Pear, peeled, cored and diced
½ cup coarsely crumbled Gorgonzola cheese (you can substitute blue cheese)
¼ teaspoon kosher salt, plus extra for seasoning
¼ teaspoon freshly ground black pepper, plus extra for seasoning
Directions
• Preheat oven to 425 degrees.
• Wash but do not peel beets.
• Place beets on top of heavy duty aluminum foil.
• Top with another sheet of foil, then crimp edges to seal.
• Set the foil packet on a baking sheet and roast for 1½ hours or until a knife inserted into beets slides in easily.
• Remove beets from oven and let cool.
• When cool enough to handle, use a paper towel to rub the skin off the beets. Discard skin.
• Slice beets into wedges and refrigerate until cooled completely.
• In a blender, blend the oil, pear nectar, balsamic vinegar, lemon juice, mustard, diced pear, cheese, salt and pepper until smooth (will keep refrigerated up to four weeks).
• Add the spring greens to a plate and arrange beets to one side.
• Top with green grapes, feta cheese and orange slices to finish.
• Drizzle lightly with the dressing.
— RECIPE SHARED BY TONY SHIELDS OF LEFT COAST FUSION