ON INLANDER.COM

NEWS:
It's
not clear if alternative class styles, such as those taught online, are helpful to students
, according to a Washington state audit.
NEWS:
Students across the nation walked out on Friday, April 20, in protest of gun violence, and some, including in
Spokane Valley, were met with counter protests
.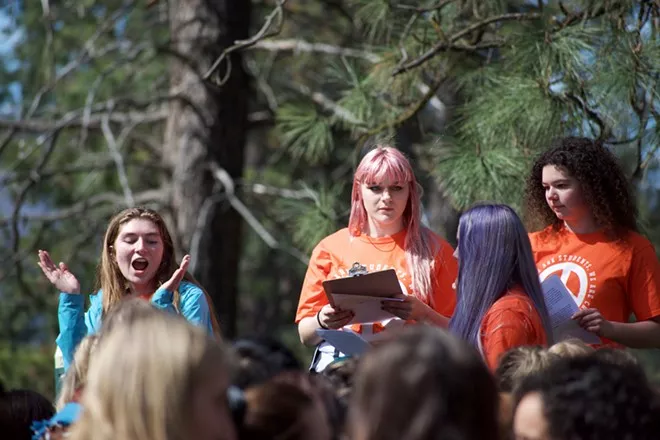 WHAT'S UP:
Is the future in driverless cars? Gonzaga professor Rhonda Kae Young will talk about her
research into the automated auto future tomorrow
.
ARTS & CULTURE:
Growing up, Hannah Camacho's dad was a traveling preacher, which meant she and her four siblings learned how to make fast friends. Now, Camacho is
exploring her interests in art, animation and illustration with her podcast Basic Brainheart
, where you'll hear her interview writers, directors and other creatives who've brought us some of the largest movies in Hollywood all from her Liberty Lake home.
IN OTHER NEWS

Car found in Spokane River
Spokane
police found a car that went into the Spokane River over the weekend
, but it wasn't clear if there was anyone inside and conditions have made it too hard for a dive team to try to get to the vehicle. (KXLY)
Shogun destroyed in fire
Early Sunday morning a
fire destroyed Shogun, a Japanese restaurant off Third, east of downtown
, that served sushi and offered guests the option of having meals prepared at their table. (
Spokesman Review
)
Waffle House shooting in Nashville kills four, gunman on run
A man who shot up a Waffle House in Nashville on Sunday, killing four people and wounding others, is
still on the run
. The shooting could have been worse had one man not
tackled the gunman and taken the gun from him
before he ran off. (
New York Times
, CNN)
Deadly airbags still on roads
Tens of thousands of vehicles equipped with airbags that could explode and spray shrapnel in a crash are still on the roads. The
Washington Post
explores
why the recall process has taken so long and stories of those who were needlessly killed
. (
Washington Post
)