With a housing shortage affecting cities all across the western United States, new development isn't just a matter of aesthetic or urban planning: It's about homelessness, poverty and the region's future. Ignited by an improving economy, the city of Spokane has seen a whole slate of big developments recently. And Spokane and Coeur d'Alene are about to see a lot more.
CDA'S ATLAS MILL DEVELOPMENT
Set aside the rather Ayn Randian name. The Atlas Mill project has the potential to be as dramatic for Coeur d'Alene as Kendall Yards was for Spokane. The city of Coeur d'Alene purchased 47 acres of property along the Spokane River, where the Atlas Mill operated until 2005.
But now? There's a whole wide variety of possibilities on the table: Hilary Anderson, community planning director for the city of Coeur d'Alene, says the city is looking at doing a land swap with developer Lanzce Douglass, which could result in as many as 870 apartment units nearby.
The property itself, Anderson says, could contain a variety of residential properties, from townhomes to more traditional single family homes. And this all would be on the waterfront, next to a section of the Centennial Trail with separate trails for pedestrians and cyclists. There might be some small commercial sites too.
If you're lucky enough to own a boat and a cabin on the Coeur d'Alene Lake, you'll be able to float over to the new park with waterfront access, dock your vessel, dine at a waterfront restaurant and float back home before sundown.
"Protecting the waterfront for public use" is what it's all about, Anderson says. "We want more access to the water and more open space."
Other possibilities are being kicked around too: What about a water dog park in the area? Anderson asks. Now there's an idea.
AROUND SPOKANE
Kendall Yards. The rapid growth of Kendall Yards, just northwest of downtown has slowed somewhat, but that hasn't stopped a small new commercial center from being built by Olmsted Park. The Nettleton Building includes a new Indaba Coffee shop location, a donut shop and a swanky new restaurant called Park Lodge. In the eastern side, near the Inlander, a Fleet Feet running shoe store and a new sushi joint has popped up.
For now, however, Greenstone's proposed "Podium" project — which was to include an office building beside a six-story mixed use complex — is on hold. (DANIEL WALTERS)
North Monroe. The North Monroe Corridor Project never stopped being controversial with many of the businesses on the route, but the city is already forging ahead. The project is scheduled to be completed in late October. When it's done, the $8.7 million project between Indiana and Kiernan avenues will include crosswalks, street lighting, transit shelters, trees, wider sidewalks, more room to park and — yes — a reduction from five traffic lanes to three.
In order to help businesses survive the ugliness of construction season, the city put on aggressive marketing campaign and handed Monroe businesses $200,000 in matching funds for facade improvements. Whether the renovated street will be better for drivers and local businesses remains to be seen. But either way, the hope is that it will at least be safer. No more playing a live-action version of Frogger to cross five lanes of traffic. (DW)
East Sprague. For years, East Sprague has had a reputation as a hub of crime and depravity. Now, the city and investors are pumping millions of dollars into the East Central District. Last year, business owners and neighbors in the area voted to rebrand the area as the "Sprague Union District." It appears to be working.
There are wider sidewalks, potted plants, street lights, new businesses and the clank and bang of hammers. Inlander readers this year voted Community Pint (in the old Jones Radiator bar) "Best New Nightspot" and dozens of new affordable housing apartments have injected the area with residents.
Also coming to the area is a new six-story building that will be home to a new bioscience hub with labs, offices and classrooms. Part of a multi-phase development known as the Catalyst Project, it will sit at the south end of the University District Gateway Bridge connecting East Sprague with the University District. (MITCH RYALS)
Riverfront Park. The $64.3 million bond to rehab Riverfront Park is beginning to bear fruit: The Riverfront Park's Skate Ribbon opened last winter, complete with an ice pond for flashy figure skaters and a slight downhill slope section for speed skaters. In the summer, it turned into a roller skating course and a new home from the spinning Berry-Go-Round ride.
The Looff Carrousel has been restored, housed in a new facility with rooms for birthday parties and more. You can still grab a ring and win a free ride, however. Best of all, the beloved Garbage-Eating Goat is back, unchanged but as perfect as ever.
Next up? By the fall of 2019 the upgrade to the U.S. Pavilion should be finished. The new Pavilion will include terrace greens and a multi-use event space to be used for everything from Hoopfest to graduation. Visitors will be able to walk up an elevated platform 40 feet up in the air, giving an unparalleled view of the park.
The final piece of the project, a playground on the north bank, will finish toward the end of 2019. (DW)
Overflow tanks. "Combined Sewer Overflow tanks" sound like just about the most boring thing you could possibly imagine.
But while the environmental function these underground tanks serve — holding surges of stormwater until it can be processed by the wastewater treatment plant instead of dumped in the river — is important, the coolest thing is what the city is putting on top of them: Look for a plaza atop the tank near the library and a small park on the tank at the west end of downtown, says Marlene Feist, a city spokeswoman.
Three related projects will also start this year, including installation of smaller tanks in Kendall Yards, pipes through Peaceful Valley and systems in West Central that will capture rainwater and help it infiltrate the ground naturally. (SAMANTHA WOHLFEIL)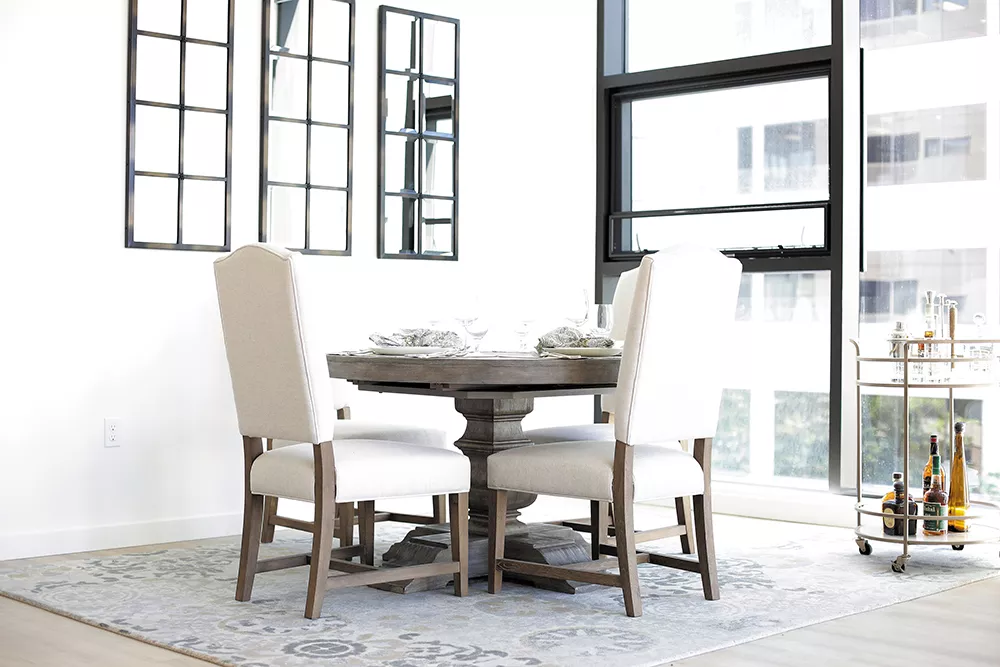 Ridpath. It took nearly a decade to get out from under the mess that a con artist helped put the former Ridpath Hotel in, but we're finally here: The Ridpath — now an apartment and condo complex — is open for business. When it's all said and done, developer Ron Wells' long-sought-after vision will infuse downtown Spokane with 206 units, including a number of small "microapartments." The majority of apartments are geared toward people who make between $20,000 and $30,000 per year.
Monthly rents range from $495 to about $1,500. Many units may only be leasable to those below a certain income level. For a single person, for example, that level is $27,600.
The sizes of the Ridpath's new apartments range from about 220 square feet for "micro apartments" and 300 square feet for studios. (MR)
The M. What we lost in Macy's we are more than going to make up for in residential housing. The Cowles family — the local real estate tycoons and owners of the Spokesman-Review — are transitioning the former department store into a mixed-use building: While the first two floors will be retail, the other seven floors will contain 114 residential units that range from 650 to almost 1,700 square feet. That include four penthouse units. Pricing starts at $1,300 a month, based on square footage, floor and views. (DW)