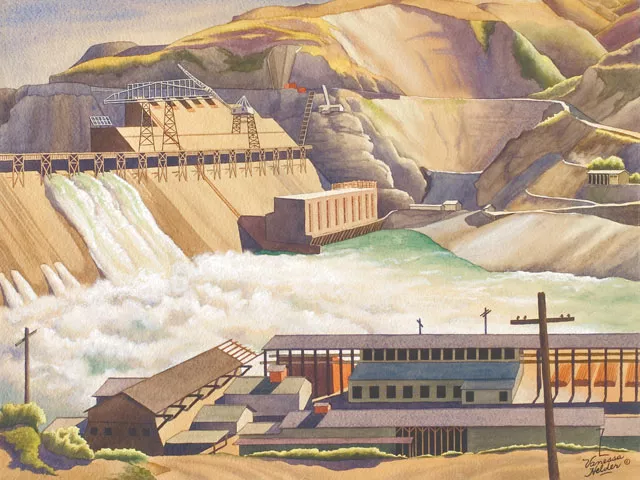 It's going to be crowded at the MAC this week, what with all the pink elephants at "Art and People: Spokane Art Center and the Great Depression."
See, Spokane used to care about the arts.
In 1938, despite an economy that parallels our current financial havoc, people chipped in the necessary 30 percent to establish the Spokane Art Center — about $4,000 in nickels and dimes from Boy Scouts, a few bucks from Rotaries and PTAs, butter-and-egg money from thousands of working families. The government, under the Federal Arts Project of Franklin D. Roosevelt's Works Progress Administration, funded the remaining amount.
Can you imagine? I can't. Not as an arts educator witnessing how an increased emphasis on core curriculum imperils elective programs like art and music. Not as an arts writer lamenting the loss in arts coverage with nary a peep from a seemingly apathetic public. Not as an artist waving goodbye to yet another local gallery, Lorinda Knight — one of a shrinking handful that dared to show truly contemporary art (even though the Spokane Arts Commission should be commended for such events as RawSpace and even though self-starter groups like Terrain provide a glimmer of hope).
But this isn't the time or place to bemoan the fate of the arts. This should be a celebration of the ironic full-circle return of visual arts to the people of Spokane who — though they may not realize it — have been reinvesting in the arts all along.
They have, through federal tax dollars (like it or not), followed in the footsteps of earlier residents via the American Recovery and Reinvestment Act. When it was signed into law in February 2009, the so-called stimulus bill added $50 million to NEA's existing budget appropriation of $245 million. They've since paid out 630 grants totaling $29.7 million to nonprofit arts agencies (visual art, music, theater, dance, literature, etc.), about $1.2 million of which went to Washington arts organizations; another 63 grants worth $19.8 million went to state and regional agencies.
Some of that money trickled down to the MAC, which gets more than half its funding from the state. Or at least it used to. In January, Governor Gregoire proposed a merger between a westside museum and the MAC (aka the Eastern Washington Historical Society) due to state budget cuts.
Although the merger was forestalled, the MAC closed the popular Campbell House (it has since reopened with reduced staff) and cinched their belts even tighter. Regardless of their program commitments, such as the one serving more than 10,000 K-12 local students, their funding was cut 24 percent this past June, a cost-cutting trend that's likely to continue.
And yet here they are with an exhibition about art and the people, of the people, for the people. It's an exhibition that explains the evolution of the Spokane Art Center, one of only three Centers in the Northwest (the other two were in California and Oregon) and around 100 nationwide. It highlights the contributions of artists including Carl Morris and Morris Graves, two early American modernists. It includes work from instructors, students and affiliated artists — fabulous stuff like Z.
Vanessa Helder's watercolors of the Grand Coulee Dam done in that meaty, not-quite-geometrified style that typifies art from the '30s and '40s.

Watercolors by Z. Vanessa Helder, created at the Spokane Art Center during the construction of the Grand Coulee Dam
Perhaps most importantly, "Art and People" puts into context how FDR's visionary New Deal went beyond merely re-employing artists. It highlights his passionate assertion that Americans take ownership of the arts; indeed, he said Americans had a "responsibility to guard it." In one of many thoroughly researched information panels framing the exhibition, Roosevelt is quoted from a 1941 National Gallery of Art dedication speech. Americans, he said,

have seen in their own towns, in their own villages, in schoolhouses, in post offices, in the back room of shops and stories, pictures painted by their sons, their neighbors — people they have known and lived beside and talked to. They have seen, across these last few years, rooms of paintings by Americans, walls covered with the paintings of Americans — some of it good, some of it not good, but all of it native, human, eager and alive — all of it painted by their own kind in their own country, and paintings about things they know and look at often and have touched and loved.
Admittedly, there are those who feel that the federal government has no business spending taxpayer dollars on the arts. (The Jesse Helms-era quagmire over National Endowment of the Arts funding for Robert Mapplethorpe's photographs comes to mind.) And then there are those who think the feds should do more to support the arts. But never mind those pink elephants.
We think it's up to the people themselves.

"Art and People: Spokane Art Center and the Great Depression," runs through April 10 at the Northwest Museum of Arts & Culture, 2316 W. First Ave. Open Wednesday-Saturday, 10 am-6 pm. Tickets: $7; $5, seniors and students; free, children 5 and younger. Visit northwestmuseum.org or call 456-3931.