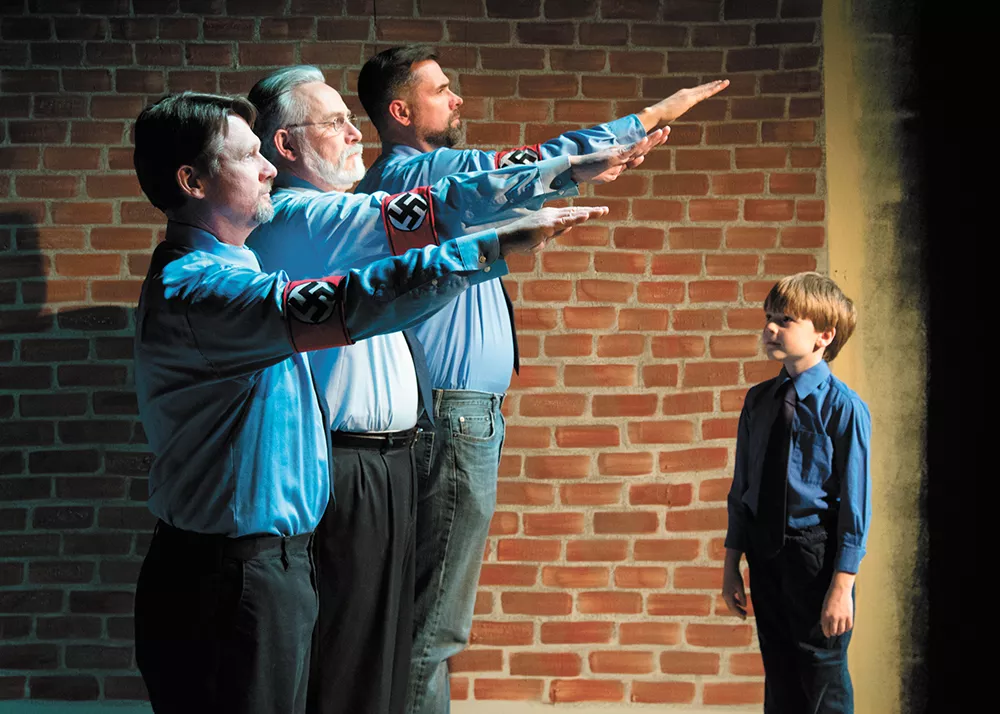 Starting in the early 1980s, North Idaho became the locus of a concentrated series of hate crimes. A Jewish restaurant and a Baptist church were tagged with swastikas. Black residents received menacing, insult-filled letters in the mail. Families' lawns were defiled with burning crosses. Mixed-race couples and children were harassed and threatened on the street.
The increase in hate crimes unsurprisingly coincided with the emergence of the Aryan Nations in the region. Under the leadership of Richard Butler, the white supremacy group established a visible and unabashed presence in the area, distributing polemic-filled leaflets warning against "fratinizing (sic) socially or sexually with blacks" and parading annually through downtown Coeur d'Alene.
The community — or parts of it at least — countered the violent racism by forming the Kootenai County Task Force on Human Relations (KCTFHR) in 1981. It would become a perpetual thorn in the Aryan Nations' side, championing human rights legislation at the state level and turning the hate group's racist rallies into community fundraisers. Eventually it helped to bankrupt Butler and the Aryan Nations by bringing a civil suit against them, Keenan v. Aryan Nations, that awarded a $6.3 million judgment to some of their victims.
Rebecca McNeill remembers that volatile period well. She was 9 years old when the KCTFHR was founded; her father, Bob Brown, was elected to the Coeur d'Alene City Council that same year and quickly became an active and longtime supporter of the organization.
"When the bombings happened at the Federal Building and Father Wassmuth's house, we were all sort of on alert," she says, referring to the series of terrorist bombings committed by the Aryan Nations in 1986.
"My sister was the president of the Junior Task Force on Human Rights, and had a weird thing where we went to see the movie Betrayed with Tom Berenger and Debra Winger about an FBI sting on a hate group. The only other people in the theater were Richard Butler and two of his bodyguards. They seemed to know who we were and were really intimidating toward us."
That firsthand experience might have made her a natural choice to direct God's Country, Steven Dietz's 1988 play about a real-life, right-wing paramilitary group called the Order, which was founded in 1983 near the tiny town of Metaline Falls in northeastern Washington. (Along with his involvement in Aryan Nations, Butler was assumed to have ties to the Order as well.)
Instead, Troy Nickerson was initially slated to direct. Nickerson had in fact had his own unpleasant run-in with the Aryan Nations years ago when attending a prior production of God's Country. Butler and his supporters also attended the show and then lined the aisles as the curtain fell, forcing the audience to walk a hostile gauntlet. But circumstances drew Nickerson away to oversee the Civic's season finale, Hello, Dolly!
"It was a hard decision for me because the last thing I wanted to do was let Stage Left down," he says. Ultimately, McNeill, who runs the theater's box office, took the reins.
"A few weeks before auditions we were talking about who could take over the show, and I felt like I had a connection to the material," she says. And that connection wasn't purely biographical. McNeill saw how white supremacists were being freshly emboldened by the current political climate, and she spotted worrying societal parallels between the 1980s and the 2010s.
"When I was growing up, one of the things that bothered me about the community response to the Aryan Nations was that it sort of gave people a pass. As long as they weren't as racist as those people, then they weren't racist and didn't need to look at their own prejudice or bias. One of the things I want people to get from this is, yes, it's horrible to have a gun and be on a compound planning to murder people. But it's also bad to be complacent and not take a strong stance against hate groups."
Though God's Country might help prompt this kind of self-reflection, it isn't a one-sided polemic. Dietz's play, which interweaves three nonlinear narrative strands, is told entirely through court transcripts and official documents.
"The brilliance of this script to me is that it's so factual," says McNeill. "Everything is presented very neutrally. It quotes [Aryan Nations] in their own sermons and their own literature, so it's really representing the hate group exactly as they want to be represented."
For that reason, it can be an "intense and brutal" play — all the more raw because an impressionable young boy is caught up in the tumult. Here that role is played by 9-year-old Cole Cullen.
"To me he's kind of the central figure of the play. Not in terms of line load, but he's the child who is watching everything happen around him, and making a choice about what he believes," she says. Several of the other actors in the ensemble cast play up to seven characters, ranging from skinheads to attorneys to talk-show hosts.
Partly to allow Cullen and the rest of the cast some "decompression time" after the performance, and partly to give the audience an opportunity to get to emotional and intellectual grips with what they've just seen, this production of God's Country will hold talkbacks each night of its run.
"What I tell the cast is that nobody's going to applaud at the end of the show," says McNeill. "I think it will be well received. But with heavy hearts." ♦
God's Country • May 25-June 10; Fri-Sat at 7:30 pm, Sun at 2 pm, • $20 • Stage Left • 108 W. Third • spokanestageleft.org • 838-9727