Before, there were bullets, but at least she had family. Now, there are no bullets, but 11-year-old Nyabol Thok Pol has lost her family. Violence, famine and death have been unrelenting presences in her young life in South Sudan and the surrounding land. Without help, she will know nothing else.
In 2011, when Nyabol was 5, the African country of Sudan split after decades of warfare where officials estimate 2 million people were killed. Even after South Sudan declared its independence in 2013, the world's newest state erupted into its own civil war.
The conflict began as a power struggle between South Sudan's leaders and grew into a feud between two of the biggest ethnic groups, the Nuer and the Dinka.
Reports have likened the conflict in South Sudan to the atrocities perpetrated against citizens in Darfur, Sudan's western region, in the mid-2000s: massacres of innocent people, gang rapes and huts burned to the ground by government-backed militias.
By 2013, Nyabol's family, her parents and two older sisters, fled from Akobo, a South Sudanese city near the Ethiopian border, according to her uncle Michael Bacuth, who came to Spokane as a refugee with his wife and two children in 2006.
On the road to a refugee camp, Bacuth says, Nyabol's parents were shot and killed by soldiers in two separate incidents. The three girls managed to escape, and eventually made it to a refugee camp in Ethiopia. Bacuth learned all of this via phone calls from friends left in Africa, though he felt powerless to help his nieces.
Rebels attacked the camp after the girls' arrival, Bacuth says, and Nyabol fled, leaving her two sisters behind. For three years, her family feared she had been killed, though her body was not found. Bacuth finally received word earlier this year from friends that Nyabol turned up in a refugee camp in Egypt.
Since January, he's been trying to legally bring her to the United States to live with his family. Immigration attorneys say what little options he has could take as long as three years or more, if it's even possible at all.
"Five years is a long time," Bacuth says. "She needs family."
From the living room of his home in Spokane, Bacuth describes how he's worked to ensure his niece's safety and bring her to the U.S. Family photos hang on the wall — one from his wedding day and another of he and his wife, Mary Chol, with their two oldest children when they lived in Sudan.
"From Christmas time," he says. As he talks, a Netflix show is paused on the TV.
A friend called in January to tell him that Nyabol was found, and Bacuth says he began sending money to help pay for food, clothes and a ticket to South Sudan to get her a passport. He asked a friend, who lives in Egypt, if she could stay with him.
"Egypt is good," he says. "Egypt, there is peace there. They don't have war."
But when he asked Vanessa Nelsen, an attorney with World Relief Spokane, how to bring Nyabol to the U.S., he ran into a tangle of red tape.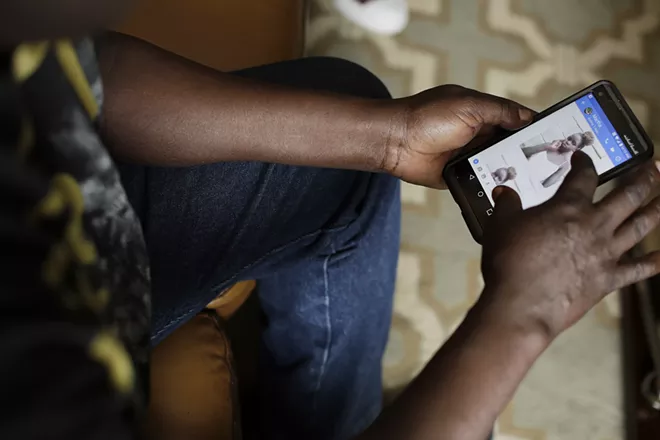 "Whatever way you look at it, this 11-year-old child doesn't fit into any category that would allow them to petition the government to bring her here," Nelsen tells the Inlander.
Nelsen says family-sponsored visas are only available to spouses, siblings, parents and children of U.S. citizens, though there are a limited number of visas for siblings and adult children. Green-card holders can only sponsor spouses and unmarried children. That contradicts previous statements by President Donald Trump, which have been a source of frustration for Nelsen and other immigration attorneys.
In his State of the Union address in January, Trump lamented the "broken system" where "a single immigrant can bring in virtually unlimited numbers of distant relatives." His plan to curtail what he calls "chain migration" is to restrict family-sponsored visas to spouses and minor children — a major shift away from a core principle of U.S. immigration policy known as family reunification.
Ironically, first lady Melania Trump's parents are green-card holders, and are close to obtaining citizenship, the Washington Post reports. Although a White House spokesman has declined to tell the Post how Viktor and Amalija Knavs obtained permanent residency, immigration experts say that it was likely through the longstanding family reunification process their son-in-law is seeking to chop.
"Right now, because of the slow-down with bringing refugees to the U.S., bringing family members has slowed down, too," Nelsen says. According to the Visa Bulletin, a monthly report that tracks visa applications, the U.S. State Department is currently evaluating family-sponsored applications for children of U.S. citizens filed in 2011.
For Bacuth's situation Nelsen suggested he send letters to Rep. Cathy McMorris Rodgers and Sen. Patty Murray. An adoption might be Bacuth's best option, she says. And that could take even longer.
Kelly Dempsey, an immigration and adoption attorney based in North Carolina, says intercountry adoptions, especially from South Sudan, are problematic for several reasons. It's often difficult to verify, or even track down, documents from the war-torn country. For an adoption, Bacuth would likely need proof of his brother's and sister-in-law's deaths, which he says he doesn't have. Even with the right documents, the whole process can take up to five years and cost at least $20,000, Dempsey says.
"For most families that becomes pretty quickly out of reach. We don't have any good options for adopting kids who are vulnerable," she says.
Meanwhile, Bacuth speaks with Nyabol periodically over the phone and through Facebook. During a recent conversation, he says she told him that she feels safer in Egypt than she did in South Sudan.
"She said 'I live good today. I don't hear any bullet, no more bullet,'" he says. "Wow, a place that's good is [where] you don't hear any bullet. Really? Something is wrong here." ♦