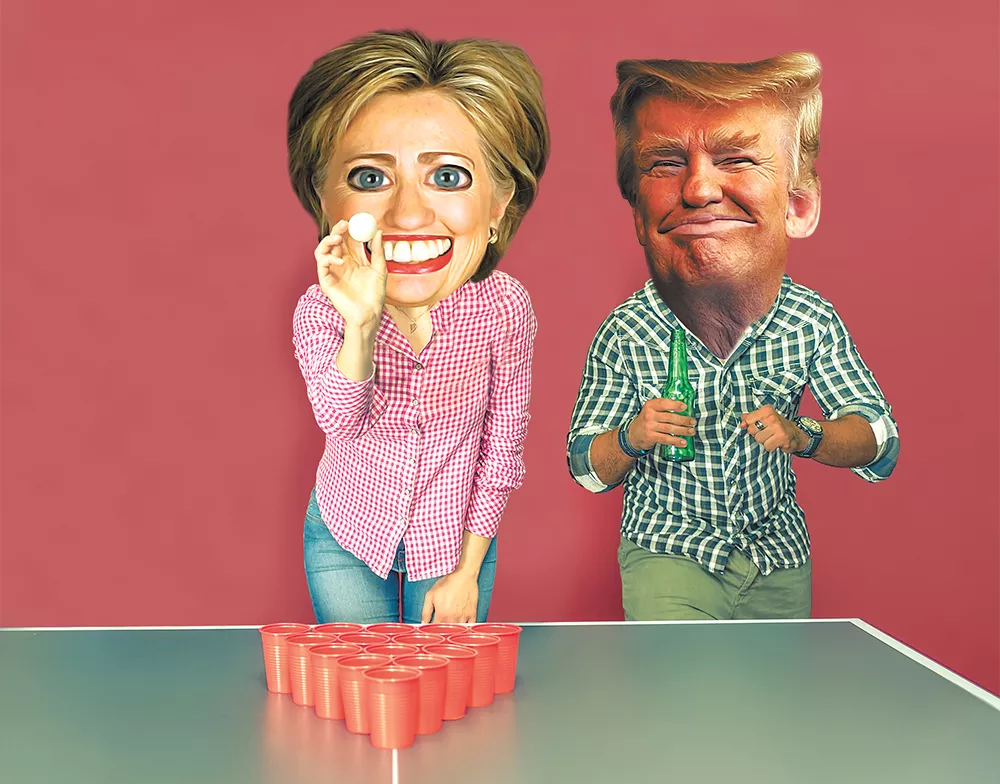 There is more hype about this first presidential debate than any other in recent memory, but it's not because this is the political equivalent of Ali vs. Frazier. This is more like Rocky Balboa vs. Hulk Hogan (or "Thunderlips," as he was known in that film) or maybe Evel Knievel vs. the Snake River.
But because one of the candidates has already talked about his penis in a debate during the primary season, and the other is a hardened and often robotic debate veteran who some have concluded will soon die of one of those diseases from the Oregon Trail video game, people are paying extra attention. Sure, we'll hear some important talk on policy, but the chance of something truly bizarre taking place is high. And judging from the insanity of this race so far, who knows if there will even be a second debate?
You may need some booze to get through this thing, which is why we're inviting you to our free debate party at nYne Bar and Bistro in downtown Spokane. There, you can play this drinking game, or you can do it at home. But be careful, please. This could get ugly if things go off the rails... which they almost certainly will.
Take a sip the first time you hear and/or see...
• Clinton drink water
• Trump smirk
• "Obamacare"
• "ISIS" or "ISIL" or "Islamic State"
• "immigration"
• "Make America great again"
• "China"
• "jobs"
• "Iraq"
• "Benghazi"
• "David Duke"
• "economy"
• One of the candidates pointing at the other
Chug every time you hear and/or see...
• "birth certificate"
• either candidate complain about the rules of the debate or time allowed
• "Kenya"
• Moderator Lester Holt taking off his glasses
• Either candidate recount a story of someone they met on the campaign trail
• "Mexico"
• "email"
• "hotel"
• "deplorable"
• "the blacks"
• Holt stopping the debate to remind candidates of rules/time limits/discourse
Take a shot when you hear...
• "racist"
• "Ivanka"
• "Monica Lewinsky"
• "Putin"
• any sort of profanity
Pour a beer over your head and run outside if...
• Either candidate quits the debate halfway through because it's "unfair"
• Protesters shut down the debate ♦
Clinton and Trump are scheduled to debate at 6 pm on Monday. The Inlander is hosting a free debate-watching party at nYne Bar and Bistro in Spokane (232 W. Sprague Ave.). The fun starts at 5.