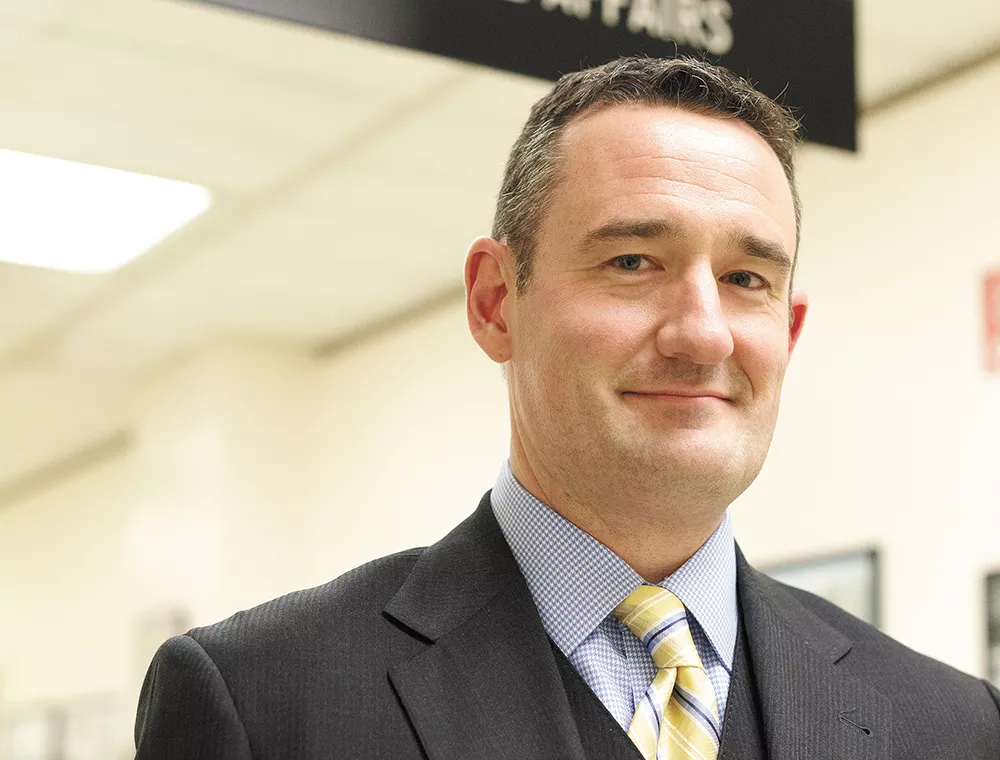 In a time when the Spokane Police Department looks to rebuild its public image and strengthen accountability, a former fraud investigator with the federal public defender's office has taken over the investigation of officer misconduct, training priorities and technology upgrades, including the implementation of officer-worn body cameras.
As director of the department's newly created Strategic Initiatives division, Tim Schwering now oversees the vastly different, but often interconnected, operations of Internal Affairs, professional standards, information technology and officer training.
He becomes the newest of multiple civilian directors joining the department amid ongoing reform efforts now reshaping the local police force.
"We've made great progress in the last year," Schwering says of the SPD. "Coming on, I really want to see the progress continue. ... I think we're heading in the right direction."
As city officials continue to debate investigative power for the Office of Police Ombudsman, Police Chief Frank Straub says Schwering will oversee significant changes to Internal Affairs. In recent months, the small IA unit has received an entirely new staff, new tools for tracking officer conduct and new influence over how police officers will be trained.
Initially hired to improve administrative and procedural efficiencies, Schwering also will audit internal investigations to serve as an extra review of internal disciplinary matters. Straub says Schwering will bring a civilian, "35,000-foot" big-picture view to investigations.
"For the first time in the history of the department," Straub says, "now you have a civilian with extensive investigative experience watching that process, monitoring that process."
The SPD Internal Affairs unit typically investigates about 60 to 100 complaints against officers each year. Investigators also review dozens of simpler internal and citizen "inquiries" into officer conduct without opening full cases on the complaints. All of those investigations are conducted with oversight from Ombudsman Tim Burns, who must sign off on the results of each investigation or inquiry.
The ombudsman's office reports Internal Affairs opened 102 investigations this year through the end of October. Of the 58 closed investigations, 10 cases have resulted in a finding of misconduct. It also has reviewed 96 inquiries.
Previously a two-person unit, consisting of a lieutenant and sergeant, Straub has upgraded the supervising officer to a captain and added an additional sergeant. Capt. Rick Dobrow now runs the unit along with two sergeants, both new to Internal Affairs.
"We were looking for people who are considered hard-chargers and really the cream of the crop," Straub says. "We want the very best investigators in there. We want people that have the best interests of the department and the community in there, that are going to ask the difficult, impactful questions."
Straub says he plans to send the sergeants to train with the Internal Affairs unit at the Los Angeles Police Department. One sergeant will specialize in use-of-force training and tactics; the other will receive training on administrative issues such as investigating policy and procedure violations.
"We're very impressed with what L.A. has done," Straub says, noting it has a large IA division with a wealth of expertise.
As the new team gets up to speed, Schwering says he is responsible for "quality control," making sure best practices get integrated into everyday operations and auditing investigation findings.
Burns says he likes the idea of having another civilian taking a critical look at the results of Internal Affairs investigations. He says it certainly can't hurt.
"Any time you can put more eyes on something," Burns says, "you're going to come out with a better end result."
In hopes of identifying officer problems before they become significant disciplinary matters, the Internal Affairs unit also has adopted an early warning system that tracks officer behaviors and complaints to check for patterns. Straub says the database monitors a number of personal or professional red flags that could indicate an officer is headed for trouble.
The software system logs officer complaints, absences, disciplinary issues, uses of force and other indicators to warn of any unusual trends. Straub argues the department has a responsibility to monitor the well-being and performance of its officers, so it can provide help before small issues escalate into career-ending problems.
"It's not a 'gotcha' system," he says. "It's just the opposite. It's how do we get somebody help very quickly."
An officer might be inexperienced or overworked or having problems at home, Straub says. The system helps supervisors gauge when they might need to step in to offer counseling, extra training or time off to deal with personal issues.
"[Many police departments] kind of let people hit a brick wall, and then we do investigations," he says. "You screwed up. Now you're disciplined."
Burns called the system an important "insurance policy" for spotting troubling officer behaviors. Some small red flags may be hard to spot over long periods of time, but the database will keep track of all of those issues.
"We need to see these things," Burns says. "We need to proactively look at that officer's performance."
Police officials say another key structural change centralizes Internal Affairs and the SPD training academy under Schwering in hopes of formalizing a feedback loop from misconduct findings to police training. Straub says the department needs to take lessons from officer misconduct and share those with others to prevent future problems.
Dobrow, who ran the Training Center before taking over IA, says linking misconduct findings back into the training side of the department will help officers recognize problems sooner and learn from other officers' experiences.
"We can train people to stay out of circumstances that might get them into trouble," Dobrow says. "That's a critical connection that we really haven't had in the past."
As officers encounter different legal precedents or use-of-force issues, those examples can be shared through department-wide training. Straub says results from recent internal investigations already have been used to clarify records policies and other administrative procedures.
Burns says improving communication between Internal Affairs and training seems to be an obvious step that should help the department improve officer performance.
"I think it's brilliant," he says. "There's always going to be a connectivity between what our officers do and how our officers are trained."
Schwering says he also plans to work with the city's legal department to develop a matrix for matching certain levels of misconduct to the appropriate disciplinary measures. With the matrix, the department will establish expectations for different levels of progressive discipline.
"People will have a general idea of 'If this rule gets broken, this is the type of punishment, this is the type of range you would get,'" he says.
In the coming months, Schwering will spearhead the launch of body cameras throughout the patrol force, using his administrative and IT experience to troubleshoot what is expected to be a complicated transition. Schwering says he hopes to have a usage policy on body cameras finalized within the next 30 days, but it will still take several months to upgrade the SPD's technical infrastructure to support the immense data from the video recordings.
Police officials now expect to start rolling out body cameras on officers by the second or third quarter of next year.
Schwering also will serve as the SPD "point person" for the U.S. Department of Justice Technical Assistance Review now underway. The review team has started conducting interviews throughout the department and will be examining use-of-force investigations from the past few years.
Internal Affairs will work closely with the DOJ throughout the review. Schwering says he joined the department to take on new challenges and he looks forward to being part of creating a stronger local police force.
"There's obviously room for improvement," he says. "[But] you've got a lot of good people that work here. I think you can really make this a better department."♦