Light Reading by Peter Reiquam
600 N. Riverpoint Blvd.
A blue glow emanates from internally lit cast-glass books on shelves facing two oversized granite armchairs and a bronze coffee table. The setup makes for an outdoor reading room and hangout spot perfect for day or night, just how Seattle artist Reiquam wanted it: a popular gathering place for students, staff and faculty on Washington State University's Riverpoint Campus. The piece, which was created in 2006 after being commissioned by the Washington State Arts Commission Percent for Art Project, makes reference to the nearby four-story glass entrance of the Academic Center building. The light symbolizes the illumination of ideas and knowledge that comes through reading.
That Place Where Ghosts of Salmon Jump by Sherman Alexie
Behind the Spokane Public Library (906 W. Main Ave.)
If you visit the library's Overlook Park, you might see someone dancing in soft circles on the concrete. Look closer and you'll see their eyes and body following a polished granite spiral on the ground inscribed with words. They're reading a poem written by renowned author and former Spokanite Sherman Alexie, who stood at that very spot when he penned "That Place Where Ghosts of Salmon Jump," which mourns what has become of the once-pristine Spokane Falls and River and at the same time praises its current beauty. CITY OF SPOKANE PHOTO
Centennial Sculpture by Harold Balazs
507 N. Howard St.
Harold Balazs, the beloved Spokane artist and man behind many iconic Spokane sculptures and other works throughout the Northwest, created this piece in 1978 to commemorate Spokane's 100th birthday. The Centennial Committee asked Balazs to create a piece to illustrate the diversity in Spokane's history and express a commitment to the future. The committee gave it as a gift to the city, funded mostly by selling 10,000 Centennial medallions. The two-ton piece of nonrepresentational modern art appears to float on the Spokane River in Riverfront Park. In order to perfect the floating aspect, Balazs consulted Seattle marine engineers and chose stainless steel for the curves and angles to reflect off the water and constantly change in appearance with the shifting light.
The Joy of Running Together by David Govedare
North Post Street and West Spokane Falls Boulevard
Spokanites instinctively recognize the 40 life-size runners frozen midstride along Spokane Falls Boulevard as a quintessential symbol of Bloomsday. But what you might not know is those are real people. Well, real people in the sense that Chewelah artist Govedare made the Corten steel sculptures in 1985 by posing runners against a wall, shining bright light on them and tracing their silhouettes. To Govedare, the importance of the race is that it brings different people together. It's about sharing the experience and being part of the flow. To reflect the diversity found among the race day crowd, the artist intentionally chose runners to trace who were of all ethnicities and nationalities.
Lantern by Harold Balazs
507 N. Howard St.
It's a popular subject of Spokane lore. The 32-foot-tall cement sculpture found along the Centennial Trail near the Opera House has been nicknamed "Lantern" for its Chinese lantern-esque appearance, but Balazs says when he made the untitled piece in 1974 he wasn't going for that, or anything at all. "I just like getting a whole bunch of pieces that don't really go together and just jam them together," he says. "All I'm trying to do is create a little wonder, even if it's not more than 'Why the hell did he make a thing like that?'" The interwoven geometric designs on this massive artwork tempt climbers to scale it and read the message at the top, but technically, it's forbidden.
Salmon Chief by Virgil "Smoker" Marchand
Behind City Hall (808 W. Spokane Falls Blvd.)
The lower falls of the Spokane River served as a historic gathering spot for several Native American tribes in the region. Before winter, the salmon chief would help divide up all of the fish among the tribes to ensure everyone would have enough to last the season. When that spot, now called Huntington Park, was redesigned in May, steel statues created by Smoker, of the Colville Confederated Tribe, were added. A 12-foot sculpture of a salmon chief atop his horse now raises a salmon over the river to bless it, while two Native American women hang salmon to dry nearby.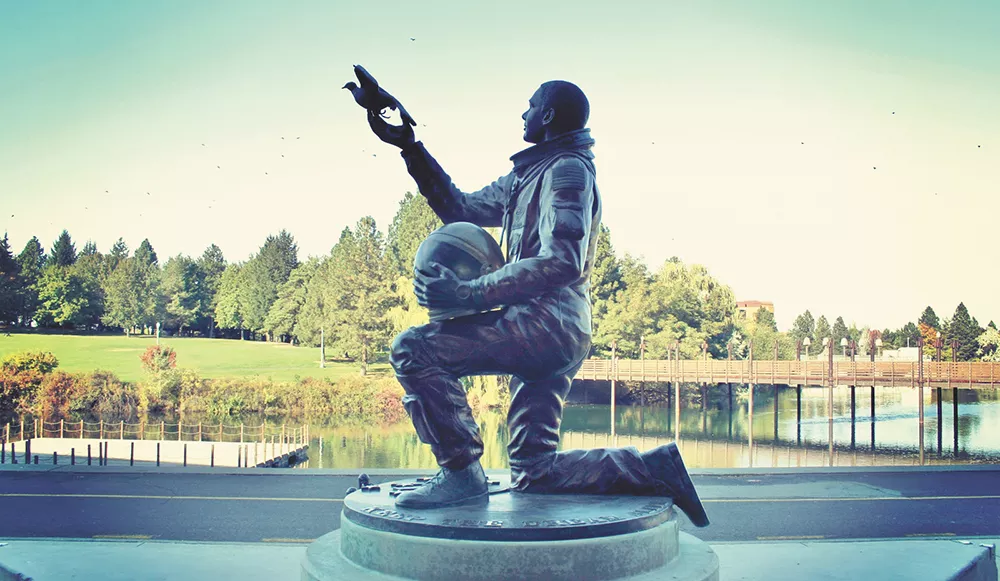 Michael P. Anderson by Dorothy Fowler
334 W. Spokane Falls Blvd.
He may be kneeling, but the 600-pound bronze sculpture of Michael P. Anderson stands 8 feet tall. Fowler sculpted him on one knee to show humility, positioned his arm lifting upward to symbolize faith and placed a dove on his hand to illustrate inspiration. Anderson, who was once a Spokanite, served as an astronaut and lieutenant colonel in the Air Force before he was lost on the Space Shuttle Columbia with his six crew members in 2003. The artist used descriptions of Anderson spoken at his memorial service as inspiration for the piece to show how he had lived out his dream. CITY OF SPOKANE PHOTO
Garbage Goat by Sister Paula Turnbull
507 N. Howard St.
Usually it's a rare sight to see kids giddy about throwing away trash. But at Riverfront Park, it's quite common. A steel sculpture, known affectionately as Spokane's garbage-eating goat sits in a basalt-column grotto awaiting its daily meals of rubbish, many coming from eager youngsters. The goat with a vacuum for a mouth happily sucks up any trash you bring up to its chops after you press the nearby button. Turnbull, a local nun and artist, created the piece for Expo '74 to help keep the area clean during the festivities, and it's one of the most popular remnants from the fair around today.