Dr. Robert Zarr steps into the patient room and sees a teenage girl. Lately, the 17-year-old has been experiencing repeated panic attacks, giving her so much chest pain that she had to be rushed to the emergency room each time.
She's looking for answers from Dr. Zarr. Instead, it's Zarr who asks a question.
"Do you have a way to spend time outside?" he says.
"Well, there's this hammock at my dad's house," she replies.
"What about lying there for a while, and just noticing the leaves?" Zarr suggests.
The girl says she could do that. So Zarr writes out the prescription: Once a week, on Wednesdays after school, the 17-year-old is to lie on the hammock and look up at the trees, listen to the wind and feel nature around her.
By her next visit, everything has changed. She isn't going to the ER anymore for panic attacks. Her anxiety is down. She feels confident.
These so-called "nature prescriptions" are becoming a new trend in medicine. While it's not a revolutionary idea for doctors to tell patients to spend time outside, there's a national movement for a more deliberate, intentional way for doctors to prescribe patients to spend time in nature, much like they would for a drug. The prescriptions include a place, an activity, a frequency and a dose. And as society becomes more glued to their screens, these prescriptions may be more important than ever.
"Anybody can do this, anywhere in the country, as long as you have access to nature."

tweet this
Zarr, a Washington, D.C., pediatrician, is the founder and medical director of Park Rx America, a nonprofit that makes it easier for doctors to prescribe nature. Essentially, Park Rx codifies the concept and creates a universal way for doctors to find a local park, prescribe it, and document in their chart in a way that's clinically relevant, Zarr says.
"Anybody can do this, anywhere in the country, as long as you have access to nature," Zarr says.
As an outdoor enthusiast in Bellingham, Washington, Greg Anderson was as good a candidate as any to start issuing nature prescriptions. Anderson, a family medicine doctor, said he's known ever since medical school that prescriptions for exercise were effective. But up until a few years ago, he hadn't ordered many specific nature prescriptions.
That changed when Anderson became part of a pilot from an entity called Recreation Northwest — modeled after Zarr's Park Rx America. Anderson was encouraged to incorporate nature prescriptions (he calls them "parkscriptions") into his practice.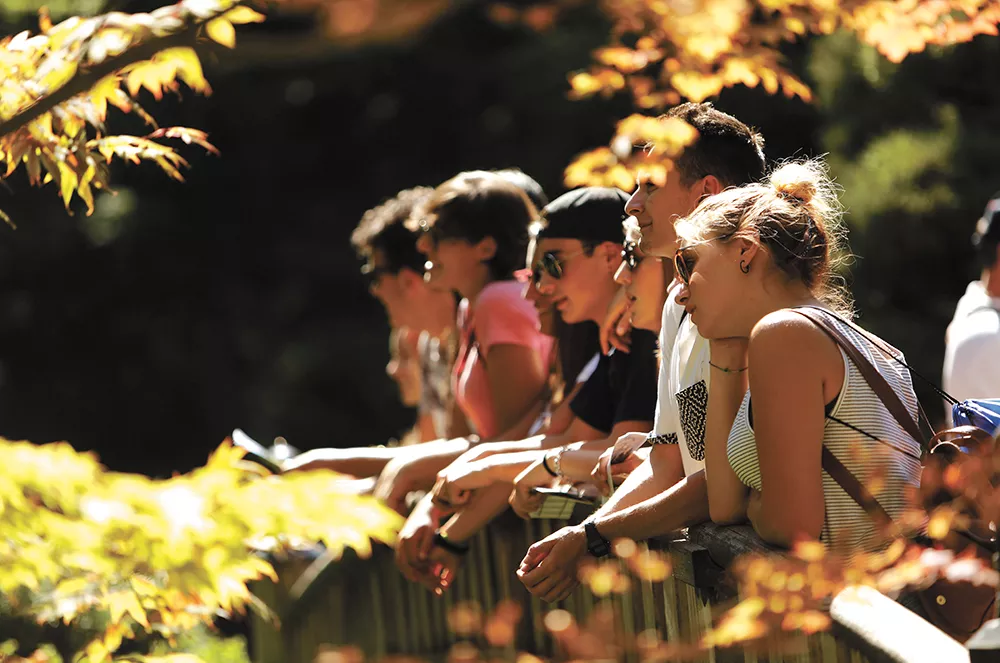 It's extremely simple to order a nature prescription. Park Rx provides an online map of local parks, and the provider can choose whichever one they think would fit the patient. They click "prescribe," and the provider puts in the activity, frequency and duration. They can print the prescription or have it sent to the patient via text or email.
Anderson says he writes them for a variety of things: heart disease, depression, anxiety, obesity and many other health issues. Some really take it to heart, he says.
"If you catch somebody in the right state of motivation, then it clicks with them during that visit and they take that prescription and run with it," Anderson says.
It should be of little surprise that the Evergreen State has been an enthusiastic adopter of nature prescriptions. In April, the state parks system announced the launch of its Park Rx program, offering a series of outdoor activities to encourage people to get outdoors for their health.
The 470 combined city, county PUD and state parks in Washington participating in Park Rx contribute to the more than 8,500 parks participating nationwide.
"We're very excited to work with Park Rx America to bring a great tool to healthcare providers across Washington," says state parks director Don Hoch.
The state Department of Veterans' Affairs is also a partner in the initiative.
"Whether it's taking a hike, camping for the weekend or fishing, our natural resources have the power to help veterans heal," says Alfie Alvarado, state department of veterans affairs director.
As Anderson says, there's nothing new here. What's new is the emphasis on it. Part of that, Anderson admits, has to do with screen time. Our brains are evolutionarily adapted to nature, Anderson notes, and when you remove yourself from nature then that can cause a cascade of side effects.
You can manage it through pills, supplements or other substitutes. "Or you can go out in nature and get them naturally," Anderson says.
Zarr knows some doctors are skeptical of nature prescriptions. During speaking events, he often hears the same questions: What if a patient doesn't want to go outside? What happens in the winter? Aren't there more important ways for doctors to spend time with patients? Where's the science for this?
"You could think of a thousand reasons why not to do this," Zarr says. "My job is to navigate through those excuses."
Most of the excuses are "lousy," he says. There are ways to enjoy bad weather, and he argues it's not hard for a medical professional to find a way around that. On the flip side, he says prescribing a certain amount of time in a park — even if it's as simple as sitting on a park bench — can be more effective than a provider vaguely telling a patient to eat better, or to exercise more.
And then there's the argument that nature prescriptions aren't evidence-based. Zarr calls the argument "flimsy." For one, he says nature and park prescriptions don't require heavy evidence before a doctor should be OK with prescribing it. It's not like spending time in nature is risky.
"What we know is that you're likely to move when outside," Zarr says. "What are the risks of walking in the morning?"
Still, Zarr points to research showing walks in nature are associated with reduced stress and lower levels of depression, that access to parks reduces the risk of being overweight and obese, and that spending time in "green spaces" lowers cortisol levels and blood pressure.
And yes, Zarr is a co-principal investigator on an upcoming randomized controlled trial looking at how park prescriptions can affect obesity, ADHD, diabetes, and other health problems. But for anyone holding off on park prescriptions in the meantime, Zarr says that's a little hypocritical. Not everything in medicine is evidence-based, and he says he won't wait five years to make prescriptions for nature because he's "afraid of common sense.
"It's like saying, 'I'm not going to eat vegetables until you prove to me, with a randomized controlled trial, that it will cure my disease,'" Zarr says.
Anderson says the pushback he often hears has to do with time. Providers only have a limited amount of time during an office visit, and even if it takes just a few minutes to talk about nature, that can be about 15 percent of the office visit.
Kathleen Wolf, a research social scientist at the University of Washington, says there's value to more research on nature prescriptions. Two decades of research has shown that time in nature is good for you, for a variety of reasons. But more evidence is important, she says, because it can teach us about things like dosage — how to optimize the benefit of going outside. The University of Washington has launched a study, with a $1 million grant from REI, to answer many of those questions.
Wolf says two decades ago, she was called a "tree hugger" for being interested in those questions. That has started to change.
"I think we're seeing greater attention to the importance of being in nature," she says.
Imagine going back hundreds of years in the past, before computers, before heating or air conditioning, before our lives were lived primarily indoors, and telling the humans of that time that in the future, doctors would be prescribing time outside.
Zarr says he thinks about that all the time.
"This is a crazy world we live in," Zarr says. "You've got to adapt. We're at a point where people are living a sad, depressed existence. You get up in the morning, eat breakfast, go to work, pick up your kid from school, run home, make dinner, go to bed, and do it all over again the next day."
It makes it that much more crucial that people remind themselves of nature, he says. Along the same lines as park prescriptions, Zarr encourages people to engage in what's called "forest therapy," or the practice of spending time in a forested area for the purpose of enhancing your health. It can be as simple as going to a tree, and jumping around from root to root, losing yourself in a liminal state.
Not that he won't prescribe ritalin for ADD, but he says it's unwise to ignore a "free and accessible therapy called nature therapy, going outdoors."
To date, Park Rx America has around 200 registered "prescribers" across the country. Anderson, the Bellingham doctor, says for this to really take off, it has to be a community effort. It has to be a part of the culture, including city leaders, and the local parks department to ensure safe access to green areas.
Too often, municipal budgets will ignore those things as nonessential, Wolf says. But more research and evidence have helped combat that as well.
"Now there's a recognition of a need to invest in nature because the potential return on investment is huge," Wolf says.
Anderson thinks nature prescriptions are an important part of the future. Eventually, he says he could envision it becoming so ingrained in the culture, that the providers who aren't prescribing nature will feel left behind.
"My hope," Anderson says, "is that we are at a tipping point."

CHECK THE RESEARCH

Looking at forest landscapes leads to lower concentrations of cortisol, lower pulse rate and lower blood pressure. The same study, published in the journal Environmental Health and Preventative Medicine, found forest environments decrease sympathetic nervous system activity.
A study published in Environmental Science & Technology found that moving to urban to greener areas is linked to improved mental health.

A 2010 study published in Social Science & Medicine looked at the relationship of physical activity and the accessibility of green spaces. It found that those living further from green spaces were less likely to meet physical activity levels and more likely to be overweight or obese.

Proximity to parks and recreational programs is estimated to cause weight decreases among children, according to a paper published in Health & Place.