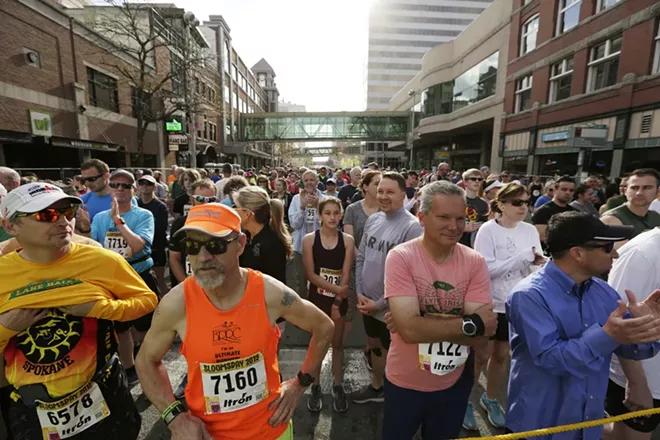 B
efore my first Bloomsday
, I'd never run and eaten a donut at the same time. I'd never understood the difficulty of choosing between running through a water spray and cooling down, versus keeping that delicious taste of apple-cinnamon coated goodness uncorrupted by some guy with a hose. I chose the second. The choice between the donut and risking cramps was a foregone conclusion.
Never before have I steeled myself for the rapidly approaching bulk of Doomsday Hill. I'm from Chicago, where hills are about as common as Bigfoot. Your uncle tells you he's seen one once and that it was at least 9 feet tall and you chuckle. You chuckle until you see a 120-foot tall one that you have to run up because the
Inlander
said there are a limited number of free donuts somewhere on the course.
Although I've run a decent amount of races, I've never run a seven-and-a-half mile race alongside tens of thousands of people. Out of all the people running around me, a few stuck out. A longtime Bloomsday veteran at the beginning told me Doomsday Hill "wasn't that bad." Yeah, sure.
There was a young kid in a blue tank top who ran like a stick-shift car without a middle gear. He could run faster than me and he could run slower than me, but he couldn't do either for long.
Right now, I'm more sore than I've been in a long time. It didn't help that I had to walk about a mile from the finish back to my apartment. The race provides a sort of psychic momentum; you run because they run and because you have already committed not to stop. Once your commitment no longer applies and the mass around you no longer carries you, your gait carries only the ghost of its former determination.
A challenging race gives its runners the opportunity to examine their motivations and find what motivates them to run. People aren't machines who perform regardless of circumstance. When I passed Summit View Swank, I ran faster because their songs brought me out of the hot sun and into music-wrapped memories of blues dancing the night away with friends. When I heard Miley Cyrus on the speakers up the road, I ran faster to escape the uninventive drone of her voice.
A good run will leave you lost in a moment, covering as much ground mentally as you do physically. You press up against your limits and overcome them. Bloomsday provided me with a perfect opportunity to do so.