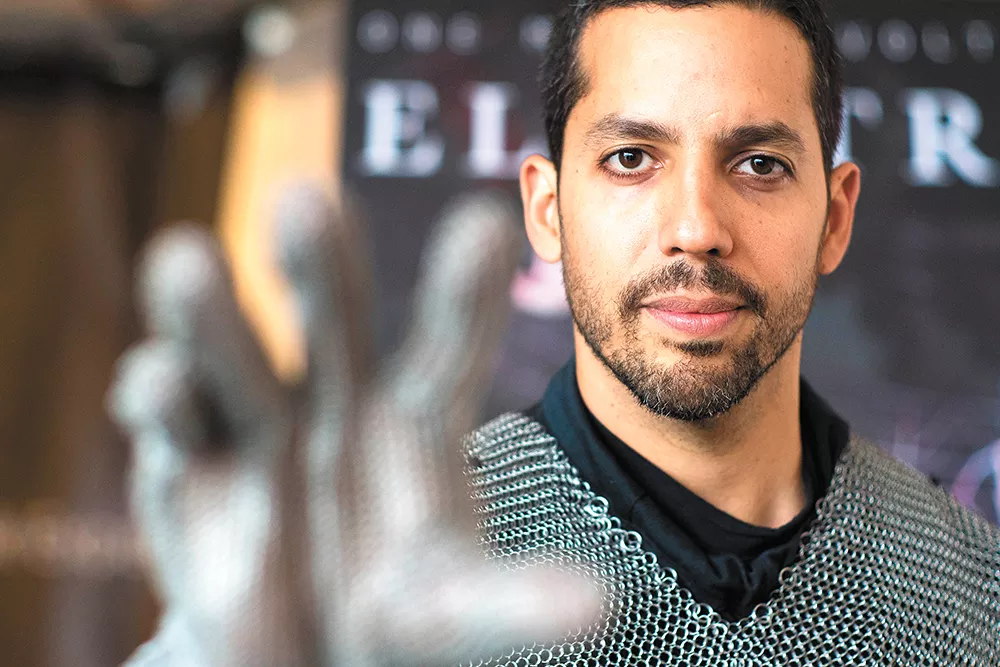 David Blaine has stayed underwater for more than 17 minutes and once stood atop a 100-foot pillar in New York City for 35 hours. He's been encased in ice for more than three days and also went almost a week without food.
That's nothing compared to what he's about to do.
While at a rehearsal last week, Blaine says he's not even sure he's going to make it through the 40-date tour he's about to embark upon.
"Where are you? When's the show?" he asks. Then he instructs his crew for a minute or so in his trademark slow, deliberate speech. He apologizes and asks the question again. I tell him it's in Spokane on June 7.
"Oh, I'll definitely still be going by then," says Blaine.
I ask what the hell that's supposed to mean. He's perhaps the most significant magician — if you want to call him that — of his generation, but he isn't sure the show he has planned can survive this grueling tour schedule? Somehow, the man who's hung a reputation on endurance isn't sure if he can last? But he says this isn't about getting old (despite the fact that his first network TV special is now 17 years old, he's only 44). Rather, he's pushing himself harder than he ever has with this tour.
"It's the most difficult and most exciting thing I've ever done, and I don't know how I'm going to do this. It's more difficult than any endurance stunt I've ever done," he says.
Blaine doesn't want to reveal much about the show, but says that it might be hard to watch. Anyone who saw his most recent ABC special, Beyond Magic, knows what this means. In that hourlong program, he found a way to fill his gut with water, then ingest kerosene, so that he could breathe fire and then extinguish the flames with the water. Then he caught a bullet in his mouth — a stunt that shattered the custom mouthguard created for the performance, lacerating his throat. It's gotten to the point where his own support crew is getting worried about how far he's pushing things.
"Everybody on my team is asking me to leave some things out of the show. We were fighting about it, and one guy just left the theater," he says. Then, without covering the phone receiver, he tells someone at the rehearsal that "a pair of scissors would be good instead of a knife."
The escalation of Blaine's stunts over the years is a fascinating arc. In May 1997, he sprung to fame with the ABC special Street Magic, in which a young Blaine mystified random folks on the sidewalk with card tricks and an illusion in which he appeared to levitate. He kept at the card tricks, blowing the minds of celebrities in his specials, but by the early 2000s, he was moving in a different direction with what he calls endurance stunts. This wasn't magic anymore. It was closer to extreme feats of athleticism, if you want to think of it that way.
"I'm not athletic by birth, but I am by choice and by practice. I wasn't an athletic kid, but I developed skills and perseverance," says Blaine.
A lot of that perseverance, he says, comes from watching his mother die of cancer in the mid-'90s. He saw her battle the disease with vigor, and began to think deeply on the idea of pushing beyond limits.
"I became obsessed with obstacles. That's what this all is — I give myself a difficult obstacle and go after it. It's like a marathon or a triathlon or climbing a mountain. I think it's the same thing," he says.
While often outrageous, his stunts have caught the attention of the scientific community. In 2005, the New England Journal of Medicine released a study about Blaine's 44-day fast while suspended in a clear box over the River Thames in London. He lost 25 percent of his body weight during that time, and scientists were there to monitor the effects of the deprivation and how he recovered.
Blaine doesn't see himself as all that remarkable. He even thinks you could do all the insane things he's done. You, too, could catch a bullet in your mouth if you put your mind to it.
"I think that anybody can do what I do, but I don't suggest or recommend it," he says. "In fact, I urge you not to try this." ♦
David Blaine • Wed, June 7 at 8 pm • $32.50-$82.50 • Martin Woldson Theater at the Fox • 1001 W. Sprague • foxtheaterspokane.org