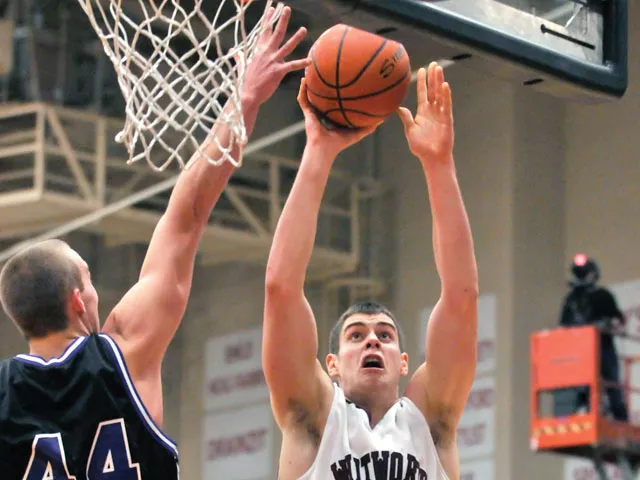 Another year. Another 20-win season. Another conference championship. Another trip to the NCAA basketball tournament for that little private school from Spokane.
Surprise! We're not talking about Gonzaga, we're talking about Whitworth, the NCAA Division III powerhouse that labors rather anonymously in the daunting shadow of the Division I Zags.
The Pirates, who have zero athletic scholarships (a no-no in D3), are 26-2, ranked fourth nationally and riding a 25-game winning streak into the Sweet 16 round of the NCAA Division III men's tournament.
Whitworth is a deep, experienced and well-balanced team that scores and defends with equal abandon. That said, there is no question that a major piece to the Whitworth basketball puzzle is one of the most puzzling basketball success stories in the country.
Senior center Nate Montgomery, the Northwest Conference Player of the Year, didn't even play basketball his first year at Whitworth. Oh, no, wait a minute — he played intramurals.
Unbelievable. As is the fact that Montgomery was cut by his high school team as a junior and was recruited for basketball only by a few junior colleges after a so-so senior season.
The weak 6-foot-2, 155-pound wing who got cut as a junior at Eastlake High School in Sammamish (a Seattle suburb) is now a muscular 6-8, 230-pound center. Montgomery and Whitworth coach Jim Hayford say it only took a few thousand hours in the practice gym and weight room to make it happen.
"It just shows you what great character he has," Hayford says. "He set his mind to being the best he can be."
Montgomery leads the Pirates with 16.8 points and 8.2 rebounds per game, and he seems likely to earn All-America and Academic All-America honors. Montgomery says he's actually grateful for being cut at Sammamish, since it inspired him to work harder and dedicate himself to basketball like never before.
Still, Montgomery says he arrived at Whitworth "with a lot of doubts" about his ability to play college basketball, particularly with his academic demands. He thought about turning out his freshman year, changed his mind, then changed his mind again and joined the team as a redshirt freshman.
"The rest is history," Montgomery jokes.
Actually, Montgomery almost was history that first season with the Pirates.
"I was a member of what we call the 'meat squad,'" Montgomery recalls. "Just kind of taking abuse from the starters [in practice].
"That was pretty much my role — I just got banged around in the paint. But it was a lot of fun."
Montgomery calls his parents "the heroes" for footing the steep bill at Whitworth, aside from academic scholarships and financial aid. He earned a degree in engineering physics in December, and he'll add a business management degree in May.
Montgomery hasn't ruled out trying to play somewhere professionally if he doesn't transfer to a larger school to continue his engineering studies. He might, however, need foot surgery first.
Whatever happens, Montgomery is just thankful he gave basketball a second — and third — chance.
"Probably the best decision I ever made," he says.
The fourth-ranked Whitworth University Pirates (26-2) take on No. 10 Eastern Mennonite (24-4) of Harrisburg, Va., on Friday, March 12, at Guilford College in Greensboro, N.C. KSBN 1230 broadcasts the game at 3 pm (Pacific). The Whitworth-Eastern Mennonite survivor plays on Saturday, March 13, at 4 pm against the winner of Friday's game between No. 3 Guilford (28-2) and No. 17 Wooster, Ohio (25-2). Saturday's winner advances to the Division III Final Four in Salem, Va., on March 19-20.